Traditional Dresses and Ornaments of Uttarakhand
The traditional dresses of Uttarakhand ideally mirror the lifestyle as well as culture of the various ethnic communities in the state such as Kumaoni and Garhwali. This idyllic state is flanked by other neighboring states such as Himachal Pradesh, Uttar Pradesh. Also, people from other states such as West Bengal, Punjab and also many Tibetans as well as Nepalis have migrated to Uttarakhand and settled down there. Thus the dresses of Uttarakhand have assimilated into it the influence and styles of all these communities to get some very unique traditional dresses which we would discuss in our article.

The dresses of Uttarakhand show a dressing pattern very much adapted to the weather conditions of the region. Wool obtained from the goats or sheep is made use of to produce warm costumes which can effectively safeguard one against the biting cold ambience prevailing in the winter months. Also, the traditional dresses of Uttarakhand present a unique admixture of opulence and simplicity plus a remarkable variedness of style, colors and designs. Tradition and ethnicity mingle most harmoniously in the taste and dressing sense of the denizens of Uttarakhand. There are some notable though subtle differences in the way the various communities of Uttarakhand would dress up. Thus, the dressing style of the Garhwalis would differ from that of the Kumaonis or Jaunsaris or the Bhotiyas. The dresses the people wear in Uttarakhand are beautifully complimented with apt jewelries. Some of the common traditional dresses worn by the women of Uttarakhand include Rangwali Pichaura, Ghagri-Choli, Odani, Sarong, Khorpi while the common traditional dresses worn by the men of Uttarakhand include dhoti, Kurta-Payajama, turban, vest coat. During festive seasons, the people of Uttarakhand flaunt a vivid riot of colors through the dresses they wear and often you can spot threadworks made with gold and silver in those special occasion dresses. To cast a deeper glance into the traditional dresses of Uttarakhand, read on-
Rangwali Pichora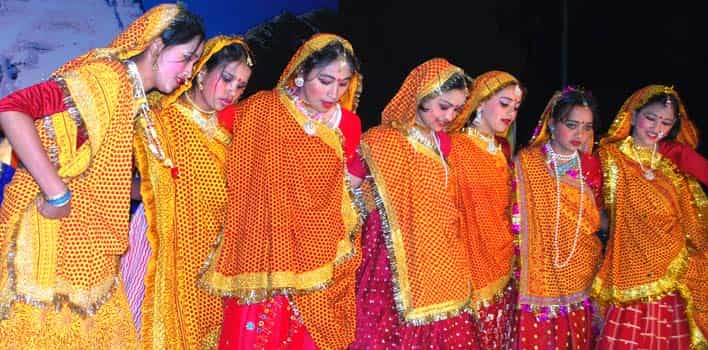 Rangwali Pichora is a traditional garment that is worn in most traditional occasions and weddings in Uttarakhand. Every woman in the state whether she is 10 or 60 wears it on naming ceremonies and marriages or Mondon or Upanayan. For the married ladies, Rangwali Pichaura has a special significance as it symbolises family prosperity, fertility and the happiness in a woman.
Right in the center of this traditional garment is a huge swastika and there are 4 huge quadrants depicting the Conch shell, swastika, Om sign and Goddess. The swastika is not merely constructed by dots and it also has flowers and leaves on it. The whole concept is circled around by intricate shiny borders. Colourful lace, jhalar or Kinari is stuck on the borders. There are special meanings attached to all these symbols. For example the Swastik is the symbol of all Devas and Devis. It also represents the holy state of Karma yoga with all four limbs pointing towards progress. At the center of Swastik is Om that is the center of all consciousness and spiritual life.
The Son in the first house of Swastik represents great power and the wellbeing of one's sons. Second quadrant stands for prosperity ND wellbeing of close family. 3rd Quadrant shankha and 4th quadrant bell represents worship. The whole garment is actually made at home and coins are used for making the dots on the garment. Rangwali Pichora is a rich specimen of traditional couture of Uttarkhand.
Dress and Ornaments of Garhwali Men
Men wear Kurta pyjama or Kurta dhoti. Turbans are usually worn by the men specially in the colder months. Men in Garhwal region wear long necklaces made of silver and kadas on their hands. The turban is another distinctive feature.
Dress and Ornament of Garhwali Women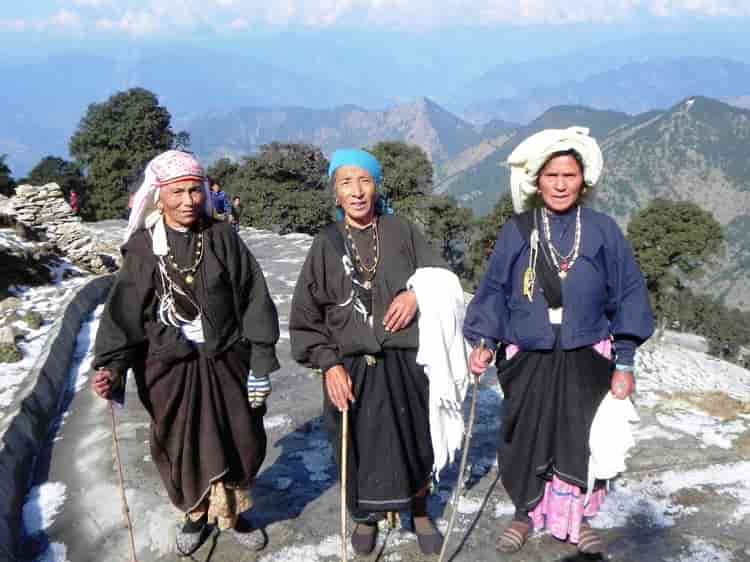 Garhwali dresses which had long been restricted to mere museums are again being circulated amongst Garhwali men and women who are wearing traditional garb in the wedding season. When one considers dresses worn by Garhwali men and women it can be seen that they have a lot of variety. Garhwali tribes living in the upper ranges of Uttarkashi and Chamoli wear warm woollens while those in lower regions or valleys wore cotton clothes.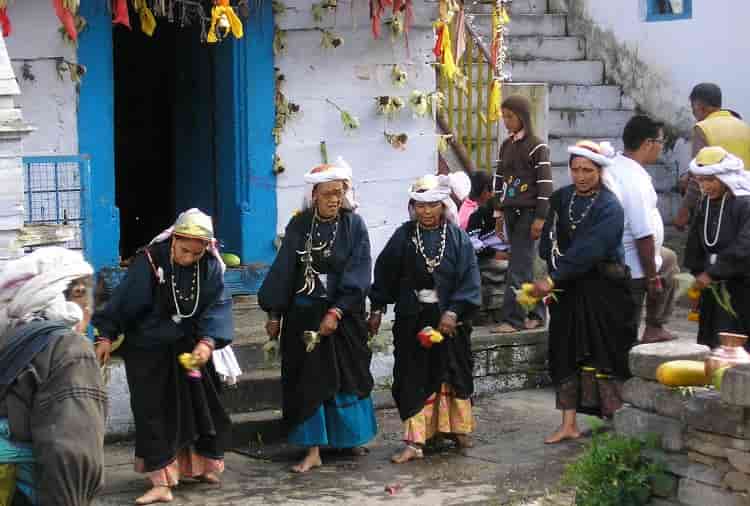 The Rajput women of the region of Garhwal wear woollen garments for most months as the weather is quite cold. They wear light woollen Angoras, cotton Pagras and colourful Lehengas with silver surrounding jewellery around the neck.
Garhwali Ghagras are stitched by men and women of Auji and Bajgis tribes and have creases around them. The border under the Ghagra is called Lavaan. The traditional Garhwali nine piece Ghaghra has more than 60 creases and is 5 feet in height. However nowadays women prefer wearing the 4 piece Ghaghra. In most parts of Gharwal region, a long shirt called Jhoga complements the Ghaghra.
Dress and Ornaments of Kumauni Men
Men wear Kurta Pajama or Kurta dhoti. Turbans are usually worn by the men specially in the colder months. Kumauni men wear a lot of traditional jewellery and they also wear brightly coloured shawls.
Dress and ornaments of Kumauni Women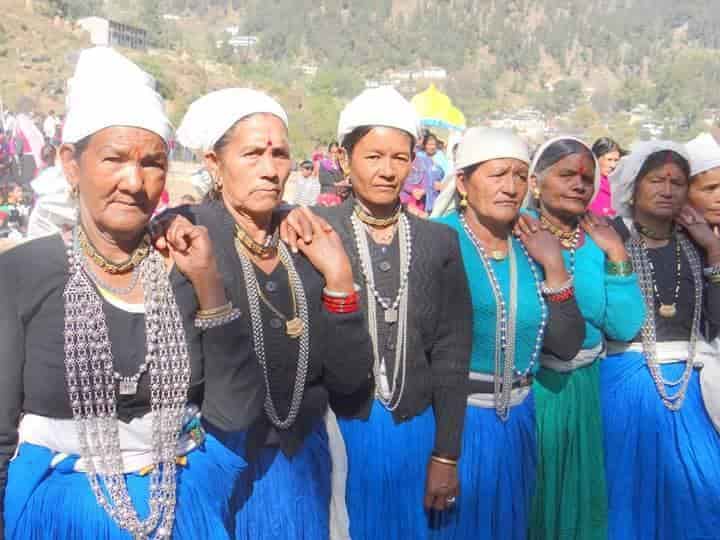 Kumauni men and women wear elaborate costumes which have slight differences from Garhwali garb. In Kumaon blue and pink are the colours of preference used in weddings while the men wear solid colours like green, brown and red. Like other areas of Uttarakhand, Kumauni women are very fond of Rangwali Pichora (described above). The traditional Kumauni Pichora was made using vegetable dyes only but now a range of Pichoras are available in different colour combinations.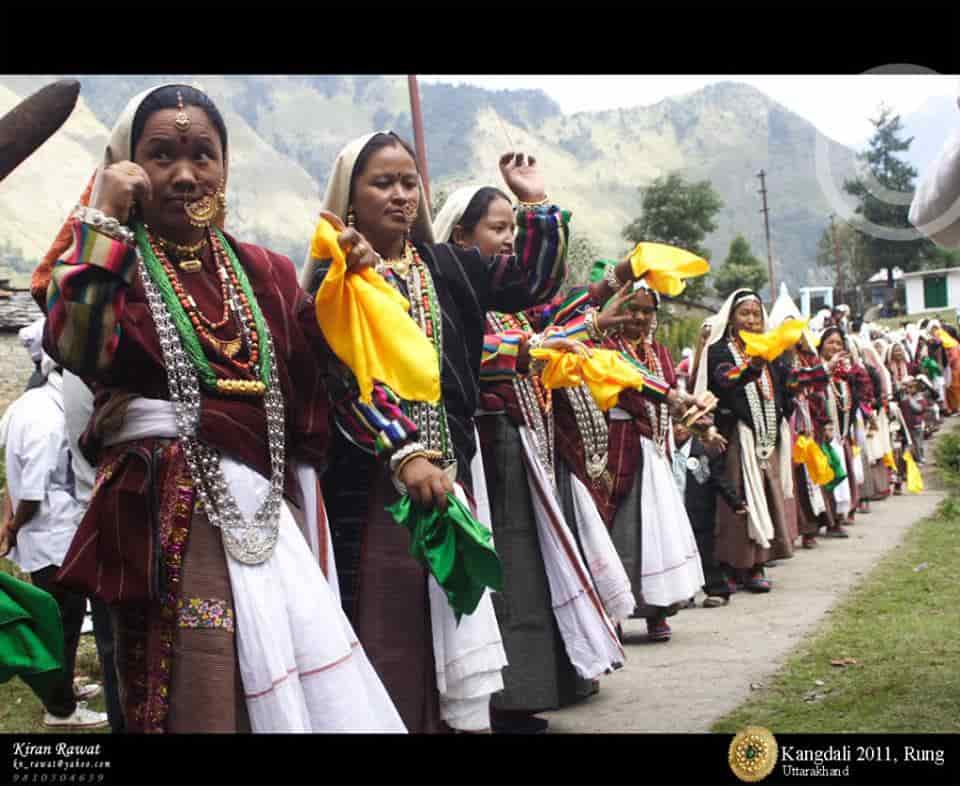 Now Haldwani and Almora areas have a lot of designers who specialise in making Rangwali Pichoras with silk, designer prints and artificial pearl embroidery.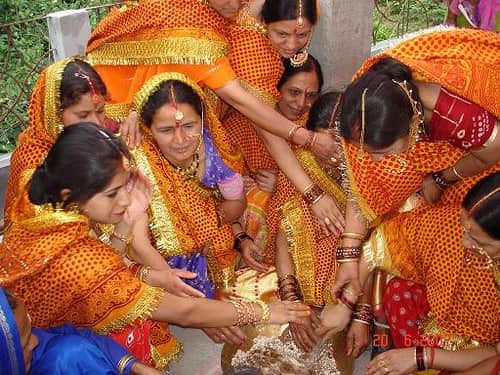 As far as jewellery is concerned the neckpiece is called Hansuli and it is made up of either silver or gold. Scheduled caste women wear silver jewellery while upper caste women wear gold. Most women wear sarongs and tops as daily wear while for the women the nose pin is an important piece of accessory and its size varies according to specific social status and tribes.
Dress and ornaments of Jaunsari men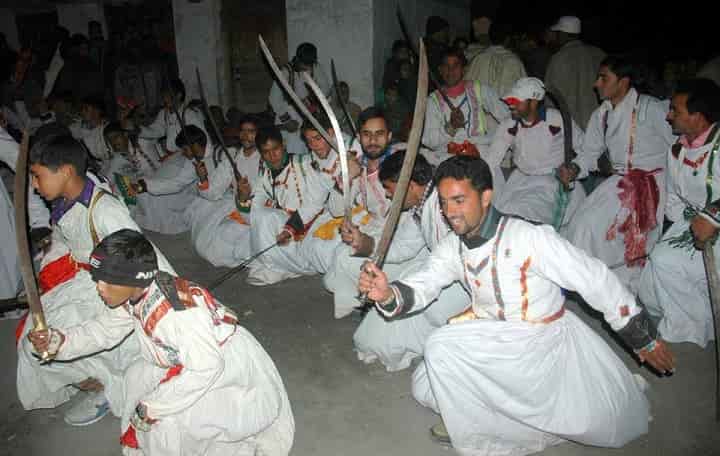 Jaunsari men in Uttarakhand traditionally wear Kurta and Pyjama with a long stole around their necks. The pyjamas are usually white while the Kurtas are in bright solid colours. The men in Jaunsar wear a lot of jewellery like long Malas, Kadas, huge rings and earrings.
Dress and ornaments of Jaunsari women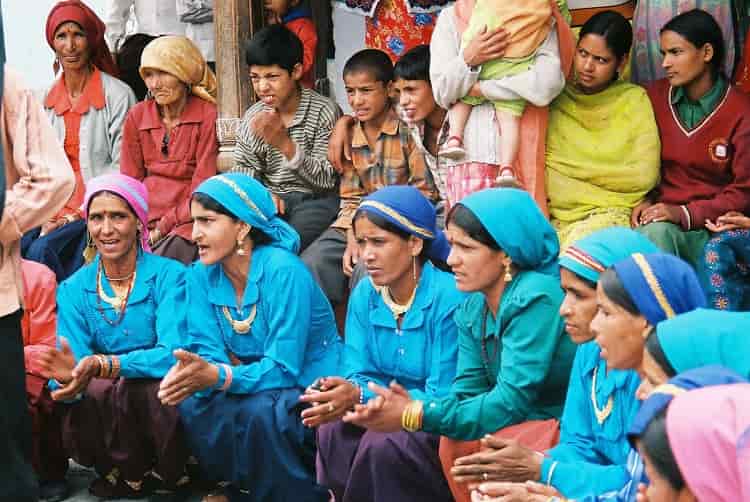 Jaunsari women also wear Ghaghara with shirts while men wear Pajamas and Kurtas along with turbans. The distinguishing feature of the Gar of Jaunsari men and women is the ample use of jewellery.. The nath of nose pins from Jaunsar are large and colourful. The Jaunsari ladies war gold Kaan Phool, which have a lovely floral design. Ornaments like Mala, Munra, Soota are made of silver while neckpieces like Jhappi, Globand and Chandrahar are made of gold. Widows of Jaunpur and the whole of Uttarakhand do not wear Globand, Bichwa and Nath. The women wear heavy bangles called Paunchi on wrist and Atardan, Shiv Sangal and Sootu on shoulders.
Dress and Ornaments of Uttarakhand Bhotiya men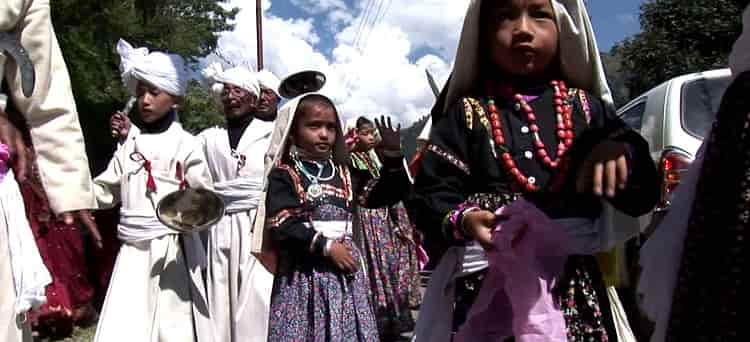 Bhotia men in Uttarakhand traditionally wear Kurta and Pajama with a long stole around their necks. The Pyajamas are usually white while the Kurtas are in bright solid colours. The men also wear jewellery like long malas, kadas and earrings.
Dress and ornaments of Uttarakhand Bhotiya women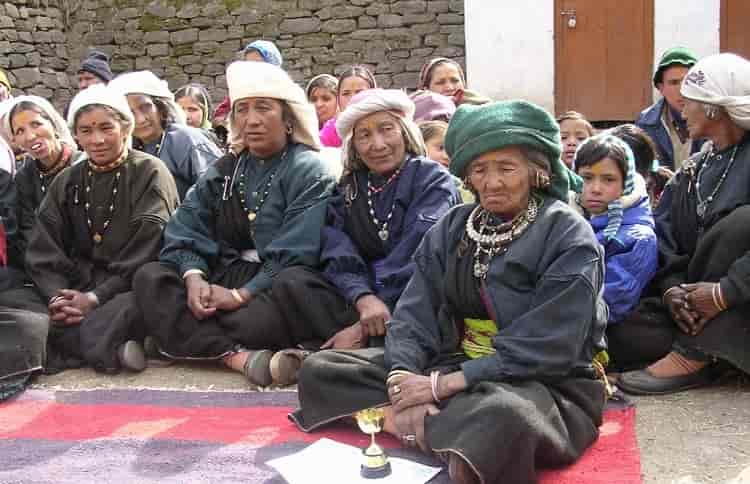 Bhotia men in Uttarakhand traditionally wear Kurta and Pajama with a long stole around their necks. The Pamas are usually white while the Kurtas are in bright solid colours. The Bhotia women wear a dress called Angni which is a short shirt with intricate long sleeves along with Lehenga and Kamala (piece of embroidered cloth cover. Another distinctive garment worn by Bhotia women is a Khorpi or elaborate headgear along with a white scarf that has beautiful embroidery on one side. Pagra or a broad cloth belt is worn around the waist.
Bhotia women usually flaunt heavily decked up bosom and ornaments are used for such adornment. Both men and women wear shoes and socks and Banian (white vest) along with Angra (woollen garment). Older women wear sombre colours like black while younger women wear bright and beautiful colours.
Uttarakhand Traditional Dresses and Ornaments
You may also like...