6 Days / 5 Nights Manali Delight Tour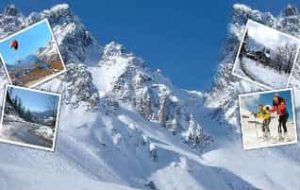 Manali is just 40 kilometers from Kullu and sits prettily in a valley leading to towering, majestic snow-capped mountains. The Beas River, stately pines and deodars, fruit orchards, lush meadows and mountains create a cocktail of visual treat to intoxicate, enthrall and captivate your mind. Manali has some of the most breathtakingly beautiful scenery and also offers ample opportunities for sight-seeing as well as trekking and adventure. A visit to this dreamy resort is a gourmet feast for your soul.
The best though not the most practical way to visit is to go on your own. You will find it a bit daunting to make surface travel arrangements and find accommodation in the right hotels. Your best bet is to join an organized group tour that starts in Delhi. Travel in the comfort an air conditioned Volvo bus; enjoy sights as you proceed leisurely and be assured of the best in accommodation and food with a tour guide to take you to the best places in a well orchestrated and fully satisfying trip. It is like having your own personal vehicle take you royally, but without the high costs. The tour usually includes pickups and drop offs at all places of interest, food and hotel stay. At most you will spend on entrance fees, shopping and personal expenses. It is economical and luxurious to join a well organized Manali delight tour. A typical itinerary would give you 4 days and 3 nights of pure, unalloyed pleasure from start to finish.
Day-1: Delhi to Manali
A beautiful, air conditioned Volvo coach awaits you at Delhi and you start the 580 kilometer journey to Manali in total comfort and royal luxury. Fourteen hours pass like a dream as you enjoy the sights in a journey that is a destination in itself.
Day-2: Sightseeing in Manali
You are in Manali where a tour representative helps you to your hotel. Refresh yourself and get ready to visit the Manu temple, the Tibetan Monastery, Vashisht village and Hadimba Devi Temple. By evening you are free to explore Manali on your own and retire for sleep.
Day-3: A trip to Manikaran
A lovely day dawns with the Sun coloring the white peaks a golden rosy hue and you prepare for an excursion to Manikaran, a three hour drive where you will bathe in the hottest sulphurous spring waters. That done, you stroll and then board the coach for a visit to Mata Vaishno Devi temple followed by a trip to the Kullu Shawl Industry and the Rabbit farm and then return to Manali for a well earned rest.
Day-4: The exciting visit to Rohtang Pass
One of the most exciting days of the trip, today is scheduled for a visit to Rohtang Pass and Snow Point along with Gulaba, Kothi gorge and Marhi Pass with Solang Valley. A memorable day you will reminisce over once you are back in the comforts of your hotel room in Manali.
Day-5: Manali to Delhi
The final day starts with an exploration of Manali and then board the coach for return to Delhi in the evening.
Day-6: Departure
Arrive in Delhi and you sigh as a fulfilling trip ends and you prepare to return home.
You may also like...