Shimla Tour, An Experience of a Lifetime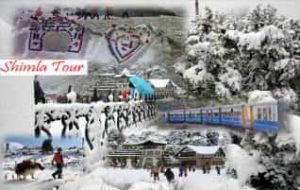 You could say Shimla is the queen of hill resorts with a unique and charming atmosphere difficult to find in any other place. Unique to Shimla is the Mall and the alpine vegetation. You will also find quaint, quintessentially colonial architecture, a legacy of British rule that makes Shimla so distinctive. It has something for everyone. If you like strolling, Shimla has vehicle free pathways that take you to the State Museum, Kamna Devi, Jakhoo and Raj Bhavan. Nature lovers can have their fill of unique Shimla flora and explore the Glen and the forest trail close to the Summer Hill. If you love colonial architecture, Shimla is replete with buildings such as the Viceregal Lodge, the Mall, Gorton Castle, the Library and Barnes Court. You cannot help falling in love with Shimla.
The best way to visit Shimla is to take an organized tour starting in Delhi and giving you five days and four nights of sheer unalloyed pleasure of immersing yourself in the pleasures of this charming resort. Your tour organizer provides an air conditioned coach for your travel from Delhi to Shimla and for local excursions. A well informed, pleasant and helpful tour guide enhances the experience by taking you to all the important places with insightful anecdotes. You get to stay in well maintained, comfortable hotels and eat the finest meals. Pick the right tour operator and you almost feel like visiting royalty. The best thing is that most expenses are taken care of and you only spend on personal expenses, entrance tickets, shopping and lunch. With all these taken care of, you can focus on enjoyment and get more out of a guided tour. A typical itinerary would go as follows:
Day-1: Delhi to Shimla
Board the tour operator's air conditioned Volvo bus for an overnight journey of nine hours from Delhi to Shimla.
Day-2: Shimla Sightseeing
Arrive in Shimla in the morning and check into a nice, comfortable hotel. After some rest you prepare for the afternoon Shimla tour of Sankat Mochan Temple, Jakhu temple and the Institute of Advanced Studies housed in the Viceregal Lodge. Spend the evening strolling through the Mall and exploring the Ridge before retiring for the night.
Day-3: Trip to Kufri
If you wake up early you can watch the Sun bathe the countryside in a warm, mellow light. Breakfast and prepare for a pleasant excursion to Kufri after which you go on to Mashobra. You return to Shimla in the afternoon and relax or walk around Shimla.
Day-3: Shimla Sightseeing, Shopping
Thoughtfully, the tour operator gives you the entire day off to let you go shopping, walking or spending time at any of the local attractions. Come evening and you get aboard the Volvo coach for the return trip to Delhi.
Day-4: Shimla to Delhi
You arrive in Delhi, exhilarated and refreshed after the Shimla experience, one you will cherish for a lifetime. The tour ends on arrival.
You may also like...