10 Days Himachal Lovers' Paradise Tour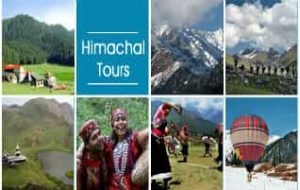 Himachal is home to scintillating Shimla, captivating Kullu and enchanting Manali – three spots most beloved of lovers. If these are enthralling, Dalhouse and Dharamsala are also the darling of tourists. Himachal seems to be made for lovers and TravelTourGuru brings you the Himachal Lovers paradise tour stretching over 9 days and 10 nights for sheer, unalloyed bliss.
Day 1: Delhi – Shimla
Welcomed by our tour guide you board the coach for the 330 km drive across scenic countryside to Shimla. Arrive late in the day and check into your hotel after which you set out to explore Shimla's attractions in the Mall.
Day 2: Shimla – Kufri
Rise early and enjoy a sumptuous breakfast followed by a local tour to Hanuman temple, Kalbadevi temple and Jakhu temple with a final stop at the Christ Church to admire its beautiful 19th century stained glass windows. Then we proceed to Kufri, a 30 minute drive across scenic hills and valleys. Kufri is nature at its most beautiful and you will love to walk about in this abode and pick apples from the orchards. There is horse riding available if you are so inclined. This memorable Kullu trip is over. You return to Shimla to further explore and shop along the Mall.
Day 3: Shimla-Kullu-Manali
Today promises to be exciting as you start on thee 149 drive to Manali along the beautiful Kullu Valley with mountains looming on each side. This Valley of Gods stretching all of 80 km, with the Beas flowing down turbulently, keeps you entranced as you proceed to Kullu, known for its Dussehra celebrations. On the way we pass Dhalpur, a site for fairs and celebrations before arriving at Manali to check into your hotel. Explore the surroundings on your own and you will never know how time passes.
Day 4: Manali-Rohtang Pass
Fill yourself with a hearty breakfast because today's drive takes you to one of the highest passes in the world, the Rohtang Pass where we stop at Solang Valley for some horse riding. You can go paragliding if you like. Walk along trails and explore this area on your own before returning to Manali.
Day 5: Manali – Dharamsala
After breakfast board the coach for the 240 km drive to Dharamsala where you will feel as if you have entered Tibet. Visit monasteries, buy carpets and Tibetan handicrafts and some Tibetan herbal medicines before retiring to the hotel in this pilgrimage spot.
Day 6: Dharamsala – Dalhousie
Set out after breakfast to visit McLeodganj or Little Tibet as it is known and visit the residence of the Dalai Lama. Then we go on to Dalhouse, a typical colonial hill resort with its quaintly charming cottages. Check into your room and set out to explore this charming hamlet still untouched by time.
Day 7: Dalhousie – Khajjir
Today we set out in the morning for the 23 km drive to Khajjir, Himachal's own mini-Switzerland with its typical alpine scenery. Walk through the Khajjir sanctuary with your beloved in tow and then proceed to Chamba valley where you can see the Ravi River. Return to Dalhousie for the night.
Day 8: Dalhousie – Amritsar
Board the coach after breakfast for the 190 km drive to Amritsar and check into your hotel. Later, it is time for a visit to the Wagha Border to view the Evening retreat.
Day 9: Amritsar-Chandigarh
Breakfast done with, we proceed to the Golden temple or Harmandir Sahib followed by a visit to historic Jallianwala Bagh. Board the coach for the 220 km drive to Chandigarh where you check into a hotel along with the others.
Day 10: Chandigarh-Delhi
After an early morning breakfast we head for the Sukhna Lake for a little bit of boating and then visit Rock Garden, a beautiful place studded with flowers. After that it is time to board the coach for the return journey to Delhi where the tour ends.
You may also like...