Enjoy a Great Pilgrimage at Bodhgaya
Bodhgaya is a world famous pilgrimage destination. The place is intricately associated with the life of the great spiritual figure 'Gautam Buddha' who is also the founder of the religion called Buddhism. There are followers of Buddhism not only in different corners of the country but also in different corners of the globe. Thus Bodhgaya Tourism is highly developed and the place receives pilgrims from every corner of the nation and the globe. Apart from Buddhists believers of other faiths too frequent the place to experience the peace and calm that Buddhism preaches about and also to learn about the life of Gautam Buddha through the many relics scattered all around the place. Here follows some important highlights associated with your trip to Bodhgaya.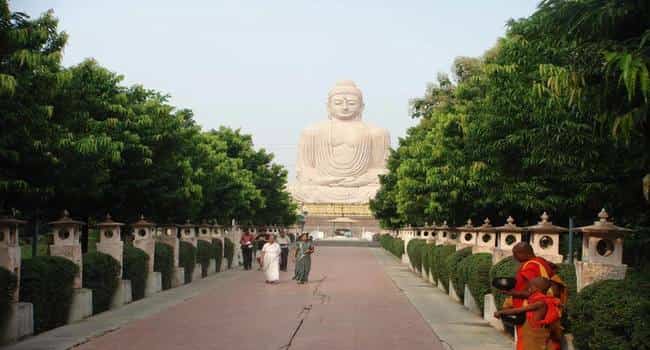 Tourist Places near Bodhgaya
There are numerous places to visit in Bodhgaya. Thus your sightseeing tour would be tightly packed. Listed below are the top must-see places of Bodhgaya-
Mahabodhi Temple
The Mahabodhi Temple is one of the prime attractions of Bodhgaya. It has been recognized by UNESCO as World Heritage Site. This is the Location where Prince Siddharta became Gautam Buddha after getting his divine enlightenment. This temple has an amazing gold plated vault weighing as much as 290 kgs.
Bodhi Tree
TheBodhi Tree also holds special spiritual significance for the pious pilgrims especially those hailing from the Buddhist community. Under this Bodhi Tree 2500 years back Prince Siddartha turned into 'Buddha' i.e. the 'enlightened one' after divine enlightenment dawned upon him. This enlightenment came after a span of 49 days until which the Lord observed rigorous penance and meditation.
Great Buddha Statue
This Buddha statue is truly magnificent and reaches up to 82ft in height. It shows the Lord in meditation posture and is a marvelous work of architecture sculpted out of chunar stones in three different colors; i.e. pink, yellow and red. The very sight of the statue will fill your heart and soul with revered awe.
The Monasteries
Bodhgaya is dotted with some wonderful monasteries which you shouldn't at all miss. Their unique and very typical architecture will at once catch your fancy. The top ones are Royal Bhutan Monastery, Indosan Nippon Japanese Temple, Burmese Vihara Monastery, Chinese Temple.
Vishnupad Mandir
This ancient Temple housing the deity of Lord Vishnu and standing on the banks of Falgu River is also an important visit-able destination of Bodhgaya. It is thronged by Vaishvaite pilgrims all year round. The chief attraction of the temple lies around the mythological tales associated with it. The nomenclature of the temple comes from the holy and omnipotent footprints of Lord Vishnu deeply incised into a block of basalt rock. Myths have it that these footprints actually symbolize the combat between Vishnu and Demon Gayasur. These footprints came there when Vishnu placed his foot on the demon's chest to subdue him.
Sun Temple
The Architecture of the Sun Temple that belongs to Surya Dev or Sun God would actually leave you spellbound. The festival of Chhat is celebrated with great pomp and grandeur in the Sun Temple around October-November .
Barabar Caves
A visit to the Barabar caves will impart you quite a lot of knowledge on Lord Buddha's life. These caves were constructed in the Mauryan period and show a creative example of cave architecture through which the various events from the life of Lord Buddha are beautifully depicted.
Cuisine
Since Bodhgaya is a pilgrimage destination there is obviously a restriction on the consumption of non-vegetarian dishes and alcoholic beverages. But as the places has a strong Buddhist influence and receives as huge lot of foreign pilgrims, you would get to sample a vast array of cuisines in Bodhgaya ranging from Thai cuisine, Korean cuisine, Tibetan cuisine to even the Italian cuisine. You won't believe how yummy the pastas sold in the fast food corners of Bodhgaya tastes. Apart from these the region is absolutely famous for its variety of sweets. Lai, Tilkut, Kesariya Peda, Khaja, Enursa are some famed traditional sweets of Bodhgaya and are part of the typical Bihari cuisine. Thus if you are sweet lover, with so many options to choose from, you'll be simply spoiled for choice. The other most commonly available mouth-watering Bihari dishes that you would get in Bodhgaya are Litti-Chokha, Chana Bhuja, Sattu ki Roti, Aaloo Kachalu etc. So once you are at Bodhgaya, don't forget to sample the unique medley of cuisines out these.
Shopping
There are plenty of shopping options in Bodhgaya. If you are looking for high quality textiles, woolens, you can get your perfect pick at Tibetan Refugee Bazaar. Those who are looking for souvenir shopping, can really grab great items at the Kundan Bazaar. If you wish to have some 'food for thought' or wish to give the spiritual self in you some great dose of spiritual knowledge, you would get some really rare books, novels on Buddhist culture, religion and philosophy at Mahabodhi book shop
Accommodation
There is no dearth of hotels in Bodhgaya. You would get both deluxe luxury hotels as well as budget hotels for an affordable stay. Also there are guest houses and Dharamshalas and each accommodation option come with all modern amenities to make your stay comfortable. Bodhgaya Regency Hotel, Lucky Guest House, Hotel Sujata, Hotel Bodh Vilas, Hotel Tokyo Vihar, Hotel Heritage are some of the top hotels of Bodhgaya.
You may also like...