Ganesh Chaturthi – A Festival of Lord of Wisdom, Prosperity, and Good Fortune
Ganesha Chaturthi, Vinayaka Chaturthi, is a mass Hindu festival dedicated to Ganesha, the elephant-headed son of Shiva and Parvati, to commemorate and celebrate his birthday. Apart from Hindus, Buddhists and Jains also have faith in and worship Lord Ganesha, as he is the supreme power of wisdom, wealth, and good fate. Coming in the Hindu calendar month of Bhadrapada and starting on the fourth day of the waxing moon period (August/September), the festival is of 10 days until Ananth Chaturdashi during which Lord is believed to be present on the Earth to bless the devotees.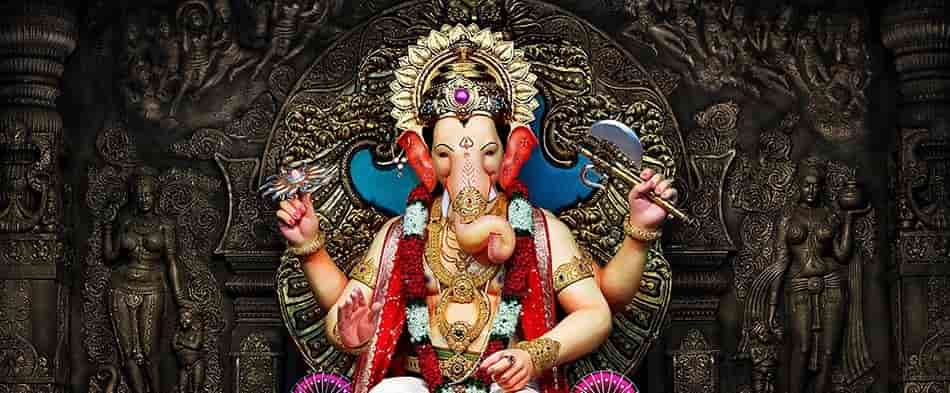 Although Ganesh Chaturthi is celebrated in all parts of India, it is widely celebrated in Maharashtra, Goa, Gujarat, Karnataka, Tamil Nadu, and Andhra Pradesh. Besides India, it is grandly observed in Nepal, Sri Lanka, U.K., U.S., Canada, and Mauritius.
[Ganesh Chaturthi Dates 2017: Wednesday, 12 August to Sunday, 23 September]
Story Behind this Festival
According to the mythology in Puranas, once upon a time while taking a bath, Mother Parvati wanted to wait outside for protection. This guard was none other than her son, Lord Ganesha. Meanwhile, when Lord Shiva came back from the battle, Ganesha could not recognize him and obstructed Lord Shiva to enter the mother's compartment. Enraged with this disrespect, Lord Shiva cut off Ganesha head with his trident. When Maa Parvati came out, she saw this and approach Lord Shiva in anger to explain why Ganesha was standing out and why he behaved so with Lord Shiva. Then she resembled Goddess Kali and threatened to destroy the three worlds – heaven, earth, and the subterranean. Seeing such a enrage mood of the mother, other celestial gods were in tension and fear.
Lord Shiva realized his mistake and to calm down Parvati, he sent his ganas (hordes – fellowmen staying with him) to bring the head of the first child they see and whose mother is away in negligence. This living being was an elephant towards north that is the fortunate direction of wisdom.
Lord Shiva then placed it on the headless body of Ganesha to make him alive. Their son actually got the name Ganesha at this point of time, which means the Lord of Ganas (Gan – army and esha – god). Parvati was overwhelmed, but was still upset. So, to free her from this state, Lord Shiva declared that anyone who worships Ganesha before any other form of Lord would be blessed with special privileges. This is the reason why Ganesh is worshipped before starting any occasion, events, or tasks.
There is a myth associated with the night of Ganesh Chaturthi. According to it, no one should look at the moon or else he/she will be doubtfully accused. This is because the Moon God did not behave well with Lord Ganesha. The moral of this belief is that one should not accompany those who do not believe in religion and God and this should be done right from this day onwards.
History
The festival was initiated by a Maratha hero, Chatrapati Shivaji Maharaj in Maharashtra to promote tradition and develop a sense of patriotism in his people for battling with the Mughals.
In days prior to 1893, Ganesh Chaturthi was celebrated with great enthusiasm in Maharashtra only. However, since 1893, Lokmanya Tilak, the Indian Freedom Fighter and social reformer recognized the wide faith in Lord Ganesha and spread the charm of the festival into different parts of India. He declared to be the national festival to remove the gaps between Brahmins (a top Hindu sect) and non-Brahmins and lay down a foundation of national unity and fervor among the people against the British rule.
It was this great hero Tilak who inspired setting up of huge idols of Ganesha in the public pavilions (pandal or mandaps) and laid down the custom of submerging them in rivers, sea, or other pools on the tenth day of the festival.
The festival gradually led to mass participation in intellectual discourses, plays, musical concerts, and folk dances.
Celebrations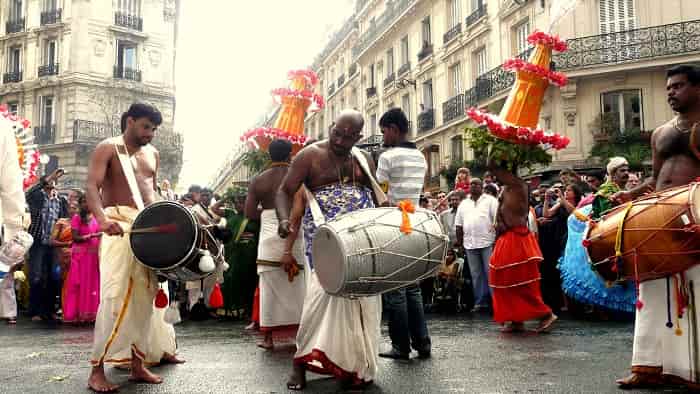 Prior to Ganesh Chaturthi
Preparations start tow to three months in advance for Ganesha who is the kind protector of the innocent, but the brutal demolisher of the evil. The idols of the Lord Ganesha are made in various size and shapes. Before the day of Chaturthi that is also the day of Hartalika on which women fast to seek the blessing of Maa Parvati, people purchase the idols and bring them home or keep in pandal. In Mumbai alone, near 6000 Ganesha idols are sold every year. The seating place of Lord Ganesha, whether at home or in pandal, is decorated with lighting and other attractive items. At some places, a theme is established wherein a mythological or motivational scene is exhibited around Lord Ganesha or the Lord seems to give a message to people.
On Ganesh Chaturthi
From the day of Chaturthi until its last day, aarti of Lord Ganesha is done with special sweet offerings such as kheer (preparation of rice and milk), fruits, and modak (a preparation of rice/wheat flour stuffed with the paste of jaggery, dry fruits, and condiments). These offerings are known as Bhog or Naivedya, which is then distributed as prasad to the public. In public pandal, grand arrangements for lighting and decoration are worth seeing.
Farewell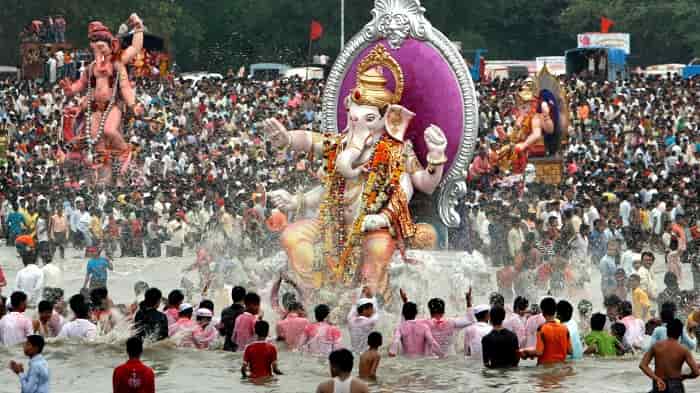 On the last day (Visarjan day), to bid farewell to Ganesha, innumerable processions are carried out that are celebrated by drumbeats, devotional songs, and dancing. People shout "Ganpati Bappa Morya, Pudhchya Varshi Lavkar Ya", which means Dear Father Ganpati, next year come soon. A popular belied is that it is now Lord Ganesha after getting a new life departs to meet his mother Parvati on the Kailash hill and take away people's bad fortune. These processions gather at the famous water pools such as beaches and rivers to submerge the holy revered idols. The last day can be either 3rd, 5th, 7th, or 10th day.
Significance of Worshiping Lord Ganesha
The body of Ganesha is symbolic for its devotees that shower blessings in different ways.
Large Stomach
Is a symbol of his huge capacity to accept prayers and wishes and take over all evils of life.
Short Legs
Represents the tolerance power.
Large Ears
Represents listening to devotees.
Small Eyes
Indicates that Lord Ganesha has high concentration levels.
Mouse as Vehicle
Implies control over desires.
Large Forehead
Is a symbol of great intelligence.
One Tusk
Represents accepting the good and rejecting the bad.
Long Trunk
Implies high efficiency and flexibility.
Four Arms
One stands for Ankush, implies control over the mind; second stands for Ladu, representing happiness; third one is for Pash, refers to an axe to throw all attachments; and fourth one is Ashirvad mudra, is a symbol of blessings for humanity.
You may also like...