Diwali (Deepavali) – The Festival of Lights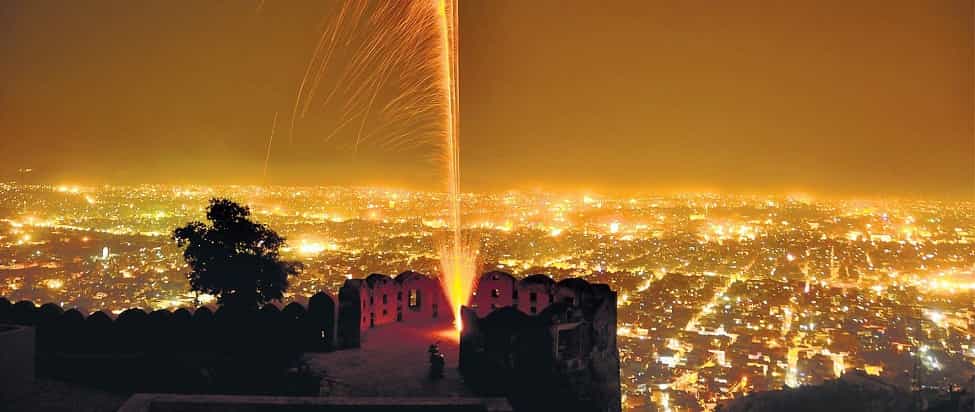 Diwali or Dipavali is a momentous 5-day festival that comes in either October or November based on the lunar Hindu calendar. It is greatly celebrated by the Hindus, Sikhs, and Jains due to their corresponding historic, spiritual events been associated with Diwali. Diwali bring the message of 'Good triumphs over evil' and 'Rejoice in the inner light of soul or in the underlying reality of all entities or things'. This means Diwali stimulates one to rise to the awareness of the inner light that is symbolized by diyas (small lamps of clay or wax), lanterns, and lights.
The term Deepavali literally means a row of lamps in the Sanskrit language. Therefore, it is a ritual for the Diwali adherents to lit diyas filled with oil to mark the triumph of good over evil. For children, it is a time of fun with crackers, new clothes, and variety of food items. For youngsters and elders, it is the period of joy, lights, wishes, prayers, and fun too. For business communities, Diwali brings a new financial year by opening new books of accounts on the first day of Diwali to wish for good luck in the upcoming year.
Diwali is the national festival of India and Nepal and is regarded as an official holiday in other countries such as Guyana, Malaysia, and Singapore.
Diwali Dates for 2018 – Wednesday, 07 November
The Auspicious Days of Diwali
Vasu Baras
This is the 12th day of new moon phase in the month of Ashwin. Here, 'Vasu' symbolizes cow and so, cow and calf are worshipped on this day.
Dhanatrayodashi or Dhan Teras
This is the 13th day proceeding to the new moon day. Here, Dhan means wealth, whereas Trayodashi means the 13th day. This day is considered auspicious to buy metallic utensils and gold. A historic event with this day is that it marks the birthday of God Dhanvantri, who appeared when the Gods and demons churned the ocean according to the Hindu mythology.
Naraka Chaturdashi
Chaturdashi means the 14th day and Naraka is the name of the demon known as Narakasura who was slewed by Lord Krishna. This symbolizes the triumph of light over darkness. In Gujarati, it is known as Kali Chaudas; while in Rajasthan, it is known as Roop Chaudas. In South India, Hindus wake up prior to the sunrise even at 2'o clock in the morning, have a bath with a fragrant oil, wear new clothes, light small lamps, draw a big kolams/ Rangoli just at their main door. Then, they do a special Pooja (involves offerings) for Krishna. A popular belief beholds that taking a bath before sunrise while the stars are still not hidden is equivalent to taking a bath in the holy Ganges. Once the Pooja is over, firecrackers are burnt by the small ones to rejoice the defeat of the demon.
Diwali (Lakshmi Puja)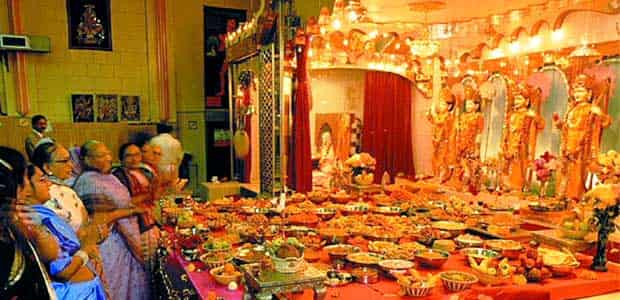 This is the new moon day that withstands its significance in North India. Hindu people worship goddess Lakshmi, who is the goddess of wealth, and Ganesh, who is God of auspicious beginnings. After worshipping, they lit lamps at doors, windows, area surrounding the home, and street to welcome goodness, prosperity. According to a legend, Goddess Lakshmi emerged from the churning of the great oceans (Samudra Manthan) by Gods and demons.
Bali Pratipada and Govardhan Puja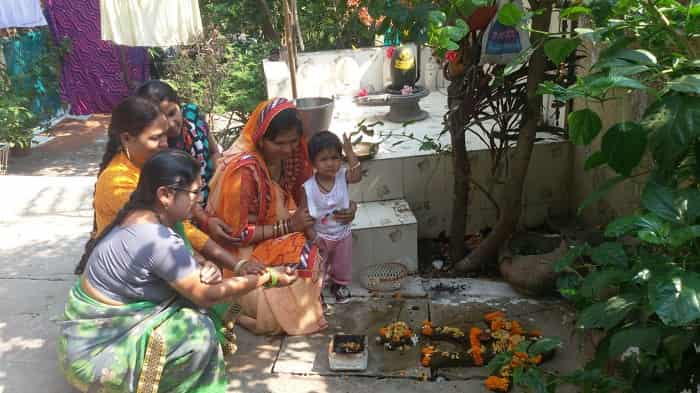 This is first day of the upcoming full moon day celebrated as the new year of Jains. In North, this day is marked for the Govardhan Puja also called Annakut. The story associated with this day is that Lord Krishna defeated God Indra (God of rains) who flooded the Gokul town of Lord Krishna due to anger. This was because Krishna asked his town people to stop worshipping Lord Vishnu and just do their deeds with good intentions and to the best of their ability. During the flood, Krishna lifted the Govardhana hill to protect his town's men and cattle from rain and floods. For Annakut, a mountain of food is prepared with decoration representing the Govardhan hill. In Maharashtra, Tamil Nadu and Karnataka, this day is marked as Bali-Pratipada or Bali Padyami that is celebrated to recall the defeat of the demon-king Bali by Vishnu in his dwarf form and return of Vishnu, husband of Lakshmi to Vaikuntha. Husbands offer some gifts to their wives on this occasion. In Gujarat, it is the first day of the Vikram Samvat calendar.
Bhai Dooj (Bhayyaduj, Bhaubeej or Bhai Tika)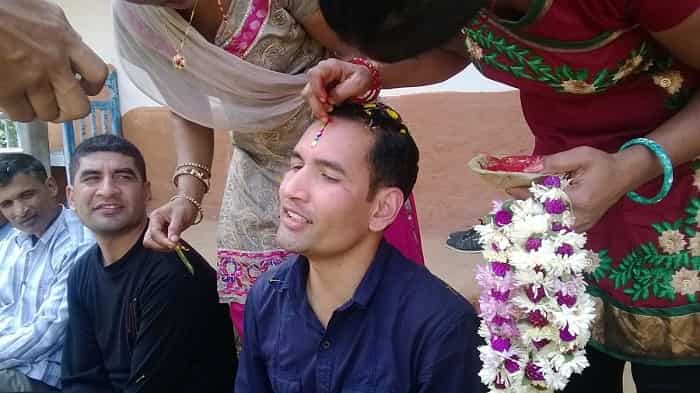 This is the day of brothers and sisters whereon they meet to express love for each other. The story behind this day is that Yam who is the Lord of Death met his sister Yami. Yami did an Aarti to welcome him and they had meals together. While leaving, Yam offered a gift to his sister. So, the day is also known as 'YAM DWITIYA'. This festival is quite old and is even before the festival of Raksha Bandhan, rakhi-tying day of brothers and sisters.
Significance as Per the Religions
In Hinduism, the day of Diwali (new moon day) is celebrated to express happiness on the return of Lord Ram to his place Ayodhya after defeating Ravana (the demon king of Lanka). From the spiritual view, it is said that Lakshmi- Panchayatana (a group of five) penetrates into the universe. This group and their symbolization include:
Lakshmi
A Divine energy
Vishnu
Happiness and satisfaction
Kubera
Wealth
Indra
Luxury and satisfaction
Gajendra
Wealth carrier
With Diwali, the harvest season is over in India and Nepal. With the New Year, farmers thank these Gods for all goodness in the past year and pray for a better season.
In Jainism, Diwali commemorates the attainment of liberation (moksha) by Mahavira (last Tirthankara, apostle) in 527 BC.
In Sikhism, Diwali marks the homecoming of Guru Har Gobind Ji to Amritsar after relieving 52 Hindu kings locked up by the Emperor Jahangir in the Gwalior fort. His welcome was done by lighting candles and diyas. This is the reason that Sikhs mark Diwali as the Bandi Chhor Divas that means The Day of Release of Detainees.
Diwali Celebrations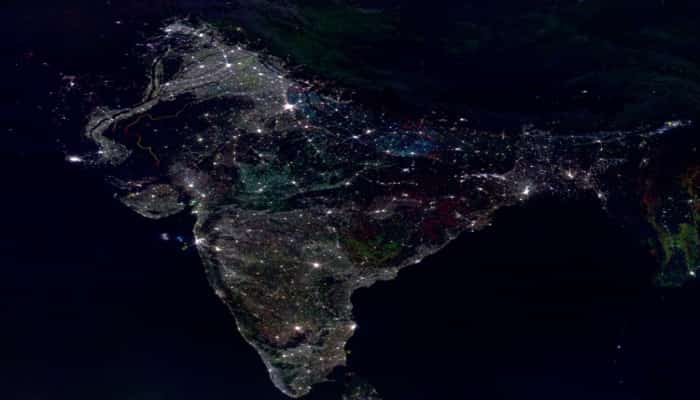 Lanterns/Kandils (colorful paper hangouts)
Rangoli (designs of colorful powders and diyas)
Sharing sweets and snacks
Get-together
Puja as per the auspicious time, prayers, and worshipping the Gods in early morning
You may also like...