The Benog Tibba Circuit Trek in Uttarakhand
Benog Tibba Circuit is located near Mussoorie-the queen of Garhwal Mountains. The hill is clothed with forests. From the apex, the snow crowned Himalayan peaks, Doon valley and Yamuna valley can easily be seen. The hill is a witness of many Britishers at high posts here. Benog was the last fix of the epic 'Great Trigonometrical Survey in India.' The Benog Tibba Circuit trek makes you conquer some heights of the Himalayas and presents you with breath-taking sights.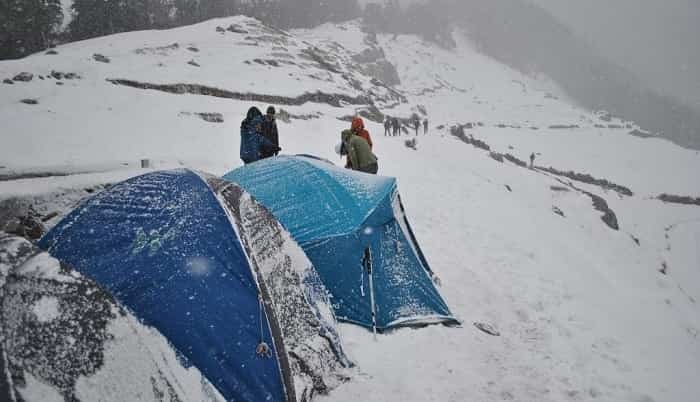 Ideal season to trek Benog Tibba Circuit: It is from October to April.
Location of Benog Tibba Circuit: It is located near Mussoorie.
Trekking the Benog Tibba Circuit
It takes only one day to start and complete the trek. You have to trek the distance of 15 to 20 kms. Your trek starts from the library, presiding over Gandhi Chowk at Mussoorie Mall's western end. March 6 kms. till Cloud's End or catch a taxi.
Alternatively you can take a rickshaw to reach Company Bagh-a botanical garden earlier and now a picnic spot. Tread on the main road. It brings you to Waverly. To the west, the Benog Tibba stands. Your return route is visible to you, finishing spectacularly in the yellow roof of the Happy Valley Tibetan Monastery.
Observe the absolute plunging eastern face of Benog. Your way to Park Chungi from Waverly is a 3 kms., forested road. Park Chungi shows the shortest way to Everest's Park Estate. The ridge walk to Cloud's End from Everest's Estate is another 3 kms. On reaching Cloud's End, take north, go down to a narrow saddle spanning limestone cliffs. Turn east then, to traverse a path ( 3 km) up the southern receding face of Benog. From Benog you see wonderful views of the snow clad peaks and the River Yamuna. Their northern sides are extremely steep and have dense forests. It gives a good home to the Ghoral which was a mountain goat and very commonly found in theses hills but now it has become extinct.
Regarding your return journey, you can make a start from Benog itself via Cloud's End and the motor road to Mussoorie. You can also opt for adventure while returning as well and march down the eastern face (towards Mussoorie) by a Pagdandi-a faint footpath, to the old limestone quarries.
Carry on near vertical roads which are built for high geared trucks carrying limestone that once zigzagged to Dhobi Ghat. Dhobi Ghat is famous for its gushing water springs. March back to Park Chungi through a thickly forested steep climb. Park Chungi is an old toll barrier at the western limits of Mussoorie.
From Dhobi Ghat which is one of the most magical but least visited place of Mussoorie, a motorable road hurries up to the main Kempty Falls-Mussoorie road. You can also opt for an hour's climb up the eastern flank of Mussoorie's Happy Valley through forest. It will take you to the Murray Pumping Station. From here, catch a jeepable road to the Company Bagh. You can also ascend through the original bridle path to come out at the Tibetan Central School. There are massive Tibetan settlements here because when Dalai Lama first fled Tibet, he resided here at Birla House. From Happy Valley, a leveled motor road brings you to the Library after 4 kms.
Benog Tibba has faced many challenges and threats to its existence and importance but have come out victoriously every time, thus leaving a lesson for every pessimist. After a Benog Tibba Circuit trek, you learn never to give up and beat the challenges and tribulations.
You may also like...