Amarnath Yatra by Helicopter 2020 with Gulmarg Tour
Amarnath, the holy shrine in a Cave attracts millions of devotees of Lord Shiva because it is so unique. It is not only the Ice lingam that renews each year but also the mythology associated with this timeless place that makes it so important for devotees. Try a 3 nights 4 days helicopter Yatra with Gulmarg thrown in, one of the quickest and most convenient ways to undertake a pilgrimage that is tough, to say the least.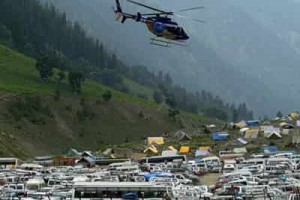 Day-1: Fly into Srinagar
Fly into Srinagar where our representative greets you and helps you transfer to your hotel. Relax a little and freshen up because the afternoon is reserved for a visit to the lovely Mughal Garden, the Nishat, Chashmeshahi and Shalimar Gardens followed by a visit to the Shankaracharya Temple. Enjoy lovely Kashmiri cuisine at the hotel and promenade alongside the Dal.
Day-2: Helicopter Yatra to Amarnath
An early morning breakfast fills you with energy for the drive to Baltal before dawn. Here you board a helicopter that takes you to the Holy Shrine at Amarnath Cave. If you pick a helicopter Yatra you receive a priority pass for Darshan. Complete your prayers before the awesome ice lingam and return to board the helicopter for the return ride to Baltal where a cab is waiting to take you back to Srinagar. Check into your hotel, enjoy dinner, go out for a walk and sleep, knowing you have fulfilled a religious duty. Your hotel accommodation includes dinner and breakfast.
Day-3: Gulmarg
If you have come this far it is only fair you take in at least one of the many beautiful places worth visiting. Today you head to Gulmarg after a sumptuous breakfast. Gulmarg is not far away and in an hour you are in the midst of bewitching natural beauty. There is plenty to do here. You can go skiing if conditions are right, go horse riding or take the cable car ride. Play golf if you are so inclined or climb the Khilanmarg Mountain to enjoy an unparalleled view of the countryside. Go for a short walk or simply rest under a pine tree and admire the view. Gulmarg never fails to fascinate. Exhausted but refreshed you return to your hotel for dinner and rest.
Day-4: Srinagar
An early morning breakfast over, you return to Srinagar airport where your Yatra ends and you board the flight that will take you back home taking back fond memories.
You may also like...