Gorgeous Goa Mumbai Beaches Tour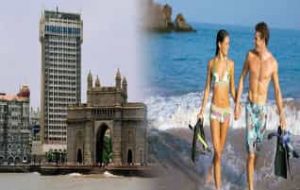 Think of the many Indian Beaches and you would at once conjure up visions of gently rolling sea caressing sun-kissed sandy beaches, palm fronds waving gently in the soft breeze and people relaxing and having a fun time. Our Country is utterly glorious, totally gorgeous; a siren beckoning you to lose yourself in its enchanting beauties. Being, bordered by seas and oceans on three sides, India is blessed with a string of pearly beaches, each attractive in its own right. Some buzz with crowds all year round while some are quiet beaches that would entice you to laze and gaze at the solitary nature around. The beaches of India in a word are a worthy retreat from the busy life to discover nature in myriad forms.
We offer gorgeous Goa Mumbai beaches tour packages that magically bring alive the enchanting beauty of this glorious beaches of India. Join our Goa Mumbai beaches tour and travel like a prince from one beach to the other. Our tour guides bring you in-depth information on each place, point you to some of the best fun spots and help you enjoy the delectable cuisines of each place for a fulfilling, memorable experience.
Goa Beaches Packages Itinerary
Day 1: At Mumbai
The gorgeous Goa tour begins at Mumbai where our tour representative meets you and escorts you to your hotel and settles you in, leaving you free to refresh yourself and enjoy the night charms of this sparklingly vibrant metropolis.
Day 2: Mumbai to Goa
Early morning you and other members of the tour board a flight to Goa and check into a beach hotel. Refresh yourselves and set out for a trip to Dona Paula beach, the lovers' paradise where you can go water scootering and laze about. Then you visit Marmagao Port followed by a visit to Old Goa to get in some churches, Portuguese architecture and view the unique World Heritage Site of the Basilica of Bom Jesus. Day one ends on an exciting note with dinner and time to explore night life.
Day 3: Panaji
It is an early morning departure to Panaji in the North. This beautiful city is on the banks of the Mandovi and you get to visit old Portuguese manors, churches and then a serene boat ride on the lovely Mandovi after which you return to your hotel room for rest.
Day 4: Anjuna, Colva, Aguada
Today it is going to be a trip to the fabulous beaches in the vicinity such as the Miramar, closest to Panaji and then Aguada, Anjuna, Majorda, Candolim and Colva. You have the option of a spa treatment, boat ride on the sea or surfing. A fun-filled day ends in a crimson sunset promising still more entertainment till late at night on the beaches.
Day 5: Delights of Goa
Today is for fun and enjoyment by the seashore on the beach. There are plenty of water sports to keep you occupied and if the mood takes you, you can spend the afternoon in a club like a colonial and enjoy Feni while looking forward to a night on the beach in a carnival like atmosphere.
Day 6: Anjuna Exploration
You are free to spend the day as you like. Most tourists opt to explore the flea market of Anjuna, shop around, drive inland, have a wonderful seafood lunch or just laze around under the blue skies with the breeze caressing you.
Day 7: Goa to Mumbai
This is the last day of your tour of magnificent Goa and you bid goodbye to the paradise, leaving your hotel to catch your flight back to Mumbai. In Mumbai you check into your hotel and explore landmarks as well as museum, Bollywood film city, Chowpatty, Juhu Beach and other attractions. Your tour official ends today.
You have had your first taste of Goa and it should have sparked a thirst for more. Make plans to return!
You may also like...