Chardham Yatra Travel Tips & Guide
Since time immemorial Uttarakhand has been a popular haunt for devout pilgrims. At every lane and every road curve of Uttarakhand, you would get to spot a temple. The ambiance reverberates with sounds of bells and chanting of mantras. It seems as it were this land of virgin beauty is indeed a true abode of God cut off from the chaos of the mad world. Thus, Uttarakhand is often very rightly referred to as the 'Dev Bhoomi' or 'Land of Gods'. Uttarakhand houses the four most vital temples or Dhams of Hinduism and that is what spreads its fame far and wide. Yamunotri, Gangotri, Kedarnath, Badrinath; the four Dhams of Uttarakhand are referred to as the Chardhams of Uttarakhand or Chota Chardhams. These Chardhams are heavily flocked by pilgrims during the travel season. The 'Panch Kedars', 'Panch Badris' and 'Panch Prayags are also the most cherished goals of Hindu God believers. Deliverance from mortal sins and from the miseries of life is assured to someone who undertakes this arduous religious expedition. The journey to Uttarakhand Chardhams is definitely not an easy one. It requires sufficient mental and physical stamina to set out on the Chardham yatra and complete it successfully. Pilgrims need to adhere to certain vital tips to make their yatra hassle-free. Read on to learn more.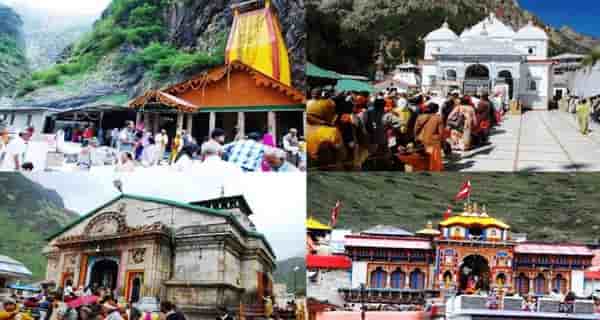 Each year Chardham yatra opens on the highly auspicious day of Akshaya Tritiya or Akha Teej. The occasion of Akshaya Tritiya is observed on the 'Tritiya' of Shukla Paksha in the Hindu month 'Vaishakha' Chardham Yatra starts on Akshaya Tritiya day and closes on the day of Diwali in the month of October. Diwali too is a very important festival for Hindus. The day celebrates the power of good over evil. 2016 Chardham yatra is supposed to open on May 9th and close on October 30th.
Best Time to Visit
The ideal time to visit the Chardhams is between months May and October. However the Yatra needs to be avoided around the months July, August and September when there are monsoons in Uttarakhand. During that time Uttarakhand receives torrential downpour and Chardham route becomes prone to landslides. In the winters, there's heavy snowfall at the location of Uttarakhand Chardhams. The area becomes snow-clad, the weather is fiercely cold and thus unfit for travel.
Best Route
The four Dhams can be reached through the following routes-
Yamunotri Route
Rishikesh – Narendra Nagar – Chamba – Brahmkhal – Barkot – Hanuman Chatti – Phool Chatti – Janki Chatti – Yamunotri
Gangotri Route
Barkot – Uttarkashi- Gangotri
Kedarnath Route
Uttarkashi – Guptakashi – Kedarnath
Badrinath Route
Kedarnath – Pipalkoti – Badrinath
Weather in the High Himalayas keeps fluctuating a lot. Summer season in Chardhams is around May-June. The weather during that time remains cool, pleasant with temperatures being around 18 degree centigrade on an average. Around the months July to the middle of September, Chardham receives the rainy season. Rainfall and landslides during that season makes journey perilous and difficult. Temperature during the rainy season or monsoons may fall to about fifteen degree centigrade. Winter is too chilly and snowy at the Chardhams. Winter season starts in November and closes towards the end of February with average temperatures being around five degree centigrade.
Things to Carry
The major must-carry things for the Chardham Yatra are heavy woolen garments, umbrella, windcheater, tennis shoes, traveling stick, dry fruits, personal medical kit, sunglasses, handy torch, moisturizing lotion/cream, mosquito repellent lotion/cream, rain coat, personal toiletry kit.
How to Reach
Chardhams consist in the four Dhams of 'Yamunotri', 'Gangotri', 'Kedarnath', 'Badrinath'. The journey starts from Yamunotri and ends at Badrinath.
Those who wish to avail flight route, need to take a flight from their respective city to Dehradun's Jolly Grant Airport and then hire cab services to reach the Chardhams. Those who wish to avail rail route, need to make a train journey to Haridwar or Rishikesh or Dehradun first and then hire a cab/taxi to reach the Chardhams. Hanuman Chatti is the base camp for Yamunotri trek and Gauri Kund is the base camp for Kedarnath trek. Each of these base camps are connected to all important Uttarakhand cities via motor-able roads. Thus the roadway journey to Chardhams is also a convenient option for those wishing to opt for it. Well developed metal roads connect Chardhams to various other parts of Uttarakhand and taxis and buses regularly ply on those roads.
If you wish to avail helicopter services, you could do so. Helicopters for Chardham yatra are available from Dehradun.
Fitness
Chardham Yatra is a rigorous trip where you need to trek for miles on the rugged mountainous terrain of the majestic Himalayas. Thus, physical fitness is an essential pre-requisite for Chardham Yatra. To ensure your fitness, go for a thorough medical checkup prior to the trip. Prepare your body for this rigorous expedition through regular brisk walks, freehand exercises, breathing exercises. Eat healthy food to give your system the needed energy backup. Cardiac patients, those with vertigo issues, lungs related issues, pregnant ladies are advised not to undertake the Chardham Yatra. Senior citizens who wish to embark on the Chardham Yatra need to qualify in the mandatory fitness test
Insurance
Before setting out for Chardham Yatra, you are advised to draw insurance for your own self and for your luggage and baggage. Journeying to the high Himalayas is not free from dangers. The weather and terrain is unfriendly, posing enough threat to life and property. Insurance would arm you and your family with a financial backup in the case of an unforeseen calamity or theft of goods
15 other miscellaneous tips
Other important tips for a hassle-free and successful Chardham Yatra are-
Don't go astray from your group while walking on the trekking trails of Chardham. You might lose your way.
Avoid fried food items and take well cooked or boiled food only to escape the risks of diarrhea.
Drink only packaged mineral water or boiled water to avoid contamination of bowel.
Non-vegetarian food is restricted in the Chardham region. So, you need to abide by the rule or else you might hurt the sentiments of the natives of the region.
Don't wander here and there leaving your luggage.
Don't carry any valuables during the journey.
Carry a packet of Glucose in order to replenish the exhausted stock of energy.
Inside Chardham temples, taking pictures is prohibited. So, don't do anything like that.
Cover your head and leave shoes outside before entering any of the Chardham temples.
Don't wear free flowing garments during the Chardham trek.
Carry a notebook of essential phone numbers.
Carry a chit of paper bearing your name, address and the name of the Yatri accompanying you.
Wearing sunscreens and broad beamed hat is essential to keep sunburns away.
Hire the services of registered porter or Ponywala only.
Don't halt to rest in places where warning signboards are fixed.
You may also like...