How to Reach Badrinath by Taxi, Bus, Cars, Trains & Flights
Badrinath has the unique distinction of being on the map of the Chota Char Dham Yatra and also features in the major Char Dham Yatra. Badrinath is home to Lord Vishnu, located at height of 3133 metres in Chamoli District of Uttarakhand. There are different ways to reach Badrinath. Whichever route you travel, you are sure to enjoy the scenery and the view at Badrinath is also quite magnificent.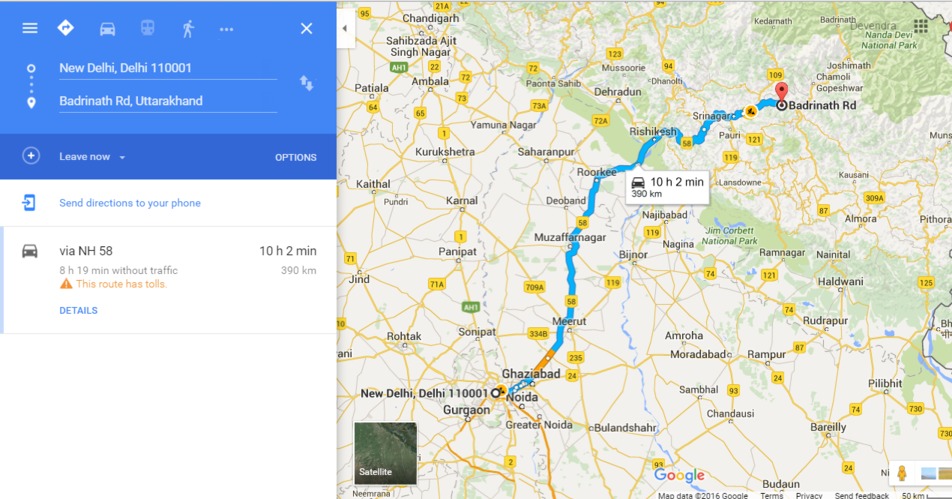 How to Reach Badrinath
By Air: The closest airport is Jolly Grant airport in Dehradun. It is about 314 km from Badrinath and is connected to Delhi and other parts of India. You can hire a taxi or take a bus to Badrinath from Jolly Grant airport.
By Rail: Rishikesh is closest to Badrinath at a distance of 295 km. The better option is to book a train ticket to Haridwar and then take a connecting train to Rishikesh or travel by road from Haridwar to Badrinath.
By Road: Badrinath is connected by a network of roads to Rishikesh, Haridwar and other parts of Uttarakhand. There are public state transport buses and you can hire private taxis and cars from Dehradun, Rishikesh, Pauri, Rudraprayag and Srinagar to take you to Badrinath.
Delhi to Badrinath Google Route Map
Road Distance
Starting by road from Haridwar, after you fly in or arrive by train, is a very popular option. The distances are as follows:
Delhi to Haridwar: 206 km
Haridwar to Rishikesh to Badrinath is a distance of 324 km.
Haridwar-Rishikesh: 24 km
Rishikesh-Devprayag: 30 km
Devprayag-Kirtinagar: 4 km
Kirtinagar-Srinagar: 34 km
Srinagar -Rudraprayag: 20 km
Rudraprayag-Gauchar: 12 km
Gauchar-Karnaprayag: 20 km
Karnaprayag-Nandprayag: 11 km
Nandprayag-Chamoli: 8 km
Chamoli-Birahi: 9 km
Birahi-Pipalkoti: 5 km
Pipalkoti-Garur Ganga: 15 km
Garur Ganga-Helang: 14 km
Helang-Joshimath: 13 km
Joshimath-Vishnuprayag: 8 km
Vishnuprayag-Govindghat: 3 km
Govindghat-Pandukeshwar: 10 km
Pandukeshwar-Hanumanchatti: 11 Km
If you travel to Kedarnath first, you could return to Chamoli on the way back and then make your way to Badrinath, a distance of 96 km.
Chamoli to Joshimath is 96 km while Joshimath to Badrinath is 42 km. You can pick whichever route is convenient.
Badrinath Route Map from Major Parts of India
Delhi to Badrinath is a distance of 528 km by road. There are plenty of tour operators who will book you on a coach direct to Badrinath via Haridwar and Rishikesh. You can take a train, the Janshatabdi to Haridwar and travel by road the rest of the way.
Chennai to Badrinath is a distance of 2578 km by surface. Fly to Delhi and join a regular Badrinath bus yatra or hire a cab. You can travel by Dehradun express and reach Haridwar junction from where you go by road.
Hyderabad to Badrinath is a distance of 1979 km by surface travel. Fly to Delhi and travel to Badrinath by road. You can also travel by Duronto Express to Haridwar junction and then by road.
Ahmedabad to Badrinath distance is 1440 km by road. You fly in to Delhi and travel by bus or taxi to Badrinath. You can travel by Haridwar Mail to Haridwar and then by road following the usual route.
Badrinath is 1972 km by road from Mumbai. As in other cases it is better to fly to Delhi and travel by bus or taxi to Badrinath. You can also fly to Dehradun but it will be more expensive. You can take the garib Rath train to Delhi, a more affordable option or a train to Haridwar.
Badrinath is 1712 km from Kolkata by road. You fly to Dehradun airport and then take a bus or a cab to Badrinath. Some find it more convenient to fly to Delhi and proceed by road to Badrinath. As for train travel you have the Kumbha Express that takes you to Haridwar.
You may also like...