Summer Holiday Destinations in Uttarakhand
Summer season is slowly crawling in and with that we are all trying out various measures to prepare our summer combat arsenal the best possible way. Memories of last year's summers and the havoc it wreaked all over the country could be nightmarish. With global warming on the rise, summers indeed are a cause to draw few lines of tension wrinkles on your forehead. Apart from collecting all heat fighting apparatus within time, you could also consider fleeing to high Himalayas this summer. And, when we talk of a vacation on the Himalayas, the first word that comes to our mind is Uttarakhand. Uttarakhand summer holidays can truly be an experience of a lifetime. In the lap of Nature and under the shadow of towering lofty snow-wrapped peaks you would definitely forget the scathing effects of scorching sun. Summer vacation at Uttarakhand is now growing increasingly popular among the tourist circuit. With the improvement in the system of accessibility and safety measures, Uttarakhand is now more accessible than what it was in the past decade. The land is blessed with some of the most enchanting hill stations of the country and that definitely makes the Summer holiday destinations in Uttarakhand bustle with tourists every summer.
If you wish to pick an unforgettable travel experience this summer, make a trip to any of these Uttarakhand Summer holiday places. Here follows the list-
Nainital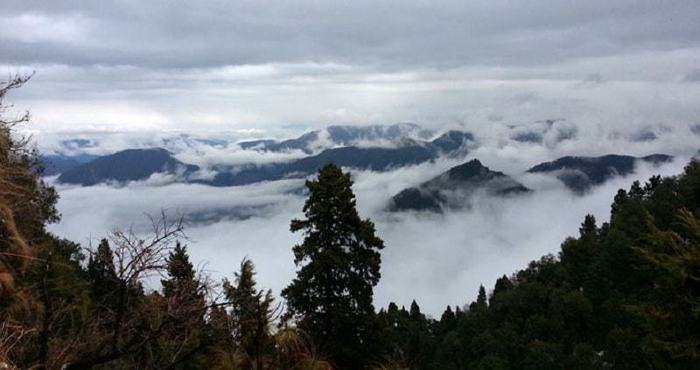 The picturesque hill station of Nainital falls within Uttarakhand's Kumaon region. The hill station is built around the famous Naini lake lying at the midst of the hill station. Nainital is perched at an elevation of 2048 meters above the sea level and offers tourists with multiple fascinating experiences like nature gazing, bird watching, boating at Naini Lake, jungle safari at the Jim Corbett National Park and many more. The view of Sapta-Shring mountain ranges that beset Nainital, is simply breathtaking. Nainital had been the summer capital for Britishers during the British period. Today, it serves as the most popular summer retreat for heat-stricken tourists.
Auli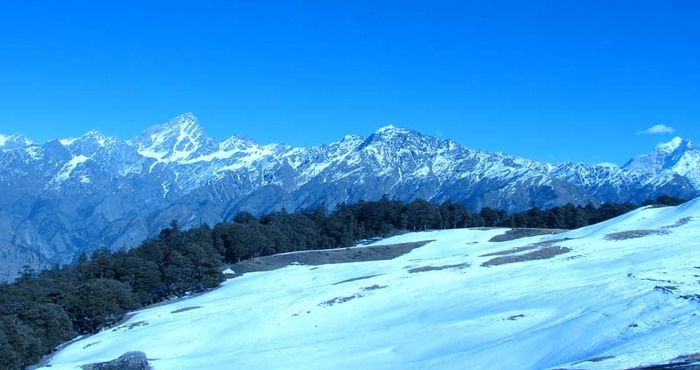 Auli, the famous ski resort of Uttarakhand is also a bustling tourist haunt especially during the hot summers. The high altitude and lofty snow wrapped peaks are just enough to take off the terror of scorching, blazing summers and soothe both your body & mind. In the winters, Auli is crowded with passionate skiers who get the thrill of their life skiing on the vast stretches of snow clad slopes of Auli. This fabulous hill station is administered by GMVN (Garhwal Mandal Vikas Nigam). Auli is about 8 kms away from Joshimath.
Ranikhet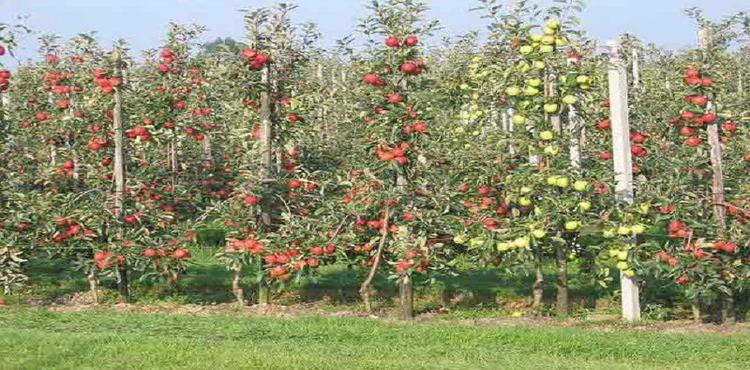 Ranikhet, the 'Queen's meadow' had won the heart of Queen Padmini [Queen of King Sukhdev] once upon a time and today it would surely win your heart too. This picture-perfect hill station characterized by the bounties of natural beauty falls at an altitude of 1829 meters above the sea level. Most gorgeous views of snow wrapped Himalayas and the harmonious heavenly beauty of nature makes Ranikhet one of a kind. Lush green forest covers and richness of fauna and flora add to its perfectness. So, this summer pay a visit to Ranikhet to bag some of the best experiences of a serene Himalayan summer holiday.
Chopta Valley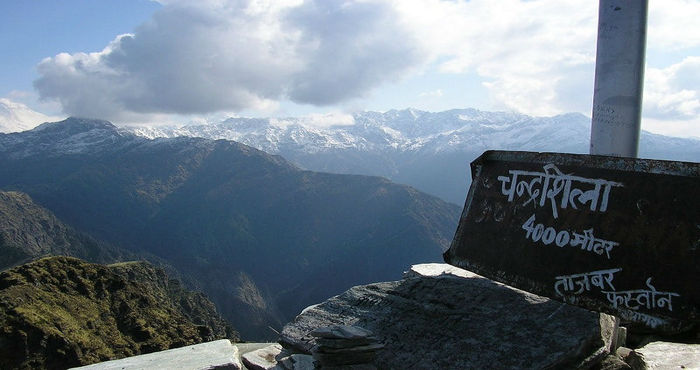 The scenic beauty of Chopta Valley has earned for it the metaphor of 'mini Switzerland'. Chopta falls in Uttarakhand's Rudraprayag district and is perched at an elevation of 2800 meters above the sea level. The panoramic vistas unfolding the beauty of snow clad peaks and hill slopes richly carpeted with dense Alpine forest, makes Chopta a real visual treat. Take a break from the soaring heat of the plains and flee to Chopta for a lifetime experience.
Kausani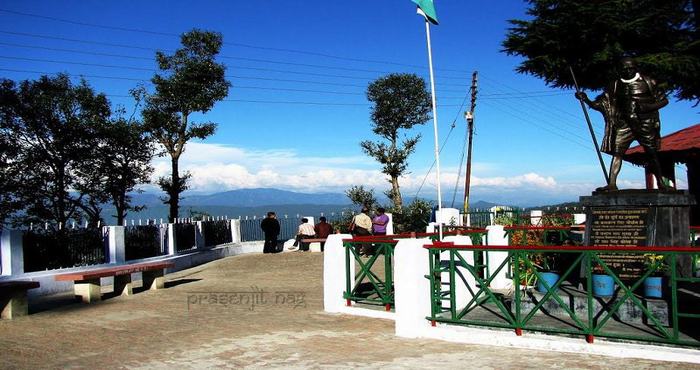 Kausani is a hill station with unparalleled virgin beauty of Nature. It falls within Uttarakhand's Bageshwar district. Kausani previously known by the name of 'Valna' is one of those idyllic hill stations that would surely cast a magical spell on you. The majestic sky-kissing Himalayan views, bubbling rivulets, towering Alpine trees and melodious chirping of birds make Kausani an out-of-the-world destination par excellence. Beat the heat of sultry summers by making a trip to this wonderful hill station of Uttarakhand.
Binsar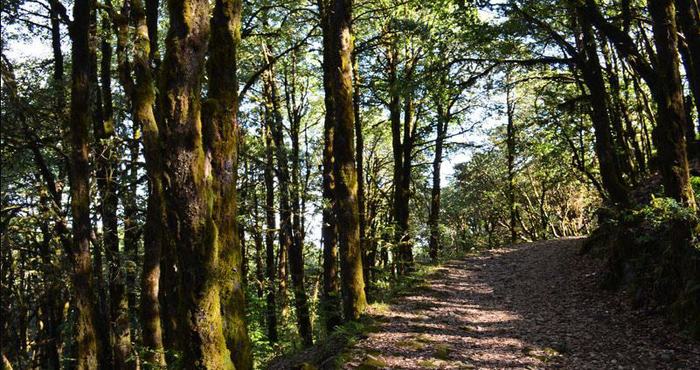 If you wish to commune with Nature in the midst of total peace and tranquility, Binsar perhaps is the best place. This sleepy picturesque hamlet cradled amid luxurious beauty of Nature lies at an altitude of 2412 meters above sea level. History tells that Kings of Chand dynasty were very fond of this place and made it their summer capital. Binsar will enthrall you with its spectacular 350kms of snowy mountain vistas comprising of major peaks such as Nanda Devi, Shivling, Trishul, Panchchulli, Chaukhamba. While at Binsar, you may indulge in activities like wildlife sanctuary trips, village trips, bird watching, trekking along the mountain pathways in order to soak in the beauty of Nature to your heart's content.
Munsiyari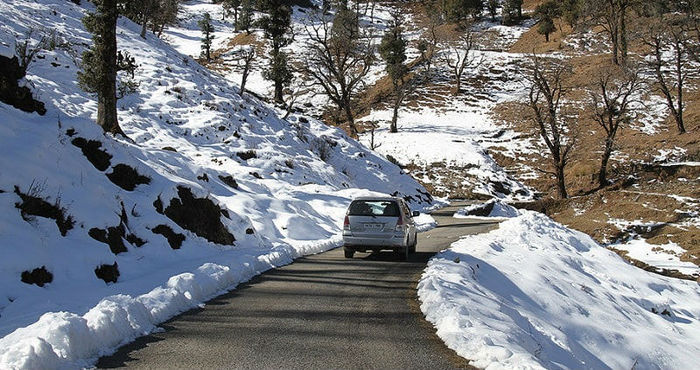 Munsiyari, another splendid hill station lying at an elevation of 2298 meters falls in Uttarakhand's Pithoragarh district. Munsiyari has come into the spotlights very recently and is now receiving significant amount of tourists. Visiting Munsiyari around the Spring time is a veritable treat indeed. Fresh emerald meadows, hill slopes ablaze with colorful Rhododendrons, forests of Chir, Spur, Deodar and paper trees, shimmering lofty peaks, gurgling springs make it an exotic heaven on earth. Trekkers too find it to be a real paradise as Munsiyari houses some of the most adventurous trekking trails.
Chaukori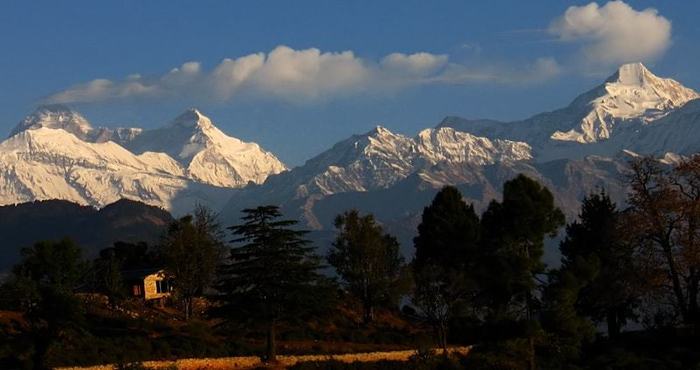 Chaukori in Uttarakhand's Pithoragarh district is a small picturesque hamlet in the laps of the Himalayas. Perched at an elevation of 2010 meters above the sea level, Chaukori presents one with dreamy vistas of verdant green rolling vales and tea gardens, stunning snow capped mountain peaks and an all-pervasive serenity. If you wish to take in the beauty of this marvelous hill station to the fullest, break away from the chaos and annoying heat of summers and spend some quality time at this beautiful hill station.
Harsil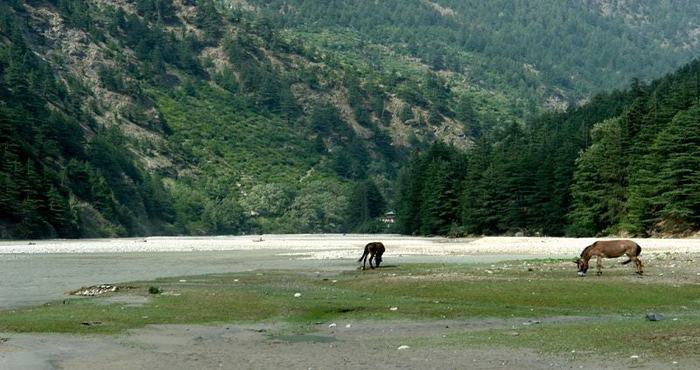 Harsil, a small village set against the banks of River Bhagirathi has turned into a fascinating tourist magnet of late. Several mountain passes connect Harsil to the well-known Bapsa valley.  Harsil's beauty is characterized by fragrant apple orchards, meandering pathways, sky-scraping conifers, gurgling streams, snow capped peaks and the tumultuous torrents of River Bhagirathi. Make this charming hill station your summer retreat and pick some real unforgettable experiences.
Mukteshwar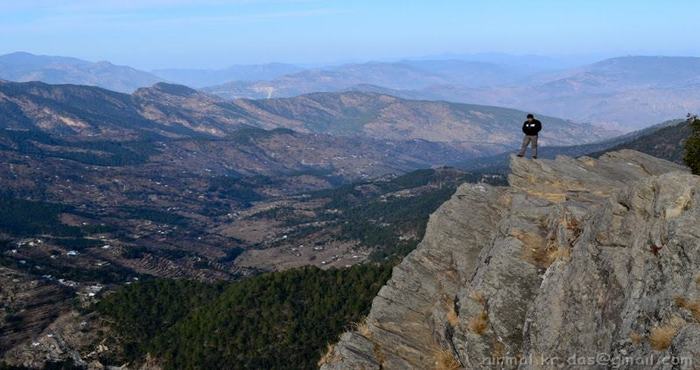 Mukteshwar is a quiet and serene hill station located in one of the remotest parts of Kumaon Himalayas. The awesome Himalayan resort of Mukteshwar is lodged atop a hill ridge and leaves one mesmerized with the magnificent views of rolling Himalayan ranges, delectable fruit orchards, dense dark woods of conifers silhouetted most artistically against the blue sky and the moonlit night views of the scintillating Almora town lodged at a lower altitude.  Also, Mukteshwar is famed enough for the ancient temple of Mukteshwar. This temple belongs to Lord Shiva and dates back to nearly 350 years. Mukteshwar is about 51 kms away from the hill town of Nainital.
You may also like...