Himachal Pradesh Fairs and Festivals
Himachal Pradesh is in Northern India and is also bordered by the Indian states of Punjab, Jammu Kashmir, Haryana and Uttar Pradesh. This state is one of the highest per capita states in India. The economy of this state is mainly depending on agriculture, hydroelectric power and tourism. There is tremendous variation in the climate of this state due to the variation in the elevation. The main communities residing over here are Rajputs, Gujjars, Ghirth, Kanets, Brahmins, Gaddis and Kolis.
The people in Himachal are very enthusiastic and participate in the fairs and Festivals of Himachal Pradesh. Most of the festivals and fairs are connected with various seasonal changes and all the festivals always begin with their specific folklores without which the festivals would be considered incomplete. These fairs held give a very clear glimpse of the life of the rural people their customs, traditions, beliefs through this so that even visitors visiting during these fairs can understand what type of life the rural people live. Here each district has their own set of annual fairs which are connected by the geographical and historical background of that particular area.
Festivals in Himachal Pradesh play a very important role in the lives of people living here. On the festive occasion farmers don't work in the fields and all rich and poor come together to celebrate these festivals. If a death occurs in a family on the festive occasion then others too do not celebrate the festival until a birth occurs around the same time. The Sikh festivals are celebrated largely in the cities, but the tribal festivals have their own identity which is different from other festival celebration anywhere else.
Festivals of Himachal Pradesh gets started with the Lohri or Maghi festivals where all young and old people volunteer to sing folk songs and dance around the bonfire in the night. Then comes Basant Panchami on the onsets of the spring and one can catch this at Kangra and Hamirpur. Holi which is the festivals of colors is celebrated all over Himachal but specially in Sujanpur and Palampur it is celebrated raucously. On the occasion of Baisakhi devotees come in large numbers in the sacred waters for a holy dip at various places. Kullu Dussehra is a celebration that is acclaimed internationally with prevailing spirit. The other festivals celebrated here are Phulaich, International Himalayan Festival and Losar.
Lohri Festival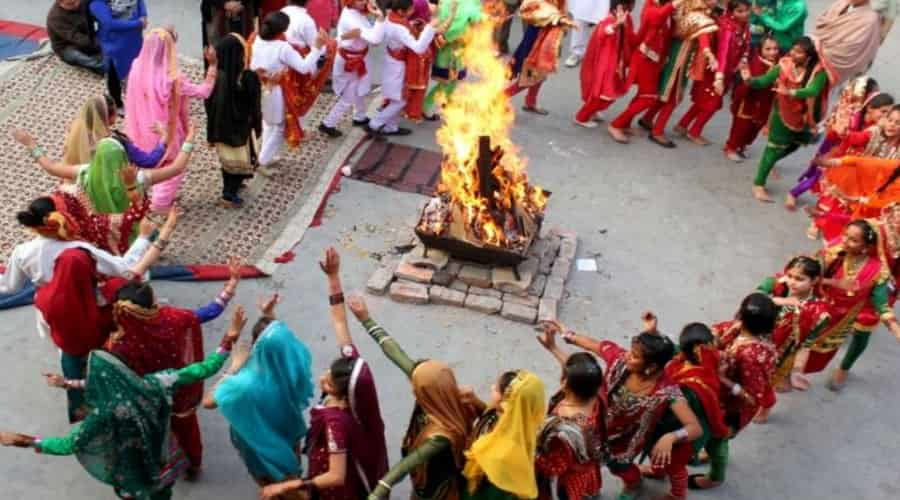 Festival Month: Middle January
Himachal Pradesh state's festivals start from Lohri festival, to crack the frizzy winter of this state Lohri festival is majorly celebrated by people. In the celebration of Lohri festival young people and old volunteer to perform folk songs through the bonfire during the night.
Other people enjoy dancing on the tunes of traditional occasional tunes. You will find big abstinence in the celebration of this festival but you won't find less energy and interest within the People. As per their tradition, this festival comes during the middle winter season and is celebrated at the Rabi crop's last sowing.
Baisakhi Festival
Celebration Month: April
Baisakhi festival is one of the prime and popular festivals of Himachal Pradesh. In Himachal Pradesh this festival is celebrated by people on the13th April every year. Baisakhi festival has huge importance in this state. The roots of this festival belong to rustic agrarian tradition. During the winter season, it offers a last farewell. Baisakhi festival is celebrated in various regions of Himachal Pradesh such as Rewalsar, Shimla, Mandi and Prashar Lakes. People of these regions first take a holy dip in the water, many village fairs have dancing, wrestling and archery which are practiced on Baisakhi festival's day.
Apart from Himachal Pradesh, Baisakhi festival is also celebrated by Sikh and Hindu religion's people. During the season of Harvest, people of north India especially celebrate this festival. Within the Sikh religion, People consider this festival very holy because Sikh religion's 10th guide Guru Gobind Singh was born on this day.
International Himalayan Festival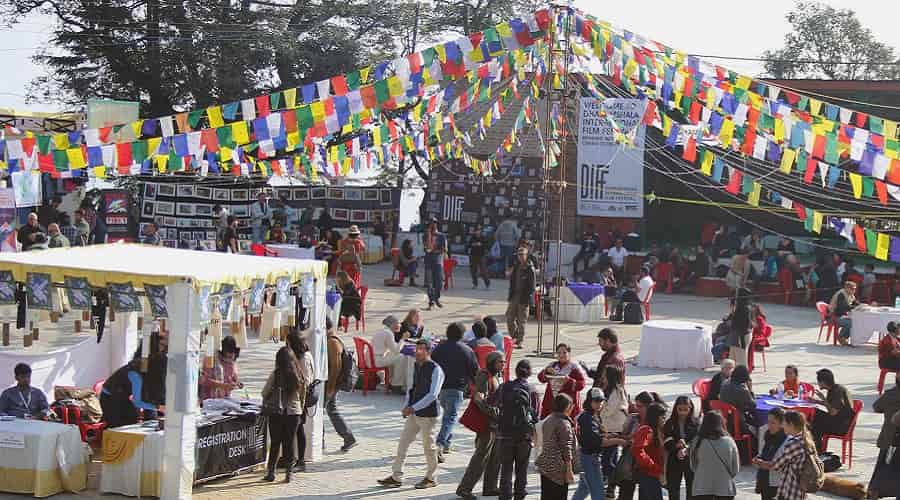 Festival Month: December
At Kangra district, the International Himalayan Festival is celebrated by regional people. This festival is held during December. The festival has been organized as a memorial to the program when the great religious leader Dalai Lama was honored by Nobel Peace Prize, this program was held during the year 1985. This program has importance because it is a symbol of International recognition and is devoted to his efforts to spread peace. International Himalayan Festival is subsidized through the Indo Tibetan Friendship Society; they have a collaboration with Himachal Pradesh`s Department of Tourism and Central Tibetan Administration.
This festival's celebration duration is for about 3 days. The prime aim behind the celebration of this festival is intensification ties & peace among the Tibetans and regional People of Himachal Pradesh. International Himalayan festival highlights include cultural performances and shows, which are majorly performed through the performers of Tibetan Institute of Performing arts, cultural troupes, local artists and school children. This festival of Himachal Pradesh is also one of the leading attractive element to attract more numbers of tourists.
Phulaich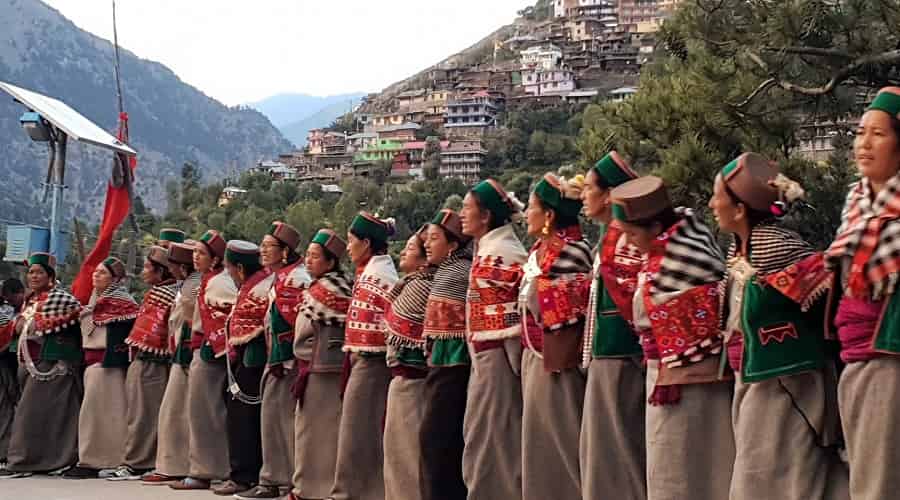 Festival Month: September
This festival of Himachal Pradesh state is popular as Ukyam's Ookayand. It is a mixture of 2 words such as Kayang and Oo. U means flowers and festival is a meaning of Kayang. In the entire Kinnaur district this festival rejoiced. On sixteenth September (Bhadra), village's ten Rajputs reach at peak of hill to nerve flowers and live their until the Bhadra's seventeenth. After that they come back to village & expend night by dancing and singing below deodar trees. Few flowers are so perfumed that sometimes visitors feel volatility due to its fragrance. Maybe Kinnaur region's upper part is very much rich due to wild flowers & the best time to visit Himachal Pradesh state is September because this entire region gets bounded by mind blowing fragrance.
few flower's fragrance is so intoxicated, the regional people used to live at this upper part during the night time to collect various flowers and when they come back to village, they celebrate this Phulaich festival. On month's twentieth morning people worship the Narayan god, they adorned the god by fine cloths and images. The pictures of other God is usually made by silver and gold, which are mounted from frame's all sides. In the celebration of festival all women, men and children dress up in gayest, they enjoy dance in the open space, below the deodar trees, being unknown from today's busy world. on festival's twenty third day, people brought the village god back to temple, at it's actual place and after that they sacrifice their lamb and goat.
Chamba Minjar Mela
Rejoiced In: Himachal Pradesh's Chamba valley
Fair Period: 1 week
Began In: Nine hundred thirty five
Celebration Month: August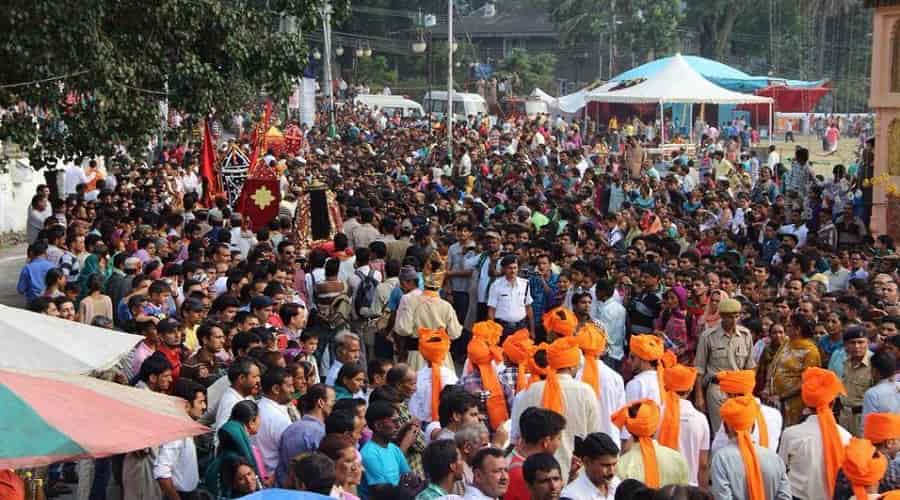 Himachal Pradesh is a very enthusiastic and energetic state where each and every festival and fair is celebrated by the people joyfully. Chamba Minjar Mela is one of the famous fair among the regional people of this state. The origin of this fair belongs to the historical period. It began during 935 A.D , the moment Chamba region's king got victory over Trigarta's ruler that is called as Kangra. After defeating the opposite fighter when the King came back, the regional people celebrated that very moment, all the people gave him a very warm welcome and honored him by maze and paddy, later on that victory celebration became traditional and till now the people of Himachal Pradesh follow it.
Chamba Minjar Mela is rejoiced during August , this joyful fair starts on macabre. Till the year of 1943, people were pushing the Buffalo in the water of the Ravi River, at that time if the running water of River is swept then it is a symbol of auspiciousness, people considered that God has accepted the sacrifice. In case, the animal is successful in reaching the opposite side of the River then the people take is as a good thing which means bad luck has gone to another side. In the recent years, people are not using buffalo they have shifted to Rupee, seasonal fruit, coconut and golden Minjar covered by red color fabric.
The symbol of Minjar which is dressed through the crowd of Chamba's Chowgan, signifies the appearance of corn-cob, generally it is made of silk. On Chamba Minjar Mela's 1st day, people bring the picture of Raghuvira Lord and also the other regional deities, Devtas and crests. The fair of Chamba Minjar started to show respect towards King Sahil Verman's victory on rulers and additional Tirgata which is also called as Kangra. He was a defeated Raja who was represented as Chamba's ruler with refreshing maize and paddy. The various twists of the story showcases the Ravi River was used to run close to the temple of Hari Rai. During the olden time, there were a number of great saints who went across the River each day to praise the temple's god, King Sahil Verman requested him to allow everyone to enter inside the Temple to worship the God. For the whole week, the Saint organizes the Yajna of continuous prayers, during that time he had interlaced a big colorful string which was an actual Minjar, he had placed it on the River water Ravi River magically changed her flow course due to that everybody could reach the temple of Hari Rai. Right now, people are celebrating the Chamba Minjar Mela for entire the week. They perform various types of dances such as like swirl, customary Kunjari Malhar, bands play, which is sung and practiced within the market area.
Kullu Dussehra Festival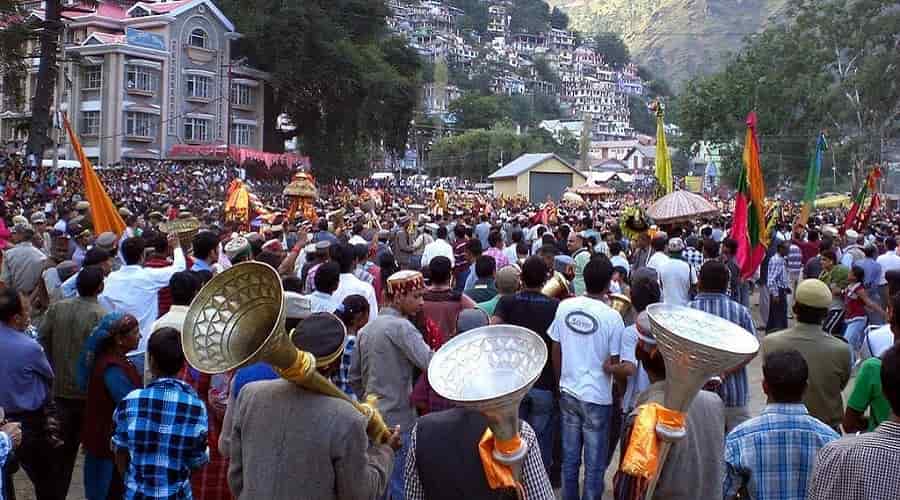 Festival Month: October
Kullu Dussehra festival of Himachal Pradesh is a traditional festival; almost 200 deities meet each other on the occasion of this festival, due to its uncommon celebration procession. To Raghunathji Lord, devotees dedicate the homage during the music because of which the whole Silver Valley gets multicolored. Within the Kullu Dussehra festival held on the rising moon's 10th day. e.g Vijayadashami day and for seven days more. On the1st day of the festival Lord Raghunathji's idol lumbers on merrily dressed chariot & this festival is participated by all gods of the village, which are accumulated in multicolored planquins, it is dragged from it's permanent place that is in Dhalpur Maidan to some other place around the Maidan through Big ropes.
The village People only practice the tradition of pulling the ropes. The complete procession is practiced on a high scale. In this procession all the valley's gods have to travel to Kullu during the Dussehra festival to offer homage to Lord Raghunathji. During the evening and mornings the valley's gods are paraded and invoked. After that people again become busy in singing, dancing, selling and buying during the seven days of the festival. The festival ends by burning of the Lanka. People take Lord Raghunathji's Chariot close to the Beas River's banks and at the end of the festival, people collect the mound of wooden grass for fire that is a sign of blazing of Lanka and as per their festival's custom they sacrifice various animals.
Within the royal fads, Kullu Dussehra festival is held and it is purified on social, religious and economic aspects that's why undoubtedly it has become nicely formed. During the celebration of Dussehra festival, you can enjoy your shopping , you will find variety of regional goods. This would be perfect religious holiday with fun.
Summer Festival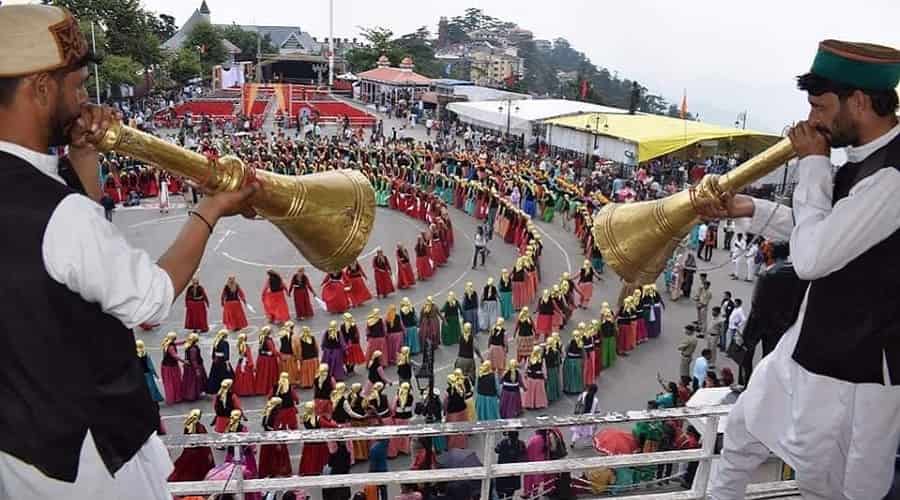 Rejoiced At: Himachal Pradesh
Rejoiced In: June Month
A huge range of India's talent, number of programs and magnificent settings has made Himachal Pradesh`s summer festival interesting and unforgettable. Shimla also organizes the sport tournaments, cross fair, posters and paintings exhibition, flower shows and fashion shows depended on folk attires. In entire Himachal Pradesh, you can get plenty of different programs that generally are managed through the Department of Art, Language and Culture. You can also attain the summer festival of Dharamshala, which is formed through Tibetan Institute of performing arts.
Himachal Pradesh state's Billing, which is close to Kangra, can see the Hang Gliding Rally accompanied by the blue sky. During the summer season, skiing becomes smoother over the Rohtang pass. If you are planning to travel to Himachal Pradesh during June then also you won't miss the chance to experience the true fun of Kangra festival. You just need to be enthusiastic and energetic during your trip to Himachal Pradesh.
Losar Festival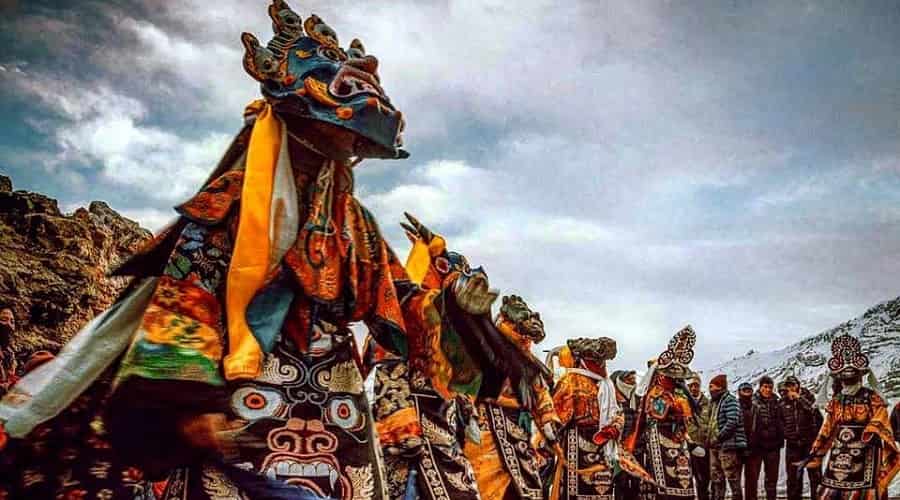 Region: Himachal Pradesh, Lahaul district
Festival Month: Middle November till December's 1st week.
Popular As: New Year of Tibetan
Losar festival is a sign of winter season within the Himachal Pradesh state. People worship the local devotees with great hope to get prosperous and happy winter season.
This festival contains ritual dance performance. Majorly this festival is rejoiced within the Buddhist areas of entire state, within the Lahaul's monasteries you will get to see few stunning performances. On festival evening, people practice Cham dance with attractive masks and attires, they try to showcase murder of nasty Tibetan king; this was happened during the nineteenth century. Usually it is popular as a devil dance; it signs victory of good over evil. Try to visit this state during 11th month so that you can taste the flavor of Himachal Pradesh state's festival.
Halda Festival
Region: Himachal Pradesh, Lahaul district
Celebration Month: January
Halda festival of Himachal Pradesh is specifically celebrated within Lahaul district on the occasion of New Year. During January, this festival is held in this region. The celebration duration of this festival is about 2 days. This festival is committed to Shashikar Apa, she is a Wealth goddess for the Lamaistic Pantheon. The actual date of Halda festival is always decided through Lamas. The Lamas select the place where all members of every house gather with fallen cedar brushwood to make a bonfire. Generally people cover the Lahaul by snow during the festival time of the year.
The prime attractive characteristics of Hadla festival is togetherness of families, heady cocktails and dancing. People believe this festival as an occasion to spend time with family and private celebration. This festival is very famous within the valley with Bhaga and Chandra Rivers. Bonfire that is made by gathering some branches from each family, displays unity among the communities. People considered this bonfire as a sign of happiness, good luck and hope.
Lavi Fair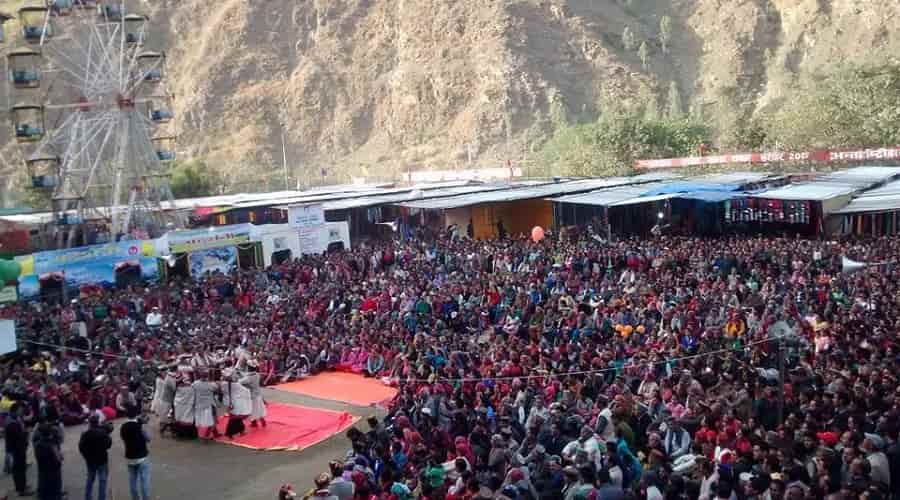 Rejoiced At: Himachal Pradesh, Rampur
Celebration Month: November
Lavi fair is held every year at Rampur village. This village is situated over the Satluj (Sutlej) River's banks within the pure nature surroundings. Try to visit Himachal Pradesh during November so that you can enjoy this fair completely. This traditional fair has got international popularity and notoriety. This fair has one more interesting characteristic that it is also a prime trading center & over an ancient trade route it is a stopover point which leads towards Tibet, Kinnaur, Afghanistan and Ladakh. The location where this Lavi fair is held also includes historical importance because during the oldest period it was a Bushair state. There is a saying during King Kesar Singh's supremacy, the trade agreement was made among Tibet and Bushair, this agreement was actually a friendly sign.
During that time they also exchanged swords and horses among them. Since that trade agreement this Lavi fair has become a traditional occasion which people of Himachal Pradesh celebrate every year with huge energy and zeal. In the early days, traders of Kinnaur and Tibet were showcasing their work in the fair. Somehow, along with the Chinese work; they stopped presenting their stall in the fair. Afterwards, people put efforts to take them back to add the earlier glory of Lavi fair. Here you will get a golden opportunity to buy as many creative things as you want. Traders of different regions visit Lavi fair to vend utensils, quilts and many more consumer goods.
The major item which can be seen in a huge amount would be Pashmina wool, Chaumukhi horse and dry fruits. Lavi fair of Himachal Pradesh state is a beneficial occasion for tribal people to display their handmade items and various types of handicrafts, woolen Pattoos, agricultural produce & Kala Zira. One of the interesting elements which you would like to buy is Chinese products like tracksuits, jackets and crockery.
You may also like...