How To Prepare For Amarnath Yatra 2018
For any staunch Hindu devotee, visiting the Amarnath cave remains a chief spiritual goal. Amarnath Yatra takes one to the holy Amarnath cave that houses the famous ice Shiv Lingam. The cave's association with myths is strong indeed and that is what a pious soul finds immensely fascinating. The Yatra to Amarnath makes you traverse on an uphill route that could be quite tiresome and rigorous. To make things easy, the following Yatra tips might help you a lot. So read on-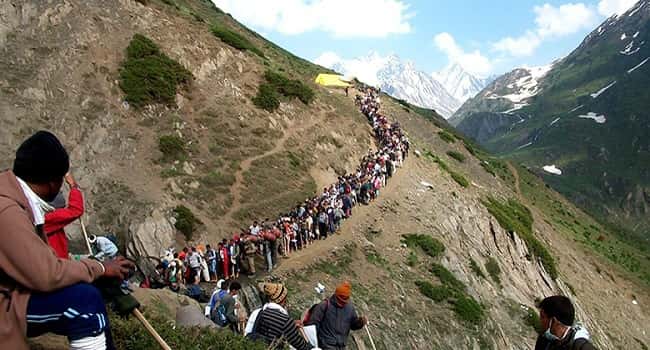 The holy shrine of Amarnath is located at the end of the Lidder Valley. It stands at a height of 3888 metres and you have to start your journey from Baltal, the closest point at 14 kms or from Pahalgam, a bit farther away at 46 kms. Usually pilgrims choose Chandanwari as the starting point of the holy trek.
Mythology
It is belied that Lord Shiva was entreated by his consort Goddess Parvati to reveal the secrets of creation. Since he did not wish anyone to overhear the story he took her to a remote and forbidding place in the Himalayas. The shrine is the place where he told her the fascinating story but as luck would have it a pair of pigeons overheard the talk and became immortal. Lord Shiva manifests in the form of an ice lingam with Parvati on one side and Ganesha, their son, on the other side.
Getting There
There are different routes to the shrine but the most common is Baltal as a starting point, which is about 102 Km from Srinagar. Some might prefer to start from Pahalgam which is about 45 km away and 14 km from Srinagar. The most economical way to travel is by road. However, if you are in a hurry you can fly in to Srinagar and then take a helicopter to the closest point to the shrine. You can arrive by train into Jammu and then take a bus or travel by taxi. If you come by way of Pahalgam you can benefit by way of free meals organized in Yatri Camps. From Pahalgam you take a bus to reach Chandanwari, about 16 km away. From here one proceeds to Pissu Top, a steep mountain track that will tax your endurance. The scenic walk takes you to Sheshnag where you can see seven peaks resembling the head of the mythical snake. People usually take a dip in the lake here and rest for the night. Next day you proceed to Panchtarni across the Mahagunas Pass located at a height of 4276 metres and descend to Panchtarni where you camp. The last leg takes you up the Lidder valley right up to the Amarnath Shrine where you have to stand in a long queue for a Darshan of the Linga. A better option is travel from Baltal to Domail and then onwards to Barari and Sangam from where it is a 3 km trek to the Cave.
Amarnath Yatra Starting Date
This year the Amarnath Yatra commencement date is fixed on Purshottam Purnima falling on 2nd July. The last date for the Yatra is Shravan Purnima or Raksha Bandhan falling on 18th August.
Travel tips
Pick the shortest route, which is ideally Sonamarg to Baltal. Baltal to Amarnath is a walk of 14 km. Prepare yourself physically before you undertake this Yatra because it is arduous and the round trip involves a walk of 28 km. If you are not up to it, hire ponies. Begin long walks at least a month before your trip. Practice Pranayam for a month.
The Mahagunas Pass is exposed to cold winds so it is a good idea to carry woolens. Travel light but carry essentials such as dry fruits and packaged food in addition to water, some medications for nausea and a thermos to carry hot tea or coffee. Wear sturdy shoes. Wear a pair of dark sunglasses because of higher amount of UV in the sunlight. Also apply sunscreen. Wear gloves and expose minimum parts of your body to sunlight.
Make all purchases of food and essentials at Chandanwari.
Make sure you have adequate insurance.
There are tents available for night halts but make sure you book one for yourself and your group.
Make sure you have with you a torch, cap, walking stick, raincoat, jacket, woolens and a light rucksack. You could rent woolens and boots at Chandanwari.
Ladies would be better off avoiding wearing saris, instead opting to wear thick trousers and jackets. Pregnant ladies must not undertake the trip.
Do not bring children below 13 years of age or take along elders aged more than 75 years of age.
Hire someone to carry luggage, preferably a pony to carry the packs.
Always travel in a group.
Keep personal details, contact number, blood group and other vital information in your wallet.
If health certificates and registrations are required make sure you obtain this before you start. Yatra permit is must. Either you do it or have your travel operator do it in your behalf and get the compulsory health certificate.
You may also like...