Nageshwar Jyotirlinga: Dwadash Jyotirlingas of Lord Shiva
Nageshwar Jyotirlingam (Jyotirlinga) is one among the 12 Jyotirlingams of Lord Shiva as mentioned in Shiva Purana. This temple according to religious texts is the first among all other Jyotirlingams that our country has. The temple is also known as Nagnath temple or Nageshwar Mahadev temple. The temple enshrines a Swayambhu or self-manifested image of Lord Shiva. The idol of Lord Shiva present in the temple shows the lord in a sitting posture and rises to a height of about 25meters. The temple comes with an underground Garbha Griha or sanctum where the Lord is seated with all majesty. Pilgrims believe that this Jyotirlingams symbolizes a force or power which can counteract the evil effects of all types of poisons. In the ancient times this temple is said to have been known by the name of 'Darukavana' which comes from the forest of Daruka trees amid which the temple is believed to have been situated.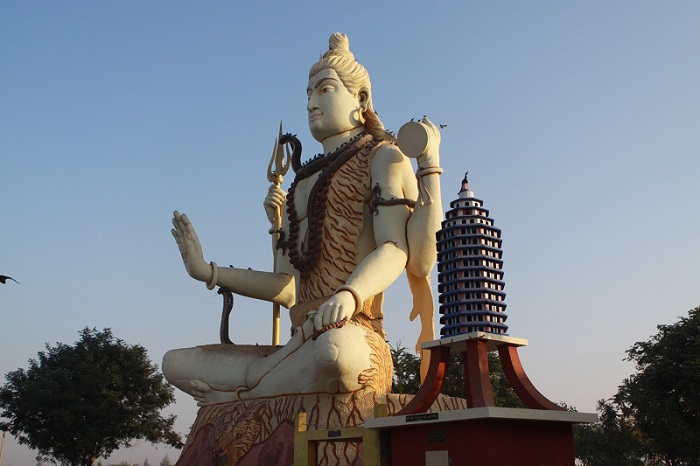 Temple Location
Nageshwar Jyotirlingam is located in Coastal Saurashtra region of Gujarat on the Gomati-Dwarka and Beyt-Dwarka route way. The temple falls within the Dwarka district of Gujarat and has a latitudinal and longitudinal extent of about.
History and Legend
Nageshwar Jyotirlingams have many fascinating legendary tales to it. One tale tells that this region was inhabited by a demon and demoness known by the names of Daruka and Daruki respectively. Daruki was worshipper of Goddess Parvati who pleased with her devotion offered Daruki a van or forest known by the name of Darukavan, named after demoness Daruki. She was given this forest to hold her worshipping rituals and devotional rites for the Goddess and had been bestowed with the power of moving with the forest wherever she went. Daruki misused this boon and took the entire forest into an under-sea world where many demons and poisonous sea snakes resided. The demon Daruka was up to mischief. He used to kidnap innocent people and imprison them in this under-sea forest. One day he captured Supriya, a lord Shiva devotee along with many other innocent, helpless people and imprisoned them at under-sea Darukavan. To get respite from this debacle, the prisoners kept chanting the holy Lord Shiva mantra until the Lord appeared to save his followers. With the appearance of the lord, the wicked demon was defeated and overthrown completely. Supriya established an idol of the Lord in order to pay tribute to him and that idol was known as 'Nagesha'. Later this idol became famous as Nageshwar Jyotirlingam.
Another legend says that Darukavana, once upon a time, was inhabited by a group of 'Balakhilyas' or dwarf sages who were devoted lord Shiva worshippers. On day Lord Shiva decided to put them to test and thus appeared at Darukavan in the guise of a nude Naga ascetic. The wives of the dwarf sages were drawn towards the nude saint and this made the dwarf sages angry and upset. They cursed the nude ascetic that he will lose his lingam. Under the curse, the lord lingam dropped off and the entire earth shook under its weight. Lord Vishnu and Lord Brahma feared destruction of the earth and thus implored the lord to take his lingam back. The lord responded to their prayer and took his lingam back. Also, he promised them to stay there in the form of a divine Jyotirlingam and that's how Nageshwar Jyotirlingam came into being.
How to Reach
You could reach Nageshwar Jyotirlingam in the following ways
By Air
Jamnagar airport lies in vicinity to Dwarka, at about 137kms away and is well connected to rest of India via daily flights. On reaching airport, take a cab or auto rickshaw to reach the temple
By Rail
Dwarka railway station is well connected to all other major parts of the country through well-developed railway networks. Express and local passenger trains run between Dwarka and other cities regularly. On reaching Dwarka station, you could reach Nageshwar Jyotirlingam by hiring a cab or auto rickshaw
By Road
Dwarka is very much accessible from all other major cities of Gujarat by well-developed public and private buses. On reaching Dwarka you can proceed to visit the temple by a cab or auto rickshaw.
Best Time to Visit
The ideal time to visit Nageshwar Jyotirlingam is around winters when the weather is most soothing, cool and travel friendly. So, you could consider visiting the place between the months October and February.
Climate
The climate of the region where the temple stands is very hot and sunny in summer with average temperatures being around 42 degree centigrade and cool and pleasant during the winters with average temperatures being around 25 degree centigrade. The summers start from March and continue till June. The winters start from October and continue till February. Rainy season here starts from July and continue till September. The region receives mild to moderate showers during that time and the climatic conditions are too very humid.
You may also like...