Dwarka: 32,000 Year Old City of Lord Krishna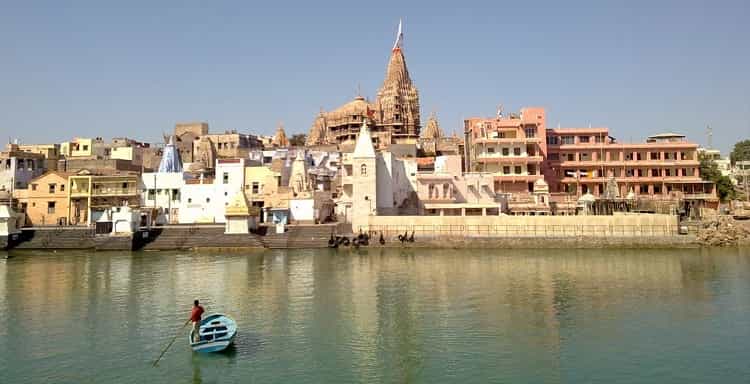 Dwarka religious significance is simply unparalleled. It is one of the holy Chardham of the All-India Chardham circuit; it is one of the 'Sapta Puri' or 'seven most sacred sites' for Hindus and also it is believed to be the mythical kingdom of Lord Krishna during his ruling years at Dwarka in the Dwapara Yuga. Those who wish to soak in the religious glory of Dwarka can make a tour to Dwarka. Take note of this Dwarka travel guide for fruitful advice.
General Info
Dwarka is a holy city of Gujarat located along the shores of the mighty Arabian Sea. Dwarka is well known for the famous Dwarkadheesh temple which had been set up in honor of the King of Dwarka; Lord Krishna. Dwarka is an important pilgrimage destination for both the Hindus and Vaishnavites; it is one of the holy Chardham of the All-India Chardham circuit and is also one of the seven sacred cities of Hinduism, also known as 'Sapta Puri'. Each year thousands of pilgrims gather at Dwarka on the occasion of festivities such as Janmashtami, Holi that are celebrated here quite pompously.
Location of Dwarka
Dwarka is located in the state of Gujarat, a northwestern Indian state. The city falls within Gujarat's Dwarka district and on Okhamandal peninsula's western shore and on River Gomti right bank.
History, Legend and Mythology of Dwarka
As per legends, Dwarka is a city that was set up by Lord Krishna nearly 5000 years ago. This was believed to be the golden Dwarka, Lord Krishna's ancient kingdom. Thus the city is said to be as old as that of the great epic 'Mahabharata'. Mythical tales point out that Dwarka had been the kingdom of Lord Krishna after he left Mathura to escape the wrath of Jarasandha, Kansa's father in law. In warfare at Mathura, Lord Krishna had slain his maternal uncle, Kansa to put an end to the atrocities of this wicked and cruel king. After destroying Kansa, he declared Ugrasen, the father of Kansa as Mathura's new king. This incurred him the wrath of Jarasandha, Kansa's father in law who decided to attack Mathura in order to avenge the killing of Kansa, his son-in-law. Krishna left Mathura to evade Jarasandha because he didn't want the common masses to suffer because of the warfare. After leaving Mathura, he decided to set up his new kingdom at Dwarka and that is how Dwarka came into being. Another legend tells the tale that Dwarka is the city where demon Shankhasura was destroyed by Lord Vishnu. It is believed as per the myths that Lord Krishna's original kingdom of Dwarka got submerged into the city just after the Lord departed from this mortal world.
Recent archaeological finds have declared the presence of the ruins of an ancient city under the sea and in this latest archaeological declaration somewhat supports the mythological stories about Swarna Dwarka. According to the archeological team, the age of the underwater remains is nearly 9000 years. However, the recent city of Dwarka dates back to not more than the ruling period of the Mughals.
Dwarka as a Pilgrimage Destination
The religious significance of Dwarka is immense and unrivalled. Dwarka is one of the sacred Chardham and also one among the 7 most ancient spiritual centers that our country is graced with. The Dwarkadheesh temple belonging to Lord Krishna is the chief religious attraction of the city of Dwarka with the others being Bet Dwarka; the Lord's Residence, Rukmini temple, belonging to Lord Krishna's first wife, Rukmini, Nageshwar Jyotirlinga and Somnath temple; the two most revered Lord Shiva temples of the country. Also, don't miss the Hanuman Dandi temple while you are on your Dwarka tour. This temple is one among the three other temples across the globe where the idol of Hanuman ji as well as that of Makardhwaja; lord Hanuman's son is enshrined. Your spiritual journey to Dwarka reaches a state of completion once you have visualized the serene and sacred morning Aarti at River Gomti.
Dwarka Under Sea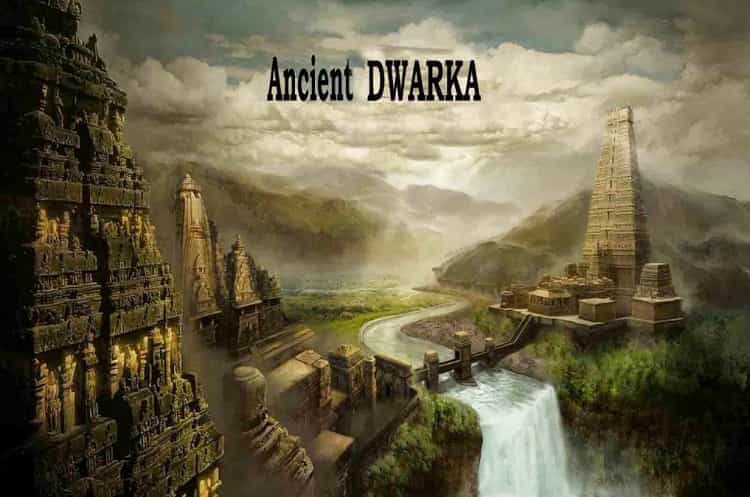 The concept of Dwarka under sea has emerged in a more pronounced after the archaeological explorations that were carried in the Gulf of Cambay region and the results of which led to some very interesting findings. The exploration carried out under sea, spotted many stone structures of varied shapes strewn across a large area under waters extending from the inter-Tidal part to nearly 6meters. Apart from these structures, the exploration team has also spotted numerous stone anchors under a depth of about 6m and beyond that too. This indicates that Dwarka once upon a time had been a quite busy port. Also remains of street grids, sandstone walls etc have been found at an underwater depth of nearly 70 ft and according to the deduction of the research team these ruins go back to nearly 9000 years in time. These recent underwater discoveries point to the legend of lord Krishna's sunken kingdom Dwarka and declare that it is not merely a tale of myths; there could definitely be some fact or truth amid the mythical tales and legends pertaining to ancient Dwarka.
How to Reach
Dwarka can be reached by the following three routes-
By Air- Jamnagar airport is located nearly 45kms away from Dwarka and it the nearest airport well connected all other major cities of the country through regular flights. Upon reaching airport you could easily drive down to Dwarka by taking a cab or a bus.
By Rail- Dwarka falls within the Western Indian railway division and regular local trains and express trains ply between Dwarka stations and other stations like that of Ahmedabad, Rajkot, Jamnagar, Mumbai etc.
By Road- Dwarka comes with well developed state transport facilities such as buses plying regularly between Dwarka and all major cities of Gujarat and even that of the neighboring states.
Dwarka Weather and Best Time to Visit
Dwarka has very hot summers, humid and rainy monsoons and cool and pleasant winters. Summer season comes around the months, March, April and May. Monsoons arrive around the months, June, July and August while winters arrive in October and last till February. The winters are the best time to visit Dwarka as during that time the weather remains extremely pleasant with average temperatures hovering around 20 degree centigrade to 25 degree centigrade. Summers are utter5ly hot with heat waves blowing everywhere. During the summers, temperatures may spike to as much as 42 degree centigrade with the scorching, blazing sun above the head. Thus summers are not a very suitable season to travel to Dwarka. During the monsoons, the region becomes extremely humid and receives scanty rainfall. Thus, you would perspire profusely if you are in Dwarka during the monsoons. So, monsoon too is not an ideal season to travel to Dwarka.
Things to Do
When you are on your Dwarka tour, you could have many things to do out there such as-
1. Sightseeing
Sightseeing is the most predominant activity you get to do at Dwarka and the main attractions of your Dwarka sightseeing would be the places like Dwarkadhish temple, Somnath temple, Rukmani temple, Nageshvara Jyotirlinga, Gopi talav, Gita mandir.
2. Beach Strolling and Sea Gazing
The Dwarka beach offers an extensive coastline for passionate beach strolling. The yellowish orange sand juxtaposed against the dark deep blue sea makes a wonderful sight to behold. Beach strolling at Dwarka beach is truly rejuvenating and when you thing lazing away your time starring at the distant horizon where sea melts into the sky, Dwarka beach is perhaps the most ideal place for such an exhilarating experience.
3. Shopping
If you are a shopaholic, Dwarka has many fanciful items to offer to you. At the various bazaars and shopping malls of Dwarka, you could buy things like Bandhni fabrics, patola sarees, home décor items, lavish silver jewelries and the like.
4. Sampling Gujarati Food
The Gujarati cuisine is famed nationwide and worldwide. Thus if you are a true foodie, Gujarat will have plenty to appease your taste buds. So, don't forget to sample to sample the typical Gujarati Thali and street foods like Khaman Dhokla, Lassi, Khandvi, Thepla etc
5. Indulging in Adventure Water Sports
At the beach of Beyt dwarka, you can indulge in some real exciting water sport activities like scuba diving and surfing which will give you a sufficient rush of the adrenaline.
People in Dwarka
People in Dwarka are mostly Gujarati people though there are outsiders too who have settled here due to the demands of their job and career. The region is inhabited by people belonging to three major faiths; i.e. Hinduism, Jainism and Buddhism. The lifestyle of the people in Dwarka is very simple and is steeped in staunch religious beliefs and in the love of the Lord. The people of Dwarka show a deep inclination towards traditions, customs and rituals. Every traditional custom and festivity is celebrated here with great pomp and grandeur with the inhabitants partaking in it with utmost devotion.
Shopping in Dwarka
There are plenty of shopping options in Dwarka, and each of these options comes with remarkable vividness and color. To make the most of your shopping spree, you need to know what to purchase and where to purchase. The marvelous Patola Sarees, Bandhani work fabrics, Sarees and Lehenga Cholis, beautiful silver ornaments and decoration pieces, beautiful bead worked and sequin worked fabric, footwear, home furnishings etc are the must-buys while you are at Dwarka. The following shopping malls are some of the places at Dwarka where you could buy quality Gujarati items-
Supreme plaza
Pankaj plaza
Odeon plaza
Sagar plaza
Bansal plaza
Mefcon plaza
Aditya plaza
Vardham plaza
Wadhwa plaza
Pankaj Plaza
Local Cuisine
Dwarka has many restaurants and street food options to treat the palate of a food lover. From north Indian to south Indian to Chinese, you in fact get every type of food at Dwarka but what makes Dwarka stand out is the typical Gujarati Thalis available in almost all the restaurants and Dhabas of Dwarka. The delectable Gujarati Thali comprises of items like Rice, Roti, Dal, vegetable curries. Also, authentic Gujarati Khichdi is another option which you shouldn't at all miss while you are at Dwarka and of course your indulgence on food remains incomplete if you haven't tasted the street food of Dwarka. So, make it a point to halt at a street corner stall or food joint to taste the extremely delectable Khaman Dhokla, Thepla, Khandvi, Handvo and definitely one of the most popular refreshing drinks, Chaas/Lassi. Some of the good restaurants you could consider visiting at Dwarka include Chhappan Bhog, Sharanam, Prasad, Tirth, Maruti, Kant dining hall, Pakwan dining hall and so on.
You may also like...