Sri Kedarnath Temple Information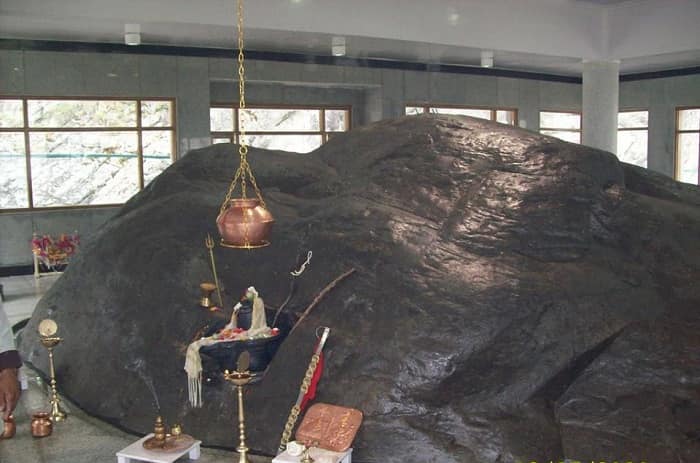 The Kedarnath Temple is one of the most sacred spots of Hinduism in India and draws thousands of devotees especially in the Char Dham Yatra season. The present form of temple which is built by Adi Shankaracharya is situated right besides an older temple constructed by the Pandavas. The assembly hall wall sculptures are modelled on many mythological scenes and are especially noteworthy.
A distinctive feature is the huge Nandi Bull statue that stands outside the temple gate. This beautiful 1000-year-old temple is devoted to God Shiva. Huge, heavy, similarly cut slabs of stone are used to construct this temple and their transportation and design still remain an architectural wonder. The main portions of the temple are Assembly Hall, Garba Griha and a Mandap. Inside the heart of the temple is a cone shaped rock that is believed to be Lord Shiva's incarnation in Sadashiv avatar.
Rituals Performed in Kedarnath
There is a specific family of purohits who have been organising and conducting Puja in Kedarnath temple since 100's of years. The Puja rituals center around worship of the stone Shiva Linga . Kedarnath is also renowned as the Samadhi of Shankaracharya. The Temple Committee of Kedarnath organises bookings for Pooja o request from devotees. These Puja rituals are always performed before the general Darshan timings.
Kedarnath Temple Visitation Schedule
The Kedarnath temple is open for 6 months (April to November). The gates are opened when the sun enters the Zodiac sign Aries and the temple closes down when sun enters the sign of Scorpio.
In these 6 months the temple opens at 7 a.m. and remains open till 3 p.m. it is preferable to visit this temple during this slot as then one can touch the idol and do Ghriitam (ghee) Abhishek. After 3 p.m the temple closes down and again reopens at 5 p.m. after 5 p.m the idol is dressed in the robes of Emperor and no one is allowed to touch it. Only Darshan and Pranam from a distance are allowed.
Kedarnath Temple Management Details
As mentioned in the Uttar Pradesh Act No 30/1948, the administration of Kedarnath temple is included in Badrinath Temple Act 16, 1939 and it's known as Shri Badrinath & Shri Kedarnath Mandir Act. An Umbrella Mandir Samiti takes care of both temples. The act was modified in 2002 post the formation of the 27th state of India. According to the act there are conditions implying the increase of number of temple committee members along with the addition of a Vice Chairman and a Government Official to the group.
The official address of the Temple Committee is as under-
Temple Committee of Shri Badrinath-Shri Kedarnath
Maa Chandra Badni Temple,
Near Kargi Chowk & Oberoi Nissan Motors,
Kargi Grant, Haridwar By-pass road,
Dehradun, Uttarakhand – 248001. INDIA.
You may also like...