Almora Location Getting There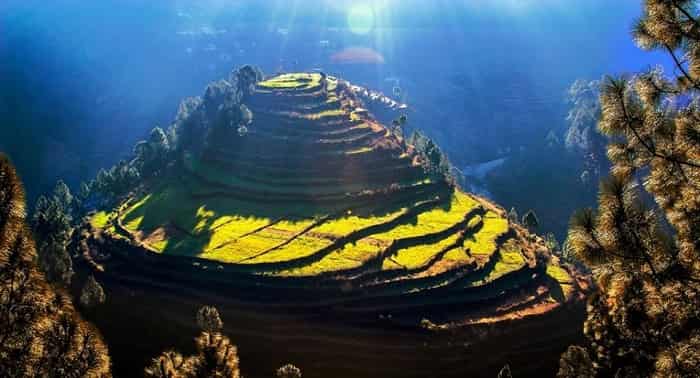 Almora, a virgin hill station, is a charming town located in the eastern hills of the Kumaon region. With exquisite snow-capped Himalayan peaks in the backdrop, this hill district proffers scenic splendor and has remained unaffected by the modernization. The town boasts of rich historical legacy and has been able to retain the title of being the cultural capital of the area. One of the most stunning places to enjoy, relax and unwind, Almora is fast emerging as a favored tourist destination and is easily accessible by various means of transport.
By Air
Nearest domestic airport is at Pantnagar which also houses a popular agricultural university. Pantnagar airport is a newly constructed airport and handles only 6 scheduled flights a week. Contrary to accepted norm, it is easiest to reach Almora by air travel. The airport is at a distance of about 125 kms from Almora and it takes about 4 hrs to reach Almora from Pantnagar. One has to opt for road journey from the airport. Cabs and taxis are easily available from the airport. Delhi is the nearest international airport which is about 370 kms away from Almora.
Delhi- Pantnagar:
Departure 13:15 hrs Arrival 14:15 hrs-(Mon, Wed, Fri) Jagson airlines
Departure 14:45 hrs Arrival 15:45 hrs-(Mon, Wed, Fri) Jagson airlines
Pantnagar- Delhi:
Departure 13:00 hrs Arrival 14:00 hrs
By Train:
Nearest railhead is Kathgodam railway station, located about 93 kms away from the main city of Almora. Kathgodam is well connected to other chief towns of India such as Lucknow, Delhi, Dehradun, Haridwar, Chandigarh and Kolkata. Since Kathgodam is the gateway of Kumaon region, there are trains available from almost all chief cities. From Kathgodam, one has to opt for road journey for which taxis and cabs are easily available. It takes around 3 hrs to reach Almora due to winding and twisty roads of the mountainous region.
Sampark Kranti Express: [daily]
Delhi Jn. – Kathgodam (Dep-1600 hrs, Arr-2245 hrs)
Dehradun Kathgodam Express: [Wed, Sun]
Dehradun- Kathgodam (Dep- 22:30 hrs, Arr- 07:15 hrs)
Ranikhet Express: [daily]
Delhi Sarai Rohilla- Kathgodam (Dep- 22:45 hrs, Arr- 05:00 hrs)
Kathgodam Garib Rath
Kanpur – Kathgodam (Dep- 06:00 hrs, Arr- 15:10 hrs)
Bagh Express: [daily- takes 2 nights]
Howrah – Kathgodam (Dep- 21:45 hrs, Arr- 09:35 hrs)
By Road:
Almora is well connected with nearby important towns through a network of motorable roads. State owned buses, deluxe buses and private buses are easily available from ISBT Anand Vihar, Delhi. The distance of Almora from Nainital is 71 kms and from Delhi, it is about 370 kms which can be covered in about 9-10 hrs. It takes more time to travel in the hilly region due to meandering and tortuous roads. The route from Delhi to Almora is:
Take NH-24 from Delhi- Ghaziabad- Babugarh- Gajraula- Moradabad- Rampur. At Rampur, turn left for NH 87 and move towards Bilaspur- Rudrapur- Haldwani- Kathgodam- Bhimtal. From Bhimtal take SH 37 then move towards Bhowali- Khairna bridge- Almora.
Almora is a picturesque town popular for its scenic beauty and amazing vistas.
You may also like...