Information about Dwarkadhish Temple of Gujarat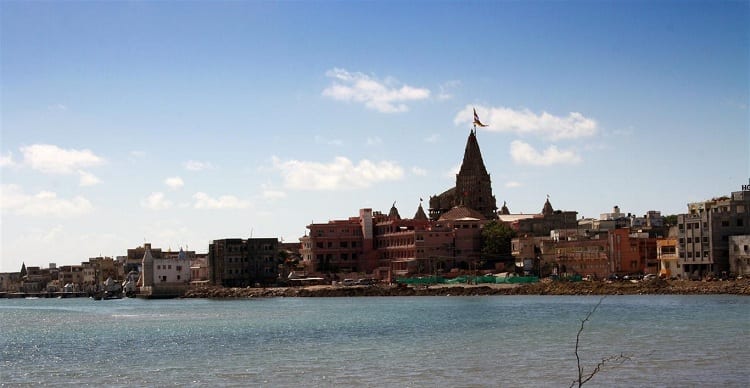 Dwarkadheesh Temple at Dwarka in the state of Gujarat is an abode of Lord Krishna who is titled as the 'King of Dwarka' or 'Lord of Dwarka'. The temple is also differently referred to as 'Nija mandir' or 'Jagat Mandir' and is one of the Chardham of the All-India Chardham circuit. The temple enshrines the typical four armed Lord Vishnu idol. Lord Krishna as per common religious beliefs is Lord Vishnu's incarnation and His idol here is known by the name of 'Trivikrama'. Apart from Lord Vishnu's idol, the temple also enshrines many other idols such as that of Baldevaji or Balaram, Aniruddha and Pradyumna (Lord Krishna's grandsons).
Each year, the festival of Janmashtami is celebrated with great pomp and glory at the temple. During that time the temple is all decked up with strings of lights and the lord is decked up with flowers, new garbs and jewels. The temple is among the 108 Divya Desams of Vaishnavites, and finds a mention in many ancient religious scriptures such as 'Divya Prabandha'. A special sect of Brahmins, the Aboti Brahmins are entrusted with the responsibility of performing worships at the temple. Each day Abhishekam and Aarti of the lord is done at various intervals.
Location, Architecture and Shrines
The temple is located in the city of Dwarka in the western Indian state of Gujarat. The temple falls within Gujarat's Jamnagar district and stands along the banks of River Gomti.
The temple is a magnificent 5 storied construction consisting of 72 pillars and spire as high as 43 meters. The spire features rich, intricate carvings. The spire is adorned with a huge fluttering flag made out of a cloth, 52 yards in length and depicting images of the sun and the moon. Soft limestone is used to construct the temple and beautiful and ornate carvings depicting various tales from Lord Krishna's life and Hindu mythology are exhibited on the temple's exterior walls. The carvings show a remarkable continuity of patterns and designs. The sculpturing intricacies and detailing on the temple walls are contributions of the various dynasties that had ruled over the place from time to time. Compared to the ornate exterior, the interiors of the temple are a striking contrast in terms of its simplicity and serenity.
The architecture of the temple follows the common architectural pattern of any other Hindu temple consisting in a glorious sanctum, a vestibule and a hall. The hall is rectangular in shape and consists of porches in its three sides. Also, there are 2 symbolic gateways to the hall; Swargadwar or door to heaven and Moksha Dwar or door to salvation. Pilgrims enter the temple through Swarg Dwar and exit the temple through the Moksha Dwar. A flight of as much as 52 steps leading to River Gomti on the temple's rear side adds further to the colossal grandeur of the temple. The temple's lower part set up around the 16th century adheres to the Chalukya architectural style. Around the 19th century the temple underwent few more constructional works during which a high steeple with many clusters of imposing towers were added. The temple's tallest peak reaches up to 51.8 meters in height.
The temple's main shrine consists of central altar dedicated to Lord Krishna or lord Dwarkadheesh enshrined here as a beautiful, four armed black stone statue. Around the statue and its altar, there are marvelous and elaborate ornamentations. Apart from the main shrine there are also numerous other shrines within the temple such as that of Kusheshwar Mahadev, Devaki, Radhika, Laxmi Narayan and so on.
History and Legend
As per legends, Dwarka was said to have been constructed by Lord Krishna nearly 5000 years back and had been the capital of Lord Krishna during his years as a king. Lord Krishna had migrated to Dwarka from Mathura to evade Jarasandha, the father in law of Kansa who had vowed to destroy Lord Krishna in order to avenge the death of Kansa who was killed by Lord Krishna. Some mythological tales also declare that the temple of Dwarkadheesh was set up by Vajranabha, Lord Krishna's grandson over 'Hari Griha', actual residence of Lord Krishna. Thus the history and legend of Dwarka dates back to the times of Mahabharata and as per an archaeological survey it has been declared that the site of the temple dates back almost 2200 years and the original kingdom of the lord is now under waters perhaps due to incessant coastal erosion down the ages. This is said to have happened around the 1500 BC. As per archaeological deductions, the age of the present Dwarkadheesh temple dates back not more than the Mughal era.
Opening and Closing Time
The Darshan time at Dwarkadheesh temple is between 7.00am to 12.30 in the afternoon and then again between 5pm to 9.30pm in the evening. During the Darshan hours several worshipping procedures are carried out in the temple. Given below is a chart of the various procedures with their timing at the various hours of the day-
Morning Darshan Timing
| | |
| --- | --- |
| 7.00 am | Mangla Aarti |
| 7.00 am to 8.00 am | Mangla Darshan |
| 8.00am to 9.00am | Abhishek Pooja [Darshan is closed during this time |
| 9.00am to 9.30am | Shringar Darshan |
| 9.30-9.45am | Snan Bhog [Darshan is closed during this time] |
| 9.45am to 10.15am | Sringar Darshan |
| 10.15am to 10.30am | Sringar Bhog [Darshan is closed during this time] |
| 10.30am to 10.45 | Sringar Aarti |
| 11.05am to 11.20am | Gwal bhog [Darshan is closed during this time] |
| 11.20am to 12 noon | Darshan |
| 12.30 PM | Anosar [Darshan is closed during this time] |
Evening Darshan Timing
| | |
| --- | --- |
| 5.00pm to 5.00pm | Uthappan – [first evening Darshan] |
| 5.30pm to 5.45pm- | Bhog [Darshan is closed during this time] |
| 5.45pm to 7.15pm | Darshan |
| 7.15pm to 7.30pm | Sandhya Bhog [Darshan is closed during this time] |
| 7.30pm to 7.45pm- | Sandhya Aarti |
| 8.00pm to 8.10pm | Shayan bhog [Darshan is closed during this time] |
| 8.10pm to 8.30pm | Darshan |
| 8.30pm to 8.35pm | Shayan Aarti |
| 8.35pm to 9.00pm | Darshan |
| 9.00pm to 9.20pm | Banta Bhog, Sayan [Darshan is closed during this time] |
| 9.20pm to 9.30pm | Darshan |
How to Reach
You can reach the temple through the following three routes:
By Air: Jamnagar airport is the nearest airport to Dwarka; located at a distance of 137kms. On reaching Jamnagar, you could hire a cab or could avail a bus to reach Dwarka.
By Rail: Dwarka lies on the broad gauge railway route running between Ahmedabad-Okha with numerous trains connecting it to stations like Ahmedabad (471kms), Rajkot (217kms), Jamnagar (137kms). Also, there are many long distance trains connecting Dwarka to other states of the Indian subcontinent such as Maharashtra, Karnataka, Kerala etc.
By Road: Dwarka is positioned on the Gujarat state highway running between Dwarka and Jamnagar. Direct buses to Dwarka can be availed from Ahmedabad or Jamnagar.
Best Time to Visit
The best time to visit Dwarka is during the winters; i.e. between end of October and to the end of February. The temperatures during the winters are around 20 degree centigrade to 27 degree centigrade and the weather remains cool and pleasant during that time. The summers are extremely hot with temperatures shooting up to 42 degree centigrade. Summers in Dwarka start by mid March and continue till the end of May. Monsoons are extremely humid and sultry with occasional torrential downpours. Monsoons start from the month of June and continue till the end of August.
Travel Tips                              
The following tips need to be considered when you are setting out for a tour of Dwarkadheesh temple-
You are advised to go for a Darshan quite early in the morning. During that time you can make your Darshan peacefully without pushing and jostling in the crowd
Take some slip on footwear with you. At the Dwarkadheesh temple and at many other temples of Dwarka, you are not allowed to enter with your footwear on. So, it would be easier if you wear slip on footwear. Those with laces and straps would prove quite cumbersome because you would have to open them time and again
Don't wear indecent clothes while entering the temple
No videos, mobiles or cameras are allowed within temple complex. So, don't dare to break the rules.
You may also like...