Chota Char Dham of Uttarakhand
Making a yatra to the Chardhams is what any pious Hindu longs for with soul and heart. Uttarakhand, the 'Daivya Bhoomi' with these four dhams indeed bathes in divine splendor. Also the natural beauty of the place would lure to visit the dhams and stay there for the rest of your lives. This detailed guide on Chardhams would certainly be a help for you before you set out. So read on-
The char dhams of Uttarakhand hold a profound religious significance for Hindus. It is considered the sacred duty of each Hindu to undertake a pilgrimage at least once in his life time. Though there are many places of religious importance such as Amarnath and Vaishnodevi or the pilgrimage to Somnath, Rameshwaram and Jagannath Puri, it is the chota char dhams made up of Yamunotri, Gangotri, Kedarnath and Badrinath that have proved quite popular. The belief is that a pilgrimage to these places is just as meritorious as a pilgrimage to the four major destinations or to Vaishnodevi or Amarnath.
Char Dhams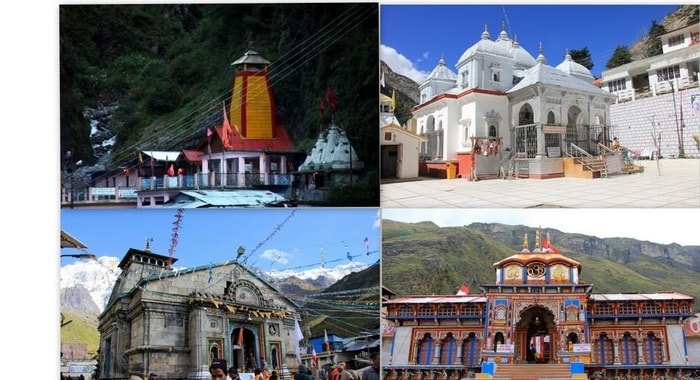 Yamunotri, Gangotri, Kedarnath and Badrinath all happen to be located in close proximity to each other in Uttarakhand. These four destinations were accessible only on foot but with roads being constructed around 1962 and afterwards accessibility improved as did the popularity of these destinations. Still, however, one must traverse the last leg by walking over a difficult trail that can stretch up to 15 kilometres. Pilgrims must endure hardships with weather and altitude adding to the rigors.
Starting The Yatra
It is usual for pilgrims to join a char dham yatra package since the tour organizer takes care of travel, accommodation and food. The starting point to the yatra is Rishikesh or Haridwar. Rishikesh is to be preferred since it is only 223 Km from Yamunotri, the first point on the tour circuit. From here pilgrims proceed to Uttarkashi and from there to Gangotri, about 105 km away. Usually pilgrims return to Uttarkashi and go on to Badrinath after which they do the final lap to Badrinath from where it is a journey of 298 km back to Rishikesh. In all one would need to spare at least 4 days at the minimum for the yatra. Alternatively, one can choose Haridwar as the starting point.
Best Time to visit
Summer is the best time to make the pilgrimage. The temples usually open around the last week of April on the auspicious day of Akshaya tritiya  (for Yamunotri and Gangotri and a day or two later for the other two) and stay open until October. There is always a risk of excessive rains and landslides if you plan to visit during Monsoon. August-September could be better but it starts to become a bit chilly though the countryside is green and inviting.
Things to Carry Along
Pack in woolens since nights can be cold. Keep a pack of first aid handy along with some antibiotics, aspirin, etc. A pair of googles, a cap and tough walking boots are recommended.
Always have some nutritious foods such as chocolates, nuts, dates, dry fruits and biscuits in your pack along with a bottle of water. Do not forget to carry sunscreen and apply liberally to exposed portions of your body. You will find that at high altitudes there is more ultraviolet radiation in the sunlight even though it may be chilly. Wear gloves and protect extremities from exposure to weather, especially at night.
Preparations
Improve your fitness levels by going on extended walks each day for a month before you start the pilgrimage. Of course, if you go by helicopter or take a pony you can omit this step.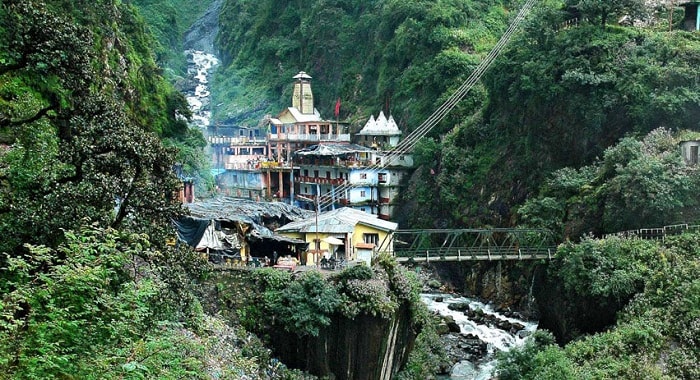 This is the first point. Pilgrims travel to Barkot and then on to Hanumanchatti from where they must walk the rest of the way to the shrine of Yamuna devi, believed to be the daughter of Surya deva and Yama's sister. The Yamuna River has its origins here and pilgrims also make a stop at the hot water springs at Janki Chatti.  A temple was built for her by Maharani Gularia in the 19th century since the original older one built by Maharaja Pratap Shah of Garhwal became a victim to the ravages of time. Pilgrims reach Hanumanchatti from Barkot, walking along the picturesque bank of the river, passing by Markandeya tirth where the said is said to have penned Markendaya Purana. Pilgrims start quite early to reach the temple in time for the morning arti after which they can visit Surya Kund and bathe in the hot water and then go on to Jankichatti or Lakhamandal before going on to the next stop. Usually pilgrims return to Barkot and rest for the night.
It is said Ganga devi was pleased to respond to the prayers of King Bhagirath  and agreed to descend to Earth to help humans. However, Lord Shiva alone knew how powerful her descent would be and how it could destroy Earth so he received her in his matted locks and the river split into five streams. Ganga starts here at Gaumukh Glacier as Bhagirathi River. Pilgrims start from Barkot and if they have chosen to spend the night at Uttarkashi, they proceed to Harsil. Usually pilgrims stop at Gangnani and bathe in the hot water springs here before proceeding to the temple of Ganga devi on the banks of the Bhagirathi river, attend the arati and then return to Uttarkashi. Should you have the time you can visit the nearby Nature Park or go on to the Gaumukh glacier.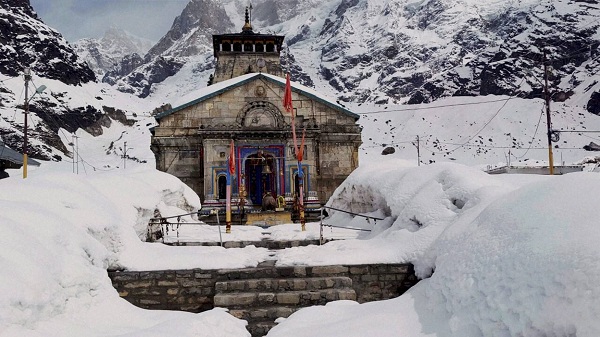 Kedarnath temple is dedicated to Lord Shiva and is one of the 12 jyotirlingas in India. The temple of Lord Shiva is on the banks of the Mandakini river. Gaurikund is the starting point of the 14 km trek reached from Sonprayag. Those strong enough can walk the steep path that takes almost all of one day but you can also opt for a palanquin ride or a pony ride. It is said that the Pandavas sought Shiva after the grand Kurukshetra battle to pray for forgiveness for killing their kin but the mighty Lord eluded them and taking on the form of a bull he entered the Earth with only his hump showing and the other parts of his body appeared at other places known as the Panch Kedars (Madhmaheshwar, Kalpeshwar, Tungnath and Rudranath being the other four). Kedarnath has a wildly desolate charm, located at a height of 3584 metres, surrounded by beautiful snow covered mountains with clouds floating against a deep blue sky.
Pilgrims return to their hotel for the night or, if they are interested, they can plan trips to Chorabari tal, Gaurikund and Vasukital, three important and picture postcard lakes in the vicinity. Ukhimath is the winter home of Lord Shiva and a place of religious significance in its own right. You could also visit Deoria Tal, another lovely lake and the fabulous Chopta.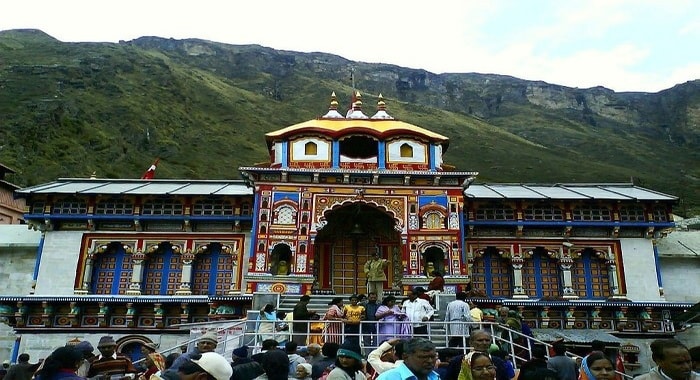 Badrinath is the last leg of the yatra and is home to Lord Vishnu with his temple set against the backdrop of the Nilkantha peak. The Alaknanda river flows close by. According to legends Vishnu meditated for a thousand years and his consort, Laxmi Devi assumed the form of a Badri tree and provided shade for her husband. Pilgrims time their visit to arrive just before the evening arati, a fulfilling ceremony and a visual delight as thousands of devotees chant and pay respects to the great Lord.
Once you complete the evening arati you return to your hotel and can take side trips the next day to Vasudhara Falls, the Tapt Kunds, Bheem Pul and even Chopta is a place not to be missed.
Pilgrims who complete the circuit report a deep sense of satisfaction and peace. It is believed that the char dham yatri frees you from sins and from the cycle of births and deaths. Praying at Kedarnath unites you with Lord Shiva, say devotees.
From another perspective the chardham yatra also works wonders for your health. The air is pure. You adhere to a strict schedule and all that walking around makes you fit and strong.
Best Way to Travel
There are several travel options. You can arrive by train, bus or by air at Haridwar or Rishikesh. The nearest airport is Jolly Grant airport in Dehradun. Here you have several options.
You can join a pre-arranged group tour that takes you by road to the four major destinations. Pros are that you do not have to worry about anything. Cons are that you will not be able to go off on your own to explore nearby places of interest. Despite this drawback, this is the easiest and most economical way to go on the char dham yatra.
Helicopter char dham yatra is proving quite popular since you can accomplish in an hour what it takes a whole day to do. This is a much better, though expensive, option for people with less than perfect health or for senior citizens.
Hiring a local taxi for each leg of the yatra is a good idea but unless you bargain and carefully define terms as also places to visit and duration, you could end up having an argument with the driver or paying more.
If you must travel by road in a vehicle, it is a good idea to fix a rental car hired in Delhi. When you do rent a car, pick one that is in top condition, with a high ground clearance since some parts of the roads may have large rocks and boulders. An SUV is a much better option. The pros are that you can travel at will and are not confined to a fixed schedule or itinerary.
Miscellany
Yatra dates are announced by the temple authorities and you should preferably join a group right when the season starts or better still, wait for a month when the initial rush dies down. The government has announced concessions for senior citizens but it is best to check the benefits before you embark on the pilgrimage.
Other Destinations
If pilgrimage is your chief objective then char dham yatra will be in focus, Travel in a rented car and with plenty of time at your disposal you can also go on a pilgrimage to the Panch Badri and Panch Kedar as well as the Panch Prayags. The temples at the four dhams are somewhat of an anticlimax in terms of visual impact but Patal Bhuwaneshwar is something different altogether. This is a cave in which there are other caves inside. According to folklore the temple is home to 33 crore Gods in the Hindu pantheon—truly impressive.
Uttarakhand is described as the abode of Gods but it has scenic hill resorts such as Nainital, Dehradun and Mussoorie being the most famous. Lansdowne is a resort town with a charming ambience. Chopta, Kausani, Almora and Ranikhet have their own points of attraction. You can explore all or a few of these lovely places should you have the time, the inclination and a vehicle at your disposal. Visit the incomparable valley of Flowers in summer, preferably in July and you can admire the handiwork of God at its best as the entire area seems to be strewn and carpeted with myriad hues of over 600 species of flowers in full bloom.
You may also like...