Pauri Garhwal Most Beautiful Hill Town in Uttarakhand
Pauri Garhwal district is one of 13th districts of Uttarakhand state which has its headquarters at Pauri. Pauri Garhwal is surrounded by Tehri Garhwal district, Chamoli district and Rudraprayag district from north, Bijnor (Uttar Pradesh) and Udham Singh Nagar district in south, Almora district and Nainital districtfrom east, Dehradun district and Haridwar district from West. The district is divided in 9 tehsils and 15 development blocks.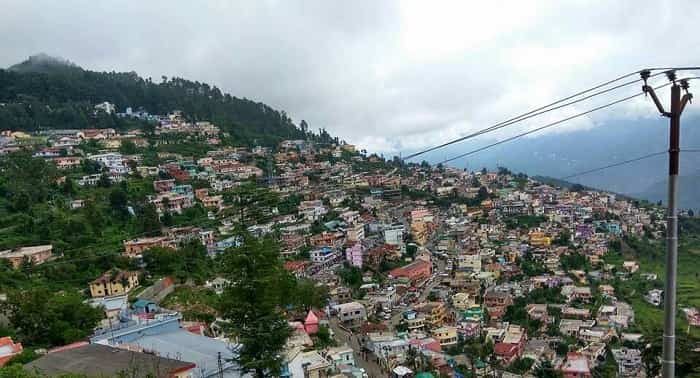 History of Pauri Garhwal
From the historical facts Katyuri was the first dynasty of Uttarakhand. After the fall of Katyurie's Garhwal region was divided in 64 principalities and ruled by different chieftains. One of them was Chandpurgarh and descendant of chieftain Kanakpal was ruled here. King Ajaypal who was descendant of Kanakpal and his successors ruled the Garhwal about 300 years.
In 1803, Gorkha's who tried to capture the area before too, again made an invasion. They captured Kumaon and attacked Garhwal in 3 columns. King Pradyumna Shah was not able to stop the Gorkha army and killed by the Gorkhas in the battle of Khudbuda. Gorkhas then ruled the Garhwal for 12 years. At 1815 King Sudarshan Shah defeated Gorkhas with the help of British. In 21st April 1815 British emerged eastern Garhwal under their rule which lies to east of Alaknanda River and Mandakini River. With the rest of Garhwal part King Sudarshan Shah established his capital on Tehri. At 1840 A.D. when the Garhwal separated from Kumaon made its headquarters at Pauri.
At 1947, of the time of independence Kumaon division administered for Garhwal, Almora and Nainital district. In 1969 Pauri was announced the headquarters of Garhwal division after the separation of Chamoli district from Garhwal in 1960. A major change has been again made on 1998 when 72 villages of Khirsu Block have been separated from Pauri to create a new district as Rudraprayag. Now the district is with 9 tehsil and 15 blocks with the headquarters at Pauri.
Pauri Garhwal Tourism
Pauri Garhwal is a place of natural beauty and the tourism is one of the main sources of the income of the district. A lot of tourist places give a paradise to visitors as Khirsu, Doodhatoli, Binsar, Advani, Tara Kund, Kandoliya, Kanvashram, Bharat Nagar, Kalagarh Neelkanth, Srinagar and Lansdowne are some places with natural beauty.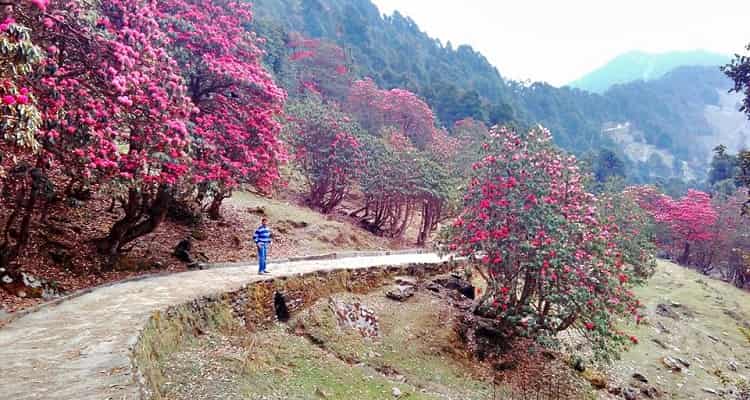 Some much known pilgrimages are here which are visited by thousands of visitors every year. Kyunkaleshwar Temple, Kandolia, Nag dev, Jwalpa Devi, Binsar Mahadev and Tarakund are some of famous pilgrimages of Pauri Garhwal.
The Pauri Garhwal tourism is also famous for trekking as world's famous trekking spots are here in Pauri Garhwal. Some of them are Binsar Trek, Binsar  – Gairsain trek, Doodhatoli Trek, Hariyali Devi trek, Gujurugahri Trek, Tara Kund Trek, etc. With the trekking adventure cycling at on the altitude of 1800mt and above, rafting, jungle camping, Aero-sports, Angling, Wildlife Adventure, Rock-climbing are some other adventure sports are available here.
The wildlife tours are also fantastic with Pauri Garhwal tourism as a part of Jim Corbett Park called as Dhikala and Chilla Wildlife Sanctuary comes under Pauri Garhwal. Out of 1318.54 sq Kms of Jim Corbett Park, 912.67 sq Kms comes under Pauri Garhwal.
Fairs and Festivals
Pauri is the most famous and have powerful cultural background. The most famous Garhwali fairs and festivals are arranged in Pauri. The district is known for its folk and cultural events. All the Hindu traditional festivals are celebrated here as the most of the population is Hindu in the district.
Some of fairs and festivals of Pauri Garhwal are following:
Jadaukhand Festival, Salta Mahadev, Devi Fair, Aupakhal Fair, Bhaun Fair, Subhnath Fair, Patoria Fair, Nainidanda, Bungi Fair, Apola Fair, Bhaun Fair, Goddess(Durga) Fair, Sobhinath Fair, Lord Shiva Fair, Kalinka Fair (Biannual), Subhnath Fair, Ekeshwar Fair, Dewalgarh Fair, Mansar Fair, Binsar Fair, Baikunth Chaturdashi, Mundneshwar Fair, Satyawan Savitri Fair, Juli Sera Dotiyal, Diva Fair, Devrajkhal Festival, Dermad Mahadev Festival, Kaulagarh Festival Jethdraj, Mori, Bikeradar, Shitala mata- Jat, Jadda Devi, Kandai Fair, Sanglakoti Fair, Dangal Fair, Khuddu Fair, Baisakhi Fair, Tateshwar Mahadev, Pokharkhal Kanda Fair, Thalisain Fair, Baisakhi Fair, Ghandiyal Festival, Syuli Nanda, Kathvadhi Fair, Dehalchauri, Bhagwati Talaiya, Ghandyal Devta, Nilkantha, Duria Festival, Kanvashram Fair, Be- Mata, Ruksh Mahadev Fair, Langur Garhi Fair, Danda Nagarja, Kyunkaleshwar Fair, Kandolia, Nag dev, Vyasghat Fair, Shivratri, Bagdwal Festival, Gindi Fair, Tilu Rauteli, Ghuleth Festival, Nanda Devi Fair, Nanda Devi, Jwalpa Devi, Jwer, Bunkhal, Jhangar.
How to Reach
By Air
Jolly Grant, Dehradun is nearest domestic airport from Pauri Garhwal. One can follow Rishikesh to Srinagar route about 151 KMs or Rishikesh to Devprayag route 131 Kms. Indira Gandhi International Airport, Delhi is the nearest international airport from the district.
By Train
Kotdwar about 108 KMs and Rishikesh about 131 KMs are the nearest railway stations near Pauri. Transportation is well to the Pauri from any of the railway stations.
By Road
Pauri is well connected with all well-known cities and districts of Uttarakhand or India. Transportation is well formed and accessibility by road is easy form any railhead or airport.
Other Information about Pauri Garhwal
Area:5,230 Sq Kms (2,085 sq m)
Elevation:1,841 metres
Population: 686,527 (2011)
Literacy:59 (2011)
Headquarters:Pauri
Temperature in summer: 45°C (max); 10°C (min)
Temperature in winter:15°C (max); 1°C (min)
Languages: Hindi, English
Dialects: Garhwali, Pahari, Kumaoni
STD Code: 01368
Pin code: 246149
You may also like...