The Splendour Of Odisha Holiday Package
| | |
| --- | --- |
| Tour Name | Splendour Of Odisha |
| Tour Duration | 4 Days / 3 Nights |
| Destinations covered | Bhubaneswar-Konark-Puri-Satpada-Chilika |
| Tour Price | On Request |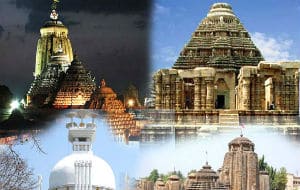 When you think of Orissa you think of the Sun Temple at Konark and the Jagannath Temple at Puri. Orissa is more. It is rich in culture and tradition, handicrafts, nature parks and a rich heritage of folk art and dance. Orissa can also lay claim to fame for being home to Emperor Ashoka. Be there on Rath Yatra day and the procession of the Chariot is awe-inspiring. Steeped in religious fervour and mythology, Orissa is also a land of dances at the Konark Temple and festivals on Devasnana Purnima while the Puri Beach festival is sheer delight. In another direction, Orissa is a land for nature lovers since there are nature parks and reserves as also uncharted territories to explore. Get set, go.
A typical 4 day tour itinerary of Splendour Of Odisha would go along these lines:
Day One: Bhubaneswar
Arrive in Bhubaneswar and you are greeted by the tour guide who takes you to your hotel. Bhubaneshwar is temple city and you visit Khandagiri and Udayagiri to admire the Jain temples and several caves going back to the first century. Take in Lingaraja temple, Parsuram Temple, Rajarani Temple and Kedargouri temples after which return to the hotel for rest. Bhubaneshwar is an old city and you may love to explore the lanes and bylanes with a temple at each turn.
Day Two: Konark and Puri
Drive along the seashore to Konark. You will stop at Dhauli Peace Pagoda before arriving in Konark for a visit to the famous Sun Temple. It takes time to admire its intricate architecture before you proceed to Puri where you check into your hotel. If you are in Puri you must naturally visit the Jagannath Temple after which off to the beach for a dip and a refreshing evening. Stay the night in Puri.
Day Three: Satpada Excursion
A drive to Satpada where you visit Lake Chilika and the famous Dolphin Sanctuary. Go for a boat ride on the Chilika Lagoon and spend the time in sampling the delights of nature before returning to Puri for the night. Lake Chilika is one of the largest brackish water lagoons, home to thousands of migratory birds and with a unique ecosystem of its own. The Nalabana bird sanctuary is in this region and gives you a glimpse of thousands of birds in a natural setting.
Day Four: Return to Bhubaneshwar
Return to Bhubaneshwar where your tour ends.
You may also like...