6 Nights / 7 Days Kerala Honeymoon Tour
| | |
| --- | --- |
| Tour Name | Kerala Honeymoon Tour |
| Tour Duration | 6 Nights / 7 Days |
| Destinations covered | Kochi – Munnar – Periyar – Alappuzha – Kochi |
| Tour Price | On Request |
Tour Itinerary
Day 1: Arrival at Kochi
On your arrival at Kochi International airport/railway station, you will be assisted at the airport and transferred to your hotel. The rest of the day will be all yours. Overnight stay at hotel in Cochin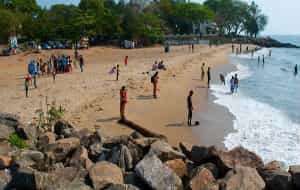 Day 2: Kochi
On the second day of the Kerala honeymoon tours, after having a lavish breakfast at the hotel, you will be taken for the sightseeing of the following attractions of Kochi.
St. Francis Church – It was originally built in 1503 and has only a wooden structure at that time. In the year 1516, it was reconstructed with brick and mortar and was dedicated to St. Anthony. In 1663, Dutch traders took control of the Church but in 1795 Kochi was captured by the British who took over the control of the St. Francis Church. The body of Portuguese explorer Vasco Di Gama was buried in this church but later on, it was transported to Lisbon.
Cherai Beach – It is one of the most beautiful beaches in India. Cherai Beach is a 15 km long beach with golden sands which is located at Vypin Island. It is the ideal place for swimming and sunbathing because it has shallow and clean waters. Cherai beach is one of the famous places for a honeymoon in Kerala. It is very popular among honeymooners and picnickers. (Cherai beach is 35Km/ 1hr drive from Cochin) Dutch Palace, Hill Palace Museum, Pareekshith Thampuran Museum, Santa Cruz Basilica, Chinese Fishing Nets, and Cochin Harbor are other interesting places to see in Kochi. Your dinner and overnight stay will be at a beachside resort in Kochi.
Day 3: Kochi – Munnar (145km/ 4.5hrs drive)
On the third day of our Kerala honeymoon tour, we will depart for the beautiful hill station of Munnar in Kerala. Enjoy the beautiful scenery en route. Have some rest in the hill resort and thereafter we will start our sightseeing of Munnar hill station.
Devikulam– It is a beautiful hilly area that is 1800 m above sea level. Lush green forests, waterfalls, and tea gardens this place has captivated every visitor to the area. Devikulam means "The Lake of Devi" and it is named after the picturesque lake this place has. The lake is also known as Sita Devi Lake.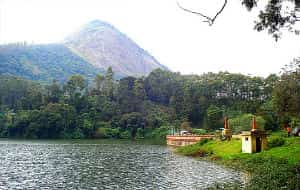 Mattupetty Dam – It is one of the places of interest in Munnar. The construction of the dam was begun in 1949 and its gates were opened in the year 1953. It's a concrete gravity dam that is used to generate hydroelectricity. A variety of birds and animals are flourishing in its nearby vegetation. The overnight stay will be at a hill resort in Munnar.
Eravikulam National Park – Eravikulam National Park is spread over an area of 97 kms and is very rich in flora and fauna. Most of the part is located on the plateau of the rolling hill that consists of grasslands, shrublands, and forests. The beautiful Lakkom Waterfall is also situated in the Eravikulam National Park. Jungle Cat, Wild dog, Tiger, Dhole, Golden Jackal, Leopard, Nilgiri langur, Nilgiri Marten, Nilgiri Tahr, Sambar Deer, Ruddy Mongoose, Stripe-necked Mongoose, Gaur, Indian Muntjac, Indian Porcupine,  small-clawed otter, and Dusky striped squirrels are some of the exotic species of animals that are found in this national park. Elephants make seasonal visits to the park. Apart from these, 132 species of birds, 101 species of butterflies, and 19 species of amphibians are also found in Eravikulam National Park during the Kerala honeymoon package.
Day 04: Munnar – Periyar / 140km/ 4hrs drive
Pothamedu, Nyayamakad, and Attukal are other attractions of Munnar. After visiting these places in Munnar, the next destination of Kerala honeymoon tours will be Periyar, and the following are the places you will visit here.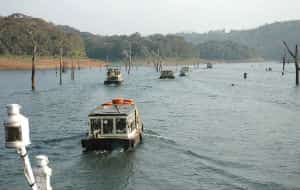 Periyar National Park and Wildlife Sanctuary – Periyar National Park and Wildlife Sanctuary is a protected area which is spread over an area of 925 km2, out of which 350 km2 is declared as the core zone of the national park, also known locally as "Thekkady". It is located on the foothills of Cardamom Hills and Pandalam Hills. The park also has a beautiful Periyar Lake which was formed when a dam was built on the Periyar River in 1895. Periyar National Park and Wildlife Sanctuary is very rich in flora and fauna and is a declared Elephant Reserve and a Tiger Reserve also. Apart from these two, there are 62 species of mammals which include gaur, bison, sambar, barking deer, mouse deer, Dholes, mongoose, foxes, and leopards. 320 species of birds, 45 reptilian species, and 38 species of fishes are also found in Periyar National Park and Wildlife Sanctuary. Enjoy natural beauty at Periyar national park during your Kerala honeymoon trip.
Anamudi – Anamudi literally means "Elephant's Forehead". It is the highest peak in the Western Ghats and South India, and also the highest point of the Periyar River basin. The peak is located at the junction of Cardamom Hills, Anamala Hills, and the Palani Hills.
Before retiring to your jungle resort, you will also visit Crusoe Island, Manakkavala, Periyar Dam, Arubi Creek, and Periyar Lake. Dinner and overnight stay will be at a resort in Periyar during the Kerala honeymoon package.
Day 05: Periyar – Alappuzha (Alleppey) / 160 km – 4.5 hrs drive Honeymoon in Kerala
On the fifth day of our Kerala honeymoon tours, we will leave for Alleppey, also known as "Venice of the East" because of the abundance of waterways, lakes, lagoons, and backwaters that are found here. Alleppey is a favorite destination of honeymooners. Never miss the pleasure houseboat ride in the enchanting backwaters when in Alleppey.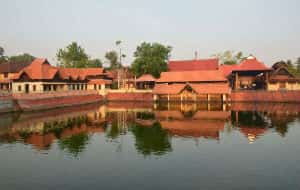 Ambalapuzha Temple – Ambalapuzha Temple is a Lord Krishna dedicated temple. It is believed to be built in AD 790 by Chembakasserry Pooradam Thirunal-Devanarayanan Thampuran. The statue of the main deity of the temple was bought here for safekeeping from Guruvayoor Temple during Tipu Sultan's raid in 1789.
After you disembark your houseboat you can visit Mullakkal Rajeshwari Temple and Kuttanad Region. Dinner and overnight stay will be onboard the houseboat in Alleppey backwaters.
Day 06: Alleppey – Kochi / 65 km – 02 hrs drive
On the next day of your Kerala honeymoon tour, the beauty of Alleppey backwaters and natural vistas rekindles the love in the heart of the love birds and therefore it is the favorite place of the honeymooners. Today after breakfast check out from the houseboat at Alleppey by 9.30 AM and later visit the following attractions of Alleppey: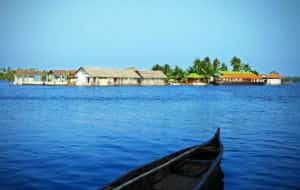 Q S T and R Block Kayal– These are the vast backwater paddy cultivation lands that were reclaimed from Lake Vembanad. Q, S, and T blocks were made by Thomman Joseph Murickummoottil who was crowned as "Krishi Rajan" (farmer king) by the then Prime Minister of India, Jawaharlal Nehru while R Block was reclaimed by Pallithanam Luca Matthai, Vachaparampil Mathen, and Pazhayaparmpil Chacko. The beauty of these paddy field blocks attracts visitors of all kinds. Alleppey is one of the famous places for a honeymoon in Kerala.
Mararikulam – Mararikulam is a beach village. The beautiful village is known for its spectacular Marari Beach. Mother Nature has showered its bounties on the village as anyone who visits it just falls in love with its beauty.
Mannarasala Sree Nagaraja Temple– Mannarasala Sree Nagaraja Temple is a very famous temple and a must-visit in Alappuzha (Alleppey). The ancient temple is dedicated to Serpent God. It is the largest temple of its kind in Kerala and has around 30,000 images of snakes in the temple complex. Women come and worship here for fertility. You can also visit Champakulam Church and on the way to Cochin visit Arthunkal Church also. Dinner and overnight stay will be at a resort in Kochi.
Day 07: Kochi – Departure
After having breakfast in the resort, you will be dropped off at the airport by our representatives. From there, you can board a flight back to your home with sweet memories of Kerala honeymoon tours.
Kerala honeymoon Tours ends with sweet memories!!
You may also like...