Kerala Geography – Physiography, Location & Climate
Kerala is the southernmost state of India. Prior to 1947, Kerala was under the control of three different agencies, namely the princely states of Travancore, Cochin and the Madras province. The first two merged in 1949 to form the unified Travancore-Cochin state. On November 1, 1959, Kerala was constituted as a state under the States Reorganization Act 1959.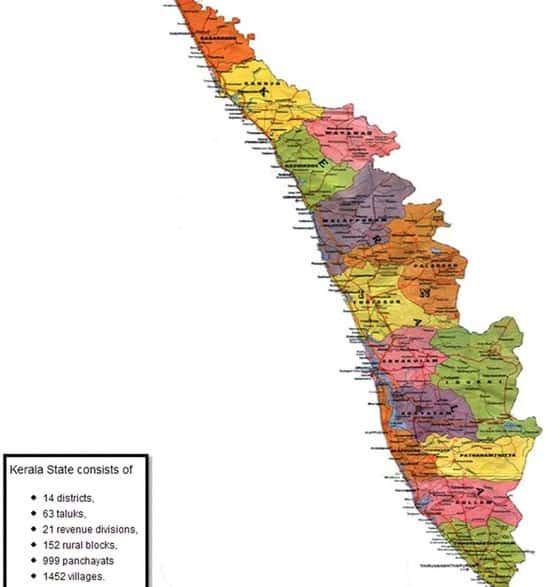 Kerala Location
Kerala lies between 8° 17'30" and 12° 47' 40" north latitude and 74° 51′ 57" and 77° 24' 47" east longitude. It is the long and narrow territory bounded by the Arabian Sea on the west and the Western Ghats on the east, except for a wide gap at Palakkad (Palghat). It is bounded by the Karnataka state on the north (by south Kanara district) and the northeast (by Madikeri and Mysore districts) and by Tamil Nadu state on the east (by the Nilgiris, Coimbatore, Madurai and Tirunelveli districts) and the south (by Kanyakumari district). The total area of the state is 38,856.7 sq. km. The length of the seacoast is 579 km and the width from west to east varies between 11 km and 120 km. The population density is 655 persons per sq. km. It ranges between 192 in Idukki (206 in Wayanad; 456 in Palakkad and 565 in Kannur) and 1,248 in Alappuzha (followed by 1,055 in Ernakulam).
Kerala at present has fourteen administrative divisions (districts), namely Alappuzha (Alleppey), Kannur (Cannanore), Ernakulam, Idukki, Kasaragod, Kottayam, Kozhikode (Calicut), Malappuram, Palakkad (Palghat), Pathanamthitta, Kollam (Quilon), Thrissur (Trichur), Thiruvananthapuram (Trivandrum) and Wayanad (Wynad). These are further divided into 61 taluks.
Kerala Geographical Features
Kerala Geographical Features are diversified into three natural divisions:
Lowland or seaboard [height below 7.62 m (25 feet)];
Plains or midland [height between 7.62m (250 feet) and 76.2m (250 feet)] and
Hills or highland [height above 76.2 m (250 feet)]
The drainage system is formed by 44 rivers, along with backwaters and connecting canals. Of these 44 rivers, 41 are west flowing and rest east flowing. The latter are the tributaries of the Kaveri. The longest of these rivers is the 251 km (156 miles) long Bharathapuzha. The total catchment area in Kerala is 37,884 sq. km.
Kerala Geographical Features according to rock and soil formation can be classified into four groups Crystalline rocks. They are of Archaean age and consist of Dhawar rocks generally found in the Malabar region
Residual laterite, also referred to as sedimentary rocks of tertiary age.
The Warkalli formation. This is the best exposed at Varkala in the cliff. It is a most conspicuous sedimentary bed with a laterite capping.
Recent formation. It is quaternary sediments found in the low-lying areas and river valleys.
The geographical regions have a close resemblance to the three physiographic zones-namely highland, midland and lowland.
You may also like...