Elephant Festivals of Kerala
Since time immemorial Elephant have been the symbol of culture in Kerala. Temple festivals in Kerala are incomplete without the participation of elephants as they are treated as divine, royal, and symbol of prestige. Hence elephants in Kerala culture are inseparable and integral.
There is a belief in Kerala that if one treads on elephants dung, one is sure to be rewarded with a gait as graceful as that of the elephant and also have thick long hair! Just one of the many stories relating to Aana Chandam or beauty of the elephant.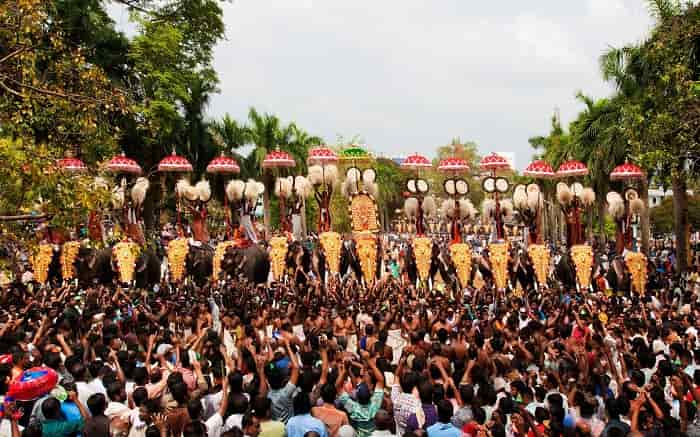 For long, elephants have been part of the cultural ethos of Kerala. People here consider this animal a harbinger of good fortune, a removal of obstacles and an inseparable and integral part of religious and economic life.
A symbol of strength, majesty and prestige; in early times, the elephants of Kerala were used by royalty and Feudal Lords to display their power. When temples and mosque embraced the animal as an auspicious feature of religious festivities, they became an intrinsic part of common man's life. People came to the festivities not only for the rituals but also to have a glimpse of these beautifully bedecked animals.
Down the years, no temple festival in Kerala has been complete without the participation of Kerala elephants. That elephants dominate religious activity is evident from the fact that major temples have at least one animal attached to them. One ritual that highlights the special significance of elephants in the lives of the Malayalis is parayedukkal when the elephant carries the thidambu (sanctified replica of the deity) to houses surrounding the temple. Similarly, there are mosques, such as the Pattambi Mosque near Palakkad, and Jacobite Christian Churches such as at Kunnamkulam in Thrissur, where elephants take part in festivals of Kerala.
There are also special rituals where Kerala elephants take part in festivities. A significant example is that of the Maharaja Pooja performed at Vadakkumnathan Temple in Thrissur, to propitiate Lord Ganesha, the elephant God, or Vigneshwara, the remover of all obstacles. This event is accompanied by Aanayoottu (ceremonial feeding of elephants) with a feast of balls of cooked rice mixed with ghee and banana.
Kerala has about 700 elephants in capacity. Of these, 90 per cent are tuskers, the category that plays a major role in religious festivals of Kerala. Even after death, memories of gigantic tuskers like Guruvayur Kesavan, Poomully Sekharan, Chengalloor Ranganathan, Thiruvambady Chandra Shekharan and Paramekkavu Sree Parameswaran, linger on. The skeleton of Chengallour Ranganathan, the tallest ever at 11 feet 6 inches, can be seen at the Thrissur museum. Guruvayur Keshavan, who served as the presiding deity of Guruvayur for several decades has had a statue erected in his memory. The tusks of legendary dead elephants of Kerala have been kept at the entrance of the inner walls of Guruvayur and Paramekkavu temples, along with their photographs. Elephants of Kerala hold such a special status that temple elephants even undergo Ayurvedic treatments on an annual basis during the monsoons.
Aside from their decorative role, the Kerala elephant's strength and power has been effectively harnessed by putting them to work, mainly in wood logging and transportation of timber. Various camps set up across the State allow tourists to get up close with these gentle giants.
You may also like...