Amarnath Yatra Significance & Importance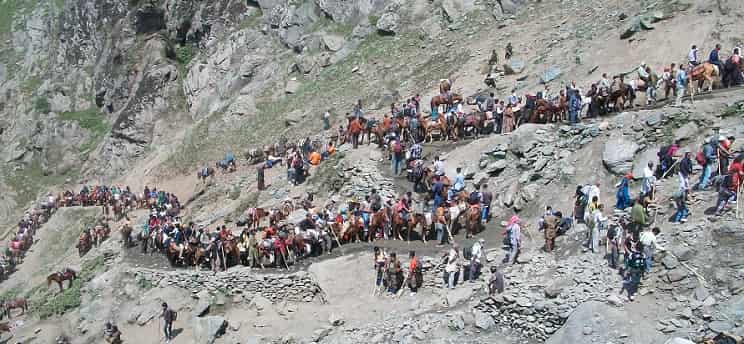 Devout Hindus undergo great suffering and hardship in order to undertake the pilgrimage to Amarnath, the shrine of the sacred ice Linga of Lord Shiva. Amarnath is about 141 km from Srinagar, at a height of 3888 metres at the end of the Lidder Valley. You reach it after an arduous trek over narrow and steep mountain paths and reaching the cave for Darshan of the Linga is like Nirvana.
Hundreds of thousands of devout Hindus make this annual pilgrimage, some of them returning year after year, with a fond wish in their heart. It is said Lord Shiva resides in this cave and grants your wishes. When it comes to granting wishes, the most memorable story is that of Swami Vivekanand. He visited the cave in 1898 and the aura of the place so impressed him that he nearly swooned and experienced a sort of trance in which Lord Shiva appeared and said that he could have anything he wished for.
There are 12 Jyotirlingas across India with their own special significance but the great Lord only resides in a few chosen places such as Kailash Mountains, Muzwan Parvat and Lohit Giri situated above the Brahmaputra River in the Himalayas. Amarnath has special significance over and above these places because this is where he narrated the story of creation, the Amar Katha, and secrets of immortality to his consort, Parvati.
The legend goes like this. At one time Goddess Parvati was quite insistent that Lord Shiva tell her how it was that she died but was reborn again but he remained immortal. He replied that there was a story, the Amar Katha, that contained the secret of immortality but made a condition that he would tell it only in absolute secrecy where no one could listen in. For this purpose he took her to Amarnath Cave. On the way he left behind Nandi, his Bull at Pahalgam, the moon at Chandanwari, the snakes from his hair at Lake Sheshnag, his Son Ganesha at Mahagunas Parvat and the five elements making up the earth at Panjtarni. He then entered the Amarnath Cave along with Goddess Parvati and then created a fire to destroy all life in the immediate surroundings of the Cave and the mountain but only an egg, hidden in the folds of his deer skin, survived of which were born two pigeons, unknown to Shiva. He recounted the Amar Katha to Goddess Parvati and the pigeons overhead the story thus becoming immortal. Even today pilgrims report sighting pigeons at the holy Cave.
For aeon the Cave lay undiscovered until one day a saint appeared to a shepherd and gave him a bag of coals. On reaching home and opening the sack he found gold coins inside. When he went back to the spot where he had met the saint, instead he found the Cave and the Shiva Ling and announced his discovery to the villagers. This is one version of how the cave was discovered. Another version states that the great sage Kashyap Rishi came to this area and found it submerged under water. He used his powers to drain the water in the form of rivers and entered the cave to pray to Lord Shiva.
Lord Shiva is one of the holy trinity, the other two being Lord Vishnu and Brahma. Lord Vishnu is kindly but difficult to obtain boons from whereas Lord Shiva listens to prayers and grants wishes easily. Shiva is also destroyer and protector. Praying to him at the cave releases you from the bonds of life and cycle of births and deaths and makes you immortal in that you attain Moksha. Shiva is also about truth, the performing arts and goodness. Praying to Lord Shiva helps enhance these qualities in you and become victorious over demons inside and outside.
It is a very tough trek to Amarnath involving huge sacrifices and labour. If you do it, it shows you have devotion and surely, if you have devotion, Lord Shiva will grant you your wish or just give you his blessings if you do not ask for boons.
You may also like...