Famous Lakes Nearby Nainital
Nainital, is a famed tourist spot of Uttarakhand falling in Uttarakhand's Nainital district. The mesmerizing natural beauty of the place is accentuated by the presence some of the most attractive lakes that our country has. Sattal, Bhimtal and Naukuchiatal are the most notable ones.
BHIMTAL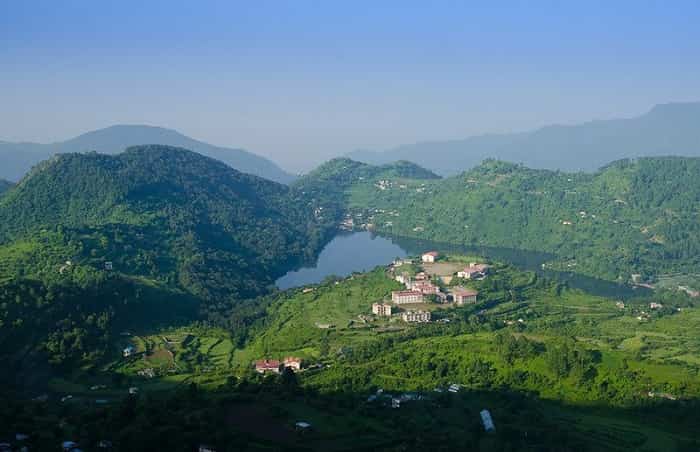 Bhimtal is the name of a town situated in the Nainital District of Uttarakhand state of India. This town is located at an impressive altitude of 1370 meters above the sea level. Bhimtal has now been transformed into a mini district headquarters. A newly built administrative office has now been assigned all the administrative departments of the district. The district is 22 kilometers from Nainital.
One of the major attractions of the town is Bhimtal Lake which is considered to be one of the most beautiful lakes of Nainital. It is a well known fact that Nainital was the summer capital of the region during British rule, but Bhimtal has a longer history.
One of the most attractive parts of the lake is an island situated in the middle of the lake. The lake provides a panoramic view to any tourist visiting this historically significant lake. Bhimtal is believed to be the part of famous silk route between India and China where travelers would stop to refresh themselves. There is an ancient pedestrian lane going around the lake and serving as the main connecting link between Kumaon region and Kathgodam. This lane is still very much in usage. This old pedestrian road goes to Nepal and to Tibet also.
Bhimeshwar temple is another attraction of the lake. This temple is also called Garg Parvat. Bhimtal lake region is famous for few other historical sites which have now become famous tourist spots. There is a small natural lake, 2 km from Bhimtal. The name of this small lake is Nal Damyanti Tal. Nal Damyanti Tal is considered to be a sacred place for people of this area.
Hidimba Parvat situated 5 km from Bhimtal is a famous hill named after demon Hidimba. This hill is the home of a monk who has created a sanctuary on the hill. The name of the sanctuary of this environmentalist monk is Vankhandi Ashram.
NAUKUCHIATAL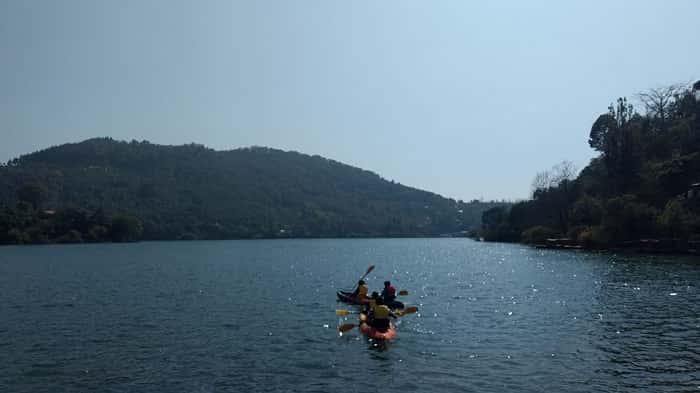 Naukuchiatal is a unique lake having 'nine corners' and thus it is named as 'Naukuchia'. It is about 4kms from another notable destination Bhimtal and is about 26kms away from the bustling tourist spot; Nainital. This lake is known for its dense jungles, orchards and its lush green hills. Naukuchiatal is nearly 300 km away from Delhi, but is easily accessible by road and rail. The nearest railway station is at Kathgodam.
The deep blue colour of the lake is its main attraction. The walking trek around the lake is well admired by its tourists. Fishing is also permitted in the lake on the permission of the irrigation department. This amazing lake is fed by a spring ensuing from the underground and that actually allows the lake to be filled to the brink with water all the time. This lake is considered to be the deepest of all the lakes in Nainital. This lake situated amidst the dense forest of oak trees is famous for its peaceful environment.
SATTAL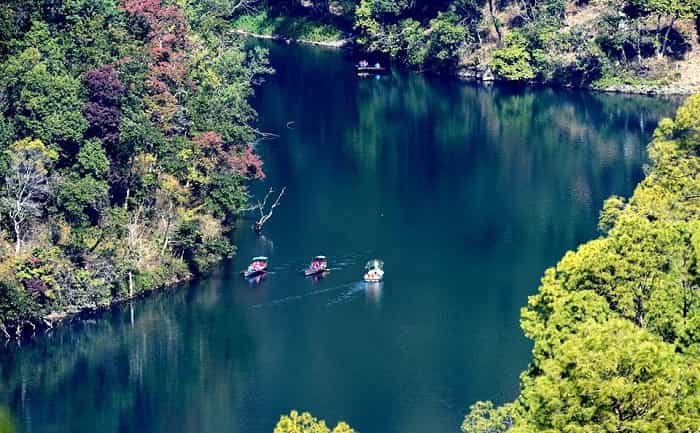 Sattal or Sat Tal is situated in the lower Himalayan Range of Nainital district of Uttarakhand state of India. This lake is actually an interconnected group of seven different freshwater lakes situated near Bhimtal town. All these lakes are situated together at an impressive altitude of 1370 meters in the Mehragaon valley.
Sat tal, in Hindi literally means seven lakes. These names of the seven lakes are Panna or Garud Tal, Nal Damyanti Tal, Purna Tal, Sita Tal, Ram Tal, Laxman Tal and Sukh Tal or Khurdariya Tal. These pellucid lakes lie amid the groves of Himalayan Oak and Pine thickets conjuring up a locale of mysterious beauty, quite typical of the lower Himalayan region. Sattal Lake has the distinction of being one of the unpolluted lakes in India. Being unpolluted, this lake attracts various migratory birds.
The lake is home to around 500 species of birds and over 20 species of mammals. A butterfly museum at Jones Estate is famous for breeding over 2500 butterflies. A natural spring of fresh water known as Subhash Dhara is another tourist destination of Sattal Lake.
You may also like...