Places You Must Visit in Gujarat
Gujarat has of late turned into a fond tourist hotspot. It's dotted with many attractive places that enliven your mood and make history come alive. For wildlife lovers, for God seekers too Gujarat has plenty to offer. So when you plan for a holiday, consider visiting Gujarat at least once in your lifetime. Read on to learn the top 10 places in Gujarat
Ahmedabad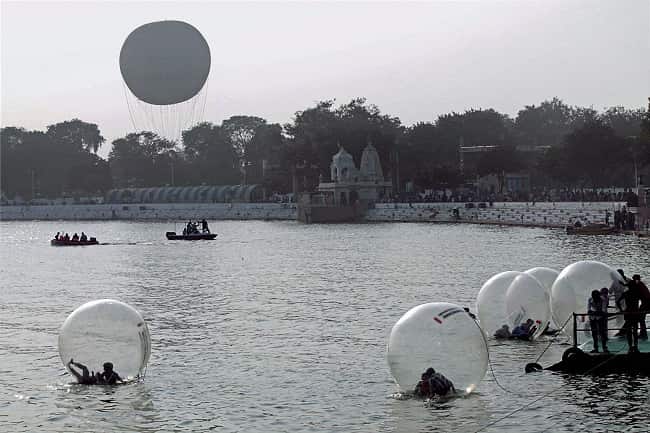 Ahmedabad besides being the fifth biggest Indian City is also one of the commercial areas of Gujarat. The city was founded by Raja Karnadev in the 11th Century and was named as Karnawati after him. Subsequently Sultan Ahmed Shah invaded the place in 1411 and gave the city his own name. This is why Ahmedabad has some of the fine examples of both Hindu as well as Muslim architecture.
There are several tourist attractions in Ahmedabad like Bhadra Fort, Teen Darwaza, and Hanging Minarets, intricate historical buildings, gorgeous mosques and pristine lakes. Sabarmati Ashram which was Mahatma Gandhi's Ashram is the hub for people who want to follow Gandhi Ji's message.
For shoppers Ahmedabad is a great destination as it has an amazing collection of textiles and jewelry being one of the major exporters of both in India.
Vadodara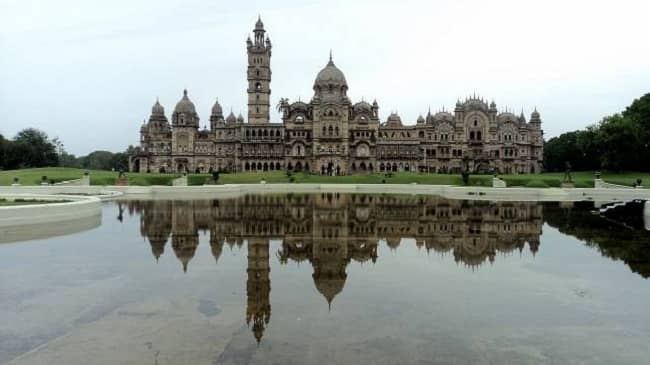 Vadodara is the cultural hotspot of Gujarat and is one of the most popular destinations of the state. Mughals used to rule Vadodara in the past which is why the place is still full of intricate architecture in the Islamic style. Later the Mughals were defeated by Maratha Gaekwad who used to serve as army generals. Subsequently Vadodara was the capital of the Marathas. The city saw many developments under the leadership of Sayajirao ii and enjoyed great prosperity even in British Rule.
There are lots of things you can do when you are in Vadodara like visit the Kadia Dungar caves, stroll around in Lakshmi Vilas Palace and take a round of Nazarbaug Villa as well as Makarpura Palace. Sayaji Baug is a huge garden complex filled with hot blooms and 100 different varieties of ferns. It also has a small zoo and a pretty toy train. Vadodara is a place that will take you back in time.
Sasan Gir National Park in Junagad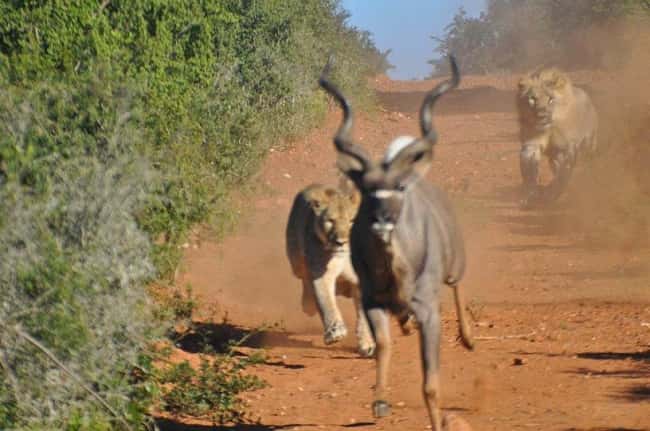 Gir National Park is the best place in Asia for spotting the royal lion in its natural setting. More than 70 Asiatic Lions are present in this National Park so most tourists report a spotting. Other exotic fauna in the Gir National Park are marsh crocodiles, sambar, fork tailed antelope, leopard, golden finches, hyenas etc so this place is heaven for animal lovers.
If you are seriously interested in lion spotting then April to May is the best time to visit. Apart from this park if you visit Junagadh then don't forget to visit Junagadh Fort.
Bhuj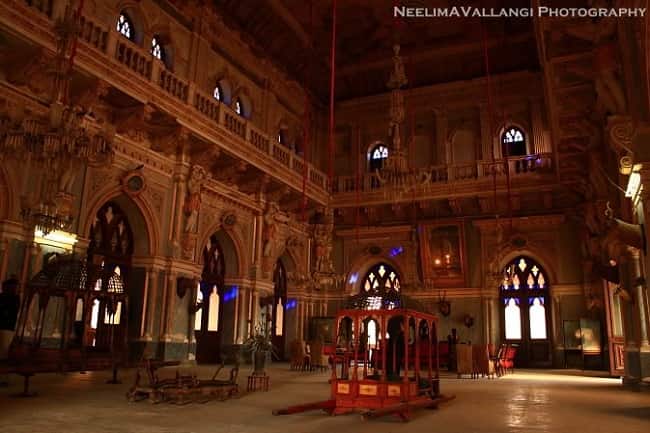 Bhuj is a place which is a historical wonder and one of the most visited places in Gujarat. Right from Mahabharata to Alexander the Great to Indus Valley Civilisation to the East India Company Rule; many historical eras have strong connections to Bhuj. Cultures have existed in Bhuj for more than 4000 years and each has left its own indelible mark.
Aina Mahal and Prag Mahal in Bhuj are the best architectural wonders in Bhuj as they were inhabited by the maharao's of Bhuj. Magnificent Chattardis (umbrellas of the dead royals) stand in the middle of the Rann of Kutch surrounding Bhuj. Kutch Museum is full of historical wonders and miniature models of the way royal life existed in Bhuj before. Jeweled crowns, fierce weapons and antique royal furniture are also displayed in the museum. There are 19 craft villages which surround Bhuj out of which Bhojodi and Ajrakhpur is the most famous. 16 different forms of embroidery, batik and mirror work are present in Bhuj and its surrounding areas which is why so many international tourists target Bhuj.
If you are religiously inclined then Ramkund Stepwell, Nag Mata Mandir and the various Bhuj stone temples will interest you.
Rann of Kutch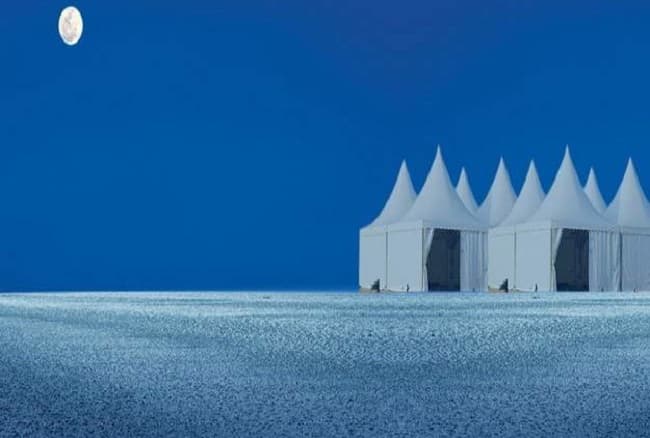 You must already have heard Amitabh Bacchan mouthing the lines "Kutch Nahin Dekha Tho Kuch Nahin Dekha" on Radio and T.V. Kutch is full of pristine white sand and exotic fauna set against a backdrop of cultural extravaganza which happens every year at frequent intervals.
The Rann of Kutch is situated in between the Arabian Sea and the never ending Thar Desert. This is India's only hot white desert with the other (cold) white desert being in Ladakh. Salt and sand together give this desert a mystical look; a fact that is again highlighted on moonlit nights. Rann of Kutch is submerged inside water in the monsoons; a fact which makes it very puzzling to Geologists. Head off to Dhordo where cultural extravaganza is held in moonlit nights. If you are ever in Gujarat during a full moon night, reserve that night for the Rann of Kutch.
Every winter migratory Flamingoes arrive from halfway across the world to spend a fortnight in this magical white desert. The desert is then dotted with shocking pink and looks like a polka dotted landscape. Other migratory birds like Bustard, Blue Bee Eater and Vulture are present here which makes this desert an ornithologist's delight.
If you visit the little Rann of Kutch you will be thrilled to see the Wild Ass Sanctuary where groups of rare wild Asses are found.
Every year Gujarat Tourism Department host the Rann Mahotsav in December month when painters, acrobats, dancers, performers, artists and snake charmers visit the Rann for a week long fest. Camel Safari, cock fights, wrestling match and live music give the desert a joyful look.
Mandvi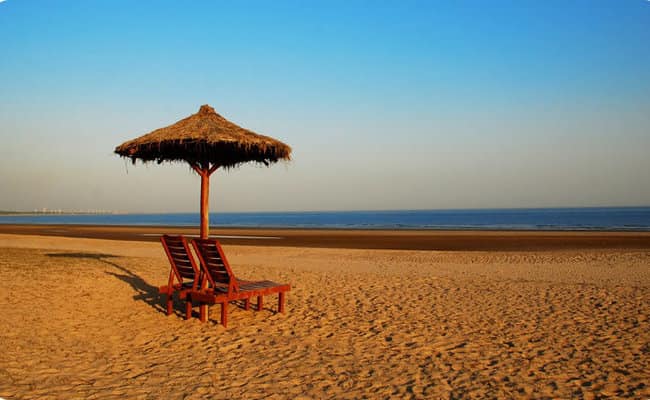 So you thought Gujarat was all about deserts, lions and traditional culture right? Well Mandvi will prove you wrong with its collection of lovely sandy stretches along the Ahmadabad Mandvi stretch. Water sports like sailing, Para gliding and swimming are organized around the beaches in Mandvi. The pristine blue waters of the Arabian Sea Coast are gentle enough for relaxing laps and this is why you can easily head off to the Mandvi Beach for a fun family vacation. The firm control of the Gujarat Government means that there is no eve teasing, no stray drug abuse, no filthy language and a perfect friendly environment on the beach.
There are beautiful spots in Mandvi where you can go for sightseeing and cultural immersion too. There is the Vijay Vilas Palace which is filled with grand old paintings while the Rukmavati Bridge offers you a glimpse into architectural wonder of Gujarat. If you have some extra time on your hands then do visit the Kashi Vishvanath Beach too.
Saputara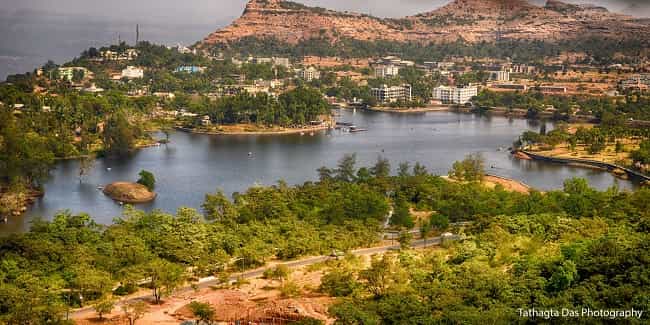 Gujarat's only and most beautiful hill station is Saputara which is at a moderate altitude of 1000 m in the very core of Dang District. This hill station is in a very high plateau on the famous Sahyadri Range. You will be pleasantly surprised to see cool refreshing climate and miles of emerald greens in the lovely land of Saputara. This place has come into the limelight recently when the Gujarat Government has started promoting it strongly. There are many amenities in Saputara like Boating facilities, cultural theaters, heritage hotels, ancient museums and lovely parks which are built to cater to the ever growing tourist traffic.
Bhadreswar
Bhadreswar is one of the most famous tourist destinations in Gujarat and many references to its spiritual importance are quoted in Mahabharata where this place was referred to as Bhadrawati. There are several Jain temples here which date back to more than 100 years. Bhadreswar is also known amongst architects because of the finest examples of Kutch architecture. Several books have been written about history of the 52 Jain temples in Bhadreswar. Several carvings, paintings and statues of historical importance are present in Bhadreswar.
Chokhanda Mahadev Temple in Bhadreswar was established by Pandavas about 5000 years ago and this attracts a lot of ethnologists. Duda Masjid is also a great example of Islamic architecture.
Diu Beach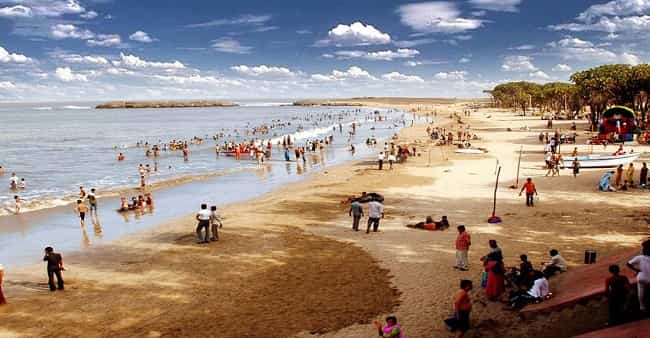 The Diu Beach is Gujarat's summer capital. It's the place where local people of Gujarat head off to for summer fun and frolic. As you well know Diu is a union territory but comes within the governance of Gujarat Government. This is a pretty fishing town where you will find every conceivable type of Fish being sold and cooked (a rarity in predominantly vegetarian Gujarat).
The most famous beach of Diu is Nagoa Beach which is located in Gangeshwar Coast. Boating and Parasailing are regular features here and it attracts a lot of tourists. You can also pay a visit to Lord Shiva temple situated near Ghoghla Beach when you visit Diu.
Porbandar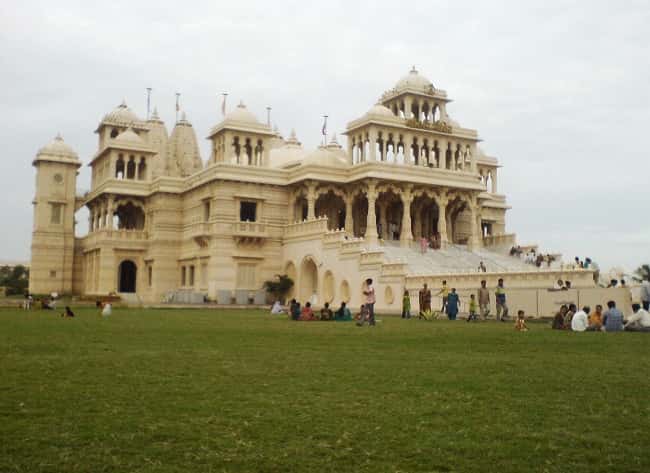 If you are a Mahatma Gandhi Fan then Porbandar will surely be in your tour list. This is where Mahatma Gandhi was born and several ashrams and institutes that teach the Gandhi way of life are established here. Porbandar is also an important port with its own dockyard situated as it is on the very edges of the Arabian Sea Coastal Line.
Tourists visiting Porbander should visit the Kirti Mata Mandir, Bharat Temple, and the Sudama Temple. Interestingly Sudama (Lord Krishna's friend) was also born here.
Chowpatty Beach is where you can head off to for building sandcastles and sampling Vada Pav and Kachori.
If you are a nature lover then the bird sanctuary hosting 115 varieties of birds is sure to attract your interest.