Opening and Closing Dates of Gangotri Dham 2021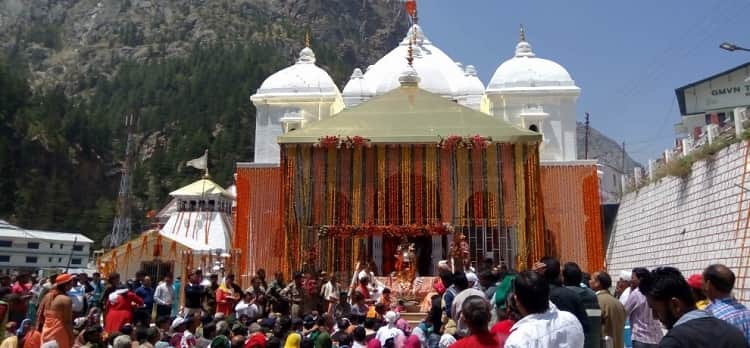 Gangotri is the second destination in the char Dham Yatra. It is considered a sacred place and a pilgrimage to Gangotri washes away your sins, according to devout Hindus. The temple of Gangotri sits at a height of 3048 metres in Uttarkashi district in Uttarakhand. The temple, said to be built by Gorkha General Amar Singh Thapa in the 18th century, sits on the banks of the Bhagirathi River.
The temple is accessible only during the period from April to October. The entire region is snowbound in winter and the roads are closed. Hence, each year, there are specific opening and closing dates assigned when pilgrims can visit the temple to pray and make their offerings to Ganga Mata.
Gangotri Dham Opening & Closing Dates 2021
| | |
| --- | --- |
| Opening Date 2021 | Coming Soon |
| Closing Date 2021 | Coming Soon |
Opening Date
The opening date is fixed by Pandits according to the Hindu lunar calendar. Almost invariably, the Gangotri temple opens on the auspicious day of Akshaya Tritiya that occurs in the last week of April or the first week of May. This year in 2021 the opening date of the temple has been announced as 18th April, which also happens to be Akshaya Tritiya day. The temple opens after a religious ceremony and Pooja inside the temple as well as on the banks of the Bhagirathi River. If you truly wish to have the finest experience, it is advisable to be present when the temple is opened for the pilgrimage season.
Closing Date of Gangotri
Unlike the other temples in the chota char Dham circuit, the temple at Gangotri does not close after Diwali but the priests decide to close the temple for public in Vijayadashami or Dussehra day after conducting Pooja and other ceremonies. The idol of Ganga Mata is taken in a procession to the small village of Mukhba that becomes her winter residence.
You may also like...