List of Hill Stations in Uttarakhand
Dev Bhoomi, Uttarakhand is a land of untouched, heavenly beauty. This enchanting land is dotted with numerous religious destinations, Chardhams being the most famous of all. Pilgrims from all parts of the country and world flock at Uttarakhand in large numbers in order to respond to the call of the divine. Apart from religious spot, the land has many other attractions to entice and lure a vacationer. There are many splendid hill stations, thrilling adventure spots and wildlife reserves at Uttarakhand to give you a full dose of refreshment, relaxation and unforgettable memories. The state is blessed with bountiful beauties of nature and thus caters very well to the passions of a nature lover. A hill station of Uttarakhand comes decked with some scintillating gems from the storehouse of Mother Nature.
The tranquil ambience, stunning snow wrapped mountain ranges & peaks, lush green alpine forests, dancing silvery streams, colorful charming rhododendrons, quiet meandering walking trails, the cool pleasant climate are various amazing photo-perfect features of a typical Uttarakhand hill station. The quietness and scenic beauty of the tiny hamlets across the vales & meadows of Uttarakhand hill stations are sure to touch the heart of a seasoned travel enthusiast.
Honeymooners, nature lovers, adventure enthusiasts, wildlife enthusiasts find Uttarakhand to be a veritable treat far away from the chaos and complexities of city life. Winters in Uttarakhand present exquisite vistas of rolling stretches of snow clad terrains & mountains while summers give you the chance to relax amid the pleasantly cool weather and ambiance. Apart from the common hill stations of Uttarakhand there are many rare, uncharted unexplored places that could offer you a real out of the world experience. Thus, discovering Uttarakhand is like bagging some rare memories to be cherished lifelong!
 Auli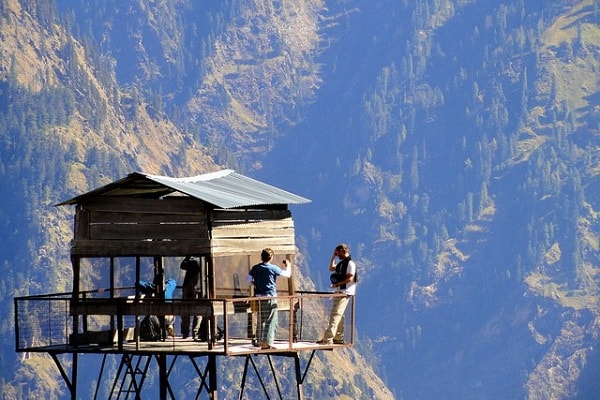 What Switzerland is to Europe and Gulmarg to Kashmir, Auli is to Uttarakhand. Visit it in summer and it is a lovely, flower-strewn meadow charmingly set against a backdrop of snow covered peaks in this beautiful district of Chamoli. At a height of 2519 metres, Auli is simply too lovely for words whether it is winter when it is covered in a sheet of white or in summer. The star attraction is the world's highest ropeway that runs a distance of 4 km all the way from Auli to Joshimath. The glide to Joshimath is food for soul as you view the countryside below you. From Auli you can go on trips to the exquisite Chenab Lake, Joshimath—winter residence of Lord Badri of Badrinath fame, Chhatrakund and Gurso Bugyal, a picture postcard spot.
Chakrata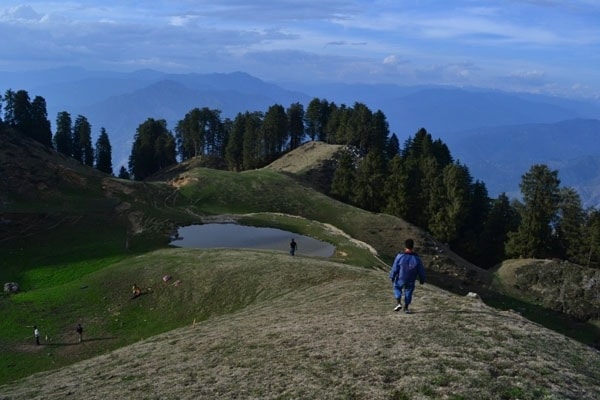 Not many know of Chakrata in Dehradum district but this alone makes it worth the visit because Chakrata, at a height of 2270 metres, gives you the peaceful solitude removed from crowded tourist spots. Located between Yamuna and Tons river, this picturesque colonial military outpost is serene. Relax for a few days and take time to visit Chilmiri Neck, about 5 km away where the military is located. You can then go on an excursion to Deoban, about 16 km away, just as captivating as Chakrata and then onwards to Tiger Falls, a distance of 20 km. Noteworthy spots to visit are the Ram Tall Horticulture Gardens, Kanasar a fairy tale spot with Pine and deodar trees, Kimona Water Falls, Budher Forest, Thana Danda Peak and the Chintaharan Mahadev Mandir with its imposing Shivling.
New Tehri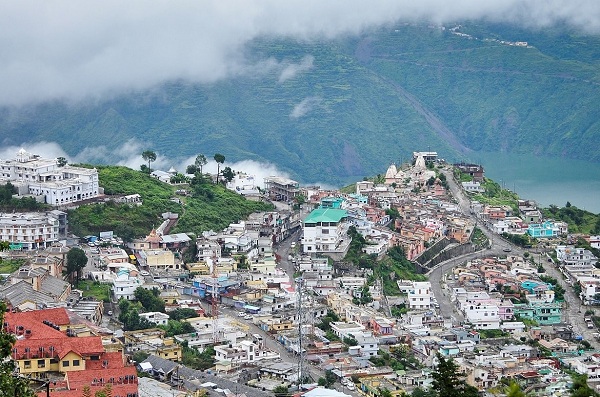 Tehri, the old lies submerged under the New Tehri dam, the likeliest reason to visit this spot. It is pleasant, charming and satisfying.
Chopta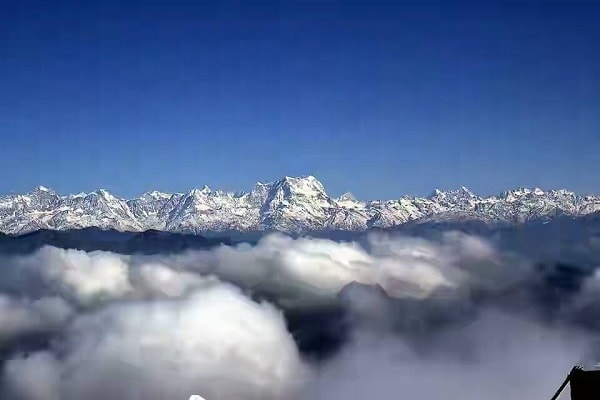 Chopta is distinctly alpine in feel and looks. Located at a height of 2680 metres, you have the Chaukhamba, Trishul and Nanda Devi on one side and thick alpine forests on the other. An important point on the Char Dham circuit of Uttarakhand, Chopta has its own identity as a tourist spot with the Tungnath temple in the vicinity being one, Chandrashila being the other. Trekking through to Deoria Tal is like a walk through paradise.
Dhanaulti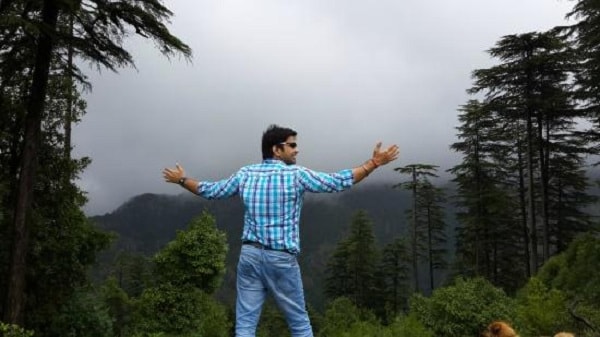 If you are going towards Mussoorie you will pass a tiny little hamlet that you are likely to overlook. This is Dhanaulti, surrounded by tall mountains, cocooned by trees and bathed with cool sunshine. If you wish to relax, stop here and you have total peace. When you feel energized enough you can go trekking.
Harsil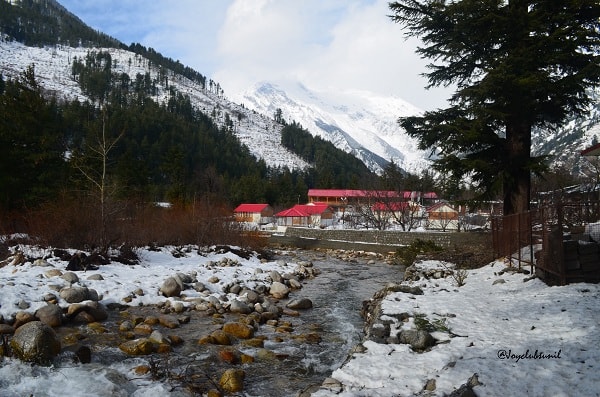 243 km from Rishikesh, Harsil is a take off point for the Yatra to Gangotri but people give it a miss which is unfortunate. Harsil has a piquant loveliness that, if you take the time to stay and look, will impress your soul quietly. There are apple orchards everywhere, mountains towering up into the sky and a pleasantly deodar scented air. Enjoy the cool sunlight, let down your hair and experience serenity here.
Kanatal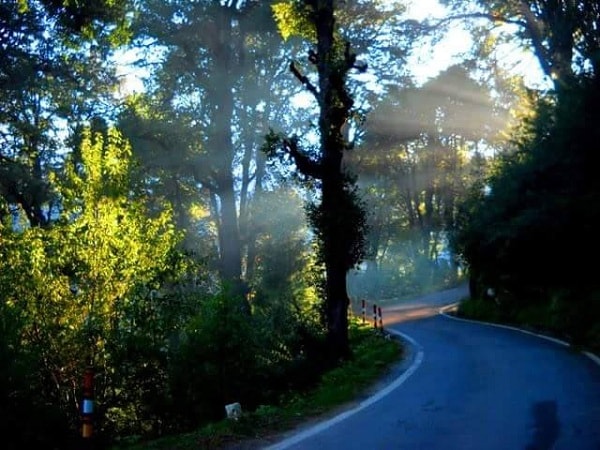 Kanatal is the jumping off point for excursions to Kausani, Kalsi and Kalpeshwar but tarry here awhile and drink in the beauties of this place. It is picturesque with mountains, rivers and green slopes. Importantly, it is quiet and serene here, much less crowded than Mussoorie and far more pristine. Walk through the Kodia jungle and visit the Surkhanda temple while here and, if you have time, go on to the Tehri Dam.
Lansdowne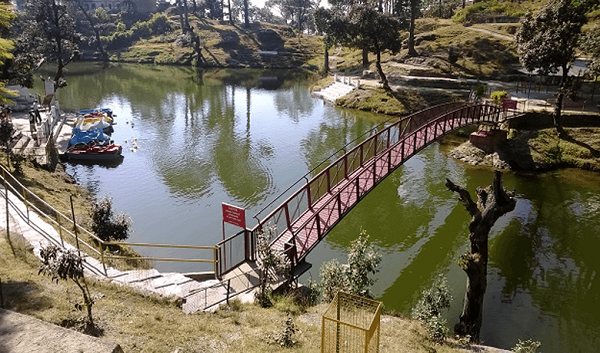 Not too cold, Lansdowne at a height of 1780 metres is just pleasant and far less crowded than other well known resorts. Still colored by overtones of its colonial legacy, Lansdowne will grow on you slowly as you explore the bucolic countryside in the Pauri Garhwal area of Uttarakhand.
One of the char Dhams in Uttarakhand, Badrinath is home to Lord Vishnu in his Badri form. Legend has it that Vishnu meditated for aeons with Laxmi sheltering him in the form of a Badri tree. It is debatable as to whose sacrifice was greater but Badrinath set against Neelkanth Peak is one of the Panch Badris and a holy destination. Look beyond the temple and you have the awesome Alaknanda to impress you and the peaks of mountains in the distance that challenge you take a trek.
Gangotri
Gangotri as home of mother Ganga and one of the Char Dhams needs no introduction but go beyond and do more when you are here. One place you can visit is Bhagirath Shila where King Bhagirath meditated to bring down Ganga to Earth. Take a trek to Pandav Gufa, 1.5 km away and go on to the Surya and Gauri Kund in the vicinity. After than you can visit the Jalmagna or submerged Shivling in the vicinity.
Yamunotri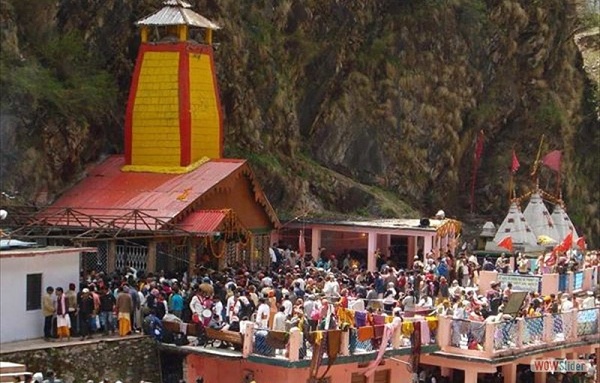 The focus is on the temple dedicated to Yamuna Devi when you go on a Char Dham Yatra. However, there is more if you care to look around. Hanuman Chatti is the starting point to the Yamunotri trek. Kharsali is a lovely place you can visit while you are here. Divya Shila and Badkot are the other destinations that should be on your itinerary for a more rounded experience.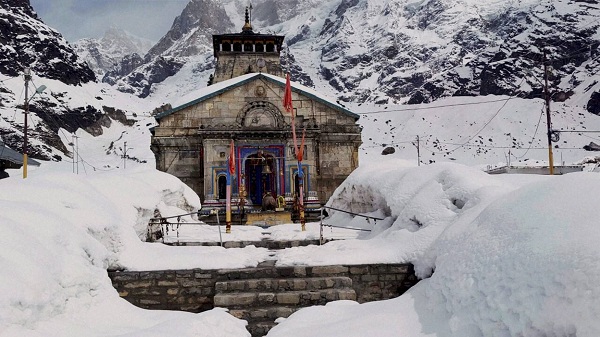 Kedarnath is well known as being one of the 12 Jyotirlingas and one of the Char Dhams. But that is not all. There is lots more you can do such as go off on a trek to Gandhi Sarovar, which has nothing to do with any of the Gandhis except that Mahatma Gandhi meditated briefly here. This lake, also known as Chorabari Tal, is from where Yudhisthira ascended to Heaven. Then you have the Bhairavnath temple in the vicinity. Gaurikund is from where people start on the trek to Kedarnath and this place is also the starting point for treks to other interesting places such as Vasuki Tal, a beautiful lake.
Valley of Flowers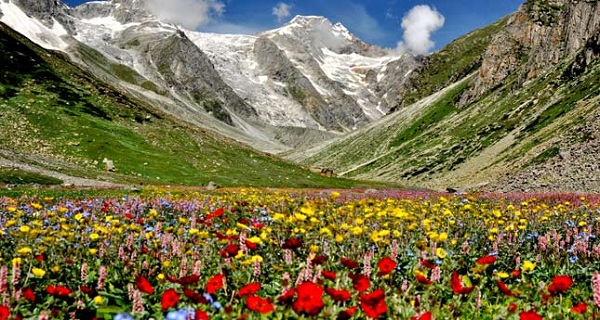 When one talks of the delightful, multi-hued Valley of Flowers, it looms so large in the consciousness that one is at to overlook other places in the vicinity that may seem insignificant. Not so. The Hemkund Sahib Snow Lake, at a height of 4329 metres is charmingly attractive in its own right and also a pilgrimage spot for Sikhs who come here to pay respects to Shri Guru Govindsinhji. The Valley is a part of the greater Nanda Devi National Park you must explore but you will need time to cover this vast area. At least go walking alongside the Pushpawati River, a revealing experience.
Hemkunt Sahib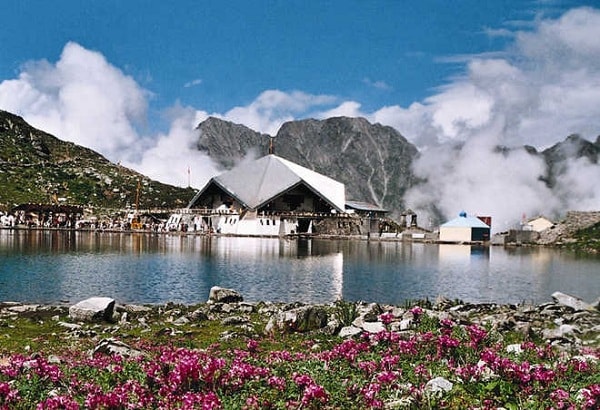 For Sikhs the pilgrimage to Hemkunt Sahib is gratifying for the soul. The trek starts from Ghangaria, also a starting point to the visit to the famed Valley of Flowers. If you go to Hemkunt Sahib spare time for the Valley of Flowers and to explore Ghangaria, a town that sits picturesquely at the confluence of Hemganga and Pushpawati.
Nainital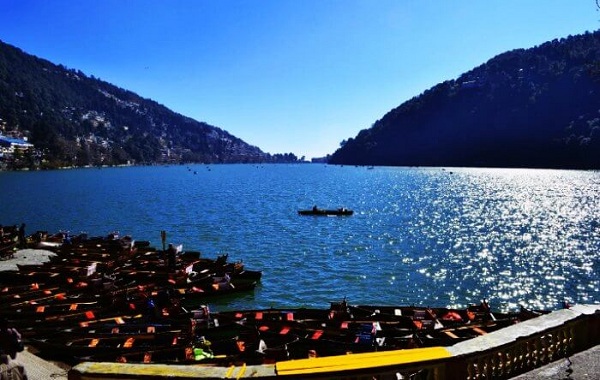 People visit Nainital because it is so picturesquely charming as well as being easily accessible. There is plenty you can do in Nainital itself such as a visit to the Zoo, the Governor's house, to the Snow View Point, the Naina Peak and Eco Cave gardens. It also pays to take small excursions to popular spots such as Kilbury picnic spot and to the Naina Devi Bird Reserve. Kainchi Dham, about 17 km away and Gurney House, the erstwhile home of Jim Corbett, are also worth a visit.
Mussoorie
Enchanting and enthralling, Mussoorie is still a tourist's favorite and of the many spots you can visit in and around this lovely hill resort, the Lake takes first place. You can go boating and admire the view from the middle. The Company Garden is just as lovely and for a change go over to the Bhatta Falls, about 7 km away after which you can go on to Jharipani Falls. Lal Tibba is the highest point in Mussoorie and the Camel's Back Road offers an unforgettable view of a golden sunset. At the other extreme you have Cloud End, a colonial bungalow dating back to 1838. There is never a dull moment with plenty of activities such as horse riding, mountain biking and roller skating to keep you occupied.
Almora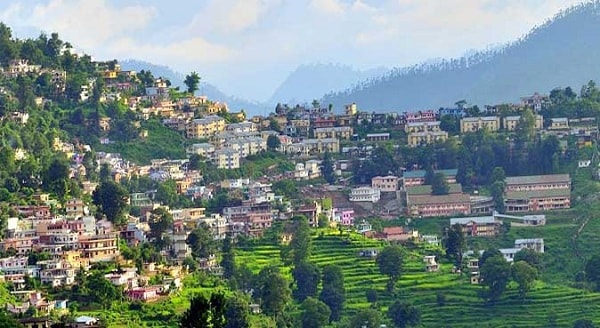 Almora is a town and a charming hill resort not quite so well known as the more famous ones in Uttarakhand. While you are here you can visit the Nanda devi Temple, Kasar Devi, Jageshwar and Chitai temple. Interesting places are the Govind Ballabh Pant Museum, picturesque sunsets you can view at the Bright End Corner and the bazaars to shop for rabbit fur apparel and copper vessels.
Binsar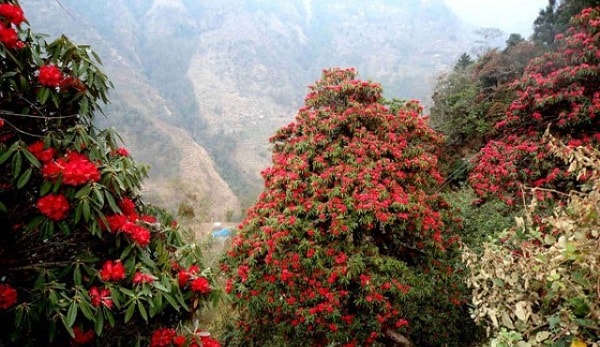 Not many know about Binsar in Kumaon region but this beautiful place is growing in popularity. Binsar Wildlife Sanctuary is the main attraction with the other being the view of the Himalayas from Zero Point. From the Jhandi Dhar hills you have a panoramic view of Kumaon and Almora in the distance. Go bird watching or feast your eyes on the spread of Nature. Binsar is unparalleled.
Kausani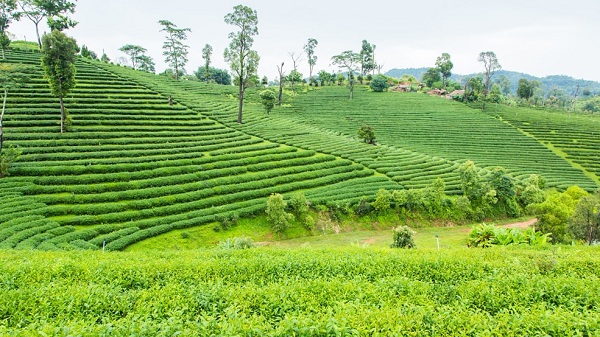 Kausani, not far from Almora, offers a magnificent view of the great Himalayan Ranges while the place itself nestles in the lap of lush greenery of Nature. From here you can go on excursions to Bageshwar, about 38 km away and have a Darshan of Lord Shiva at the temple. The Baijnath Temple is another attraction, about 16 km from the town.
Munsiyari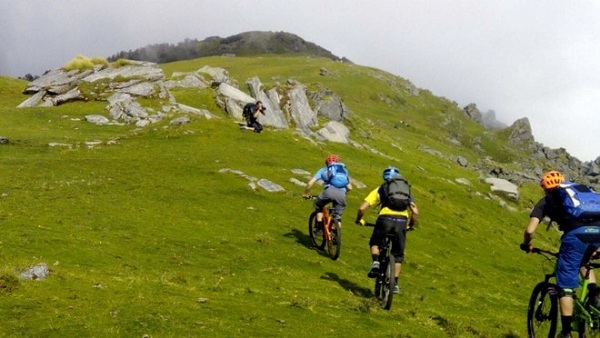 Munsiyari is relatively unknown but it is also known as little Kashmir, a beautiful resort in Pithoragarh district offering a view of the Himalayas that will simply stun you. Explore the rich eco diversity when you go on treks, for which Munsiyari is famous. Go on to Panchachuli and stop at Birthi Falls, one of the loveliest sights to greet your eyes. Other spots around Munsiyari are the Maheshwari Kund steeped in legend and folklore, Betulidhar Gardens and Thamari Kund, a lovely lake set amid alpine scenery. Darkot is where you can buy genuine Pashmina shawls and Madkot is where you immerse yourself in medicinal hot water springs. Trek to the Khaliya Top and the sight is the best reward you can get.
Pithoragarh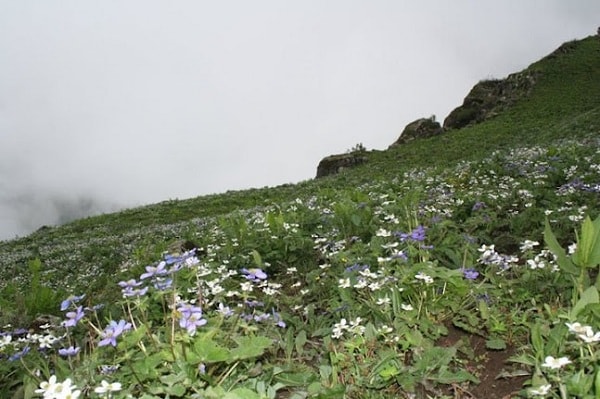 Pithoragarh is another of those towns overshadowed by the more well known destinations but it does have a few attractions of its own like the Pithoragarh Fort, the Dhwaj Temple and the Thal Kedar Lake as well as Chandak and Kapileshwar Mahadev Temple. Keep your eyes open while you trek and you have a veritable feast spread for the senses before you.
Ranikhet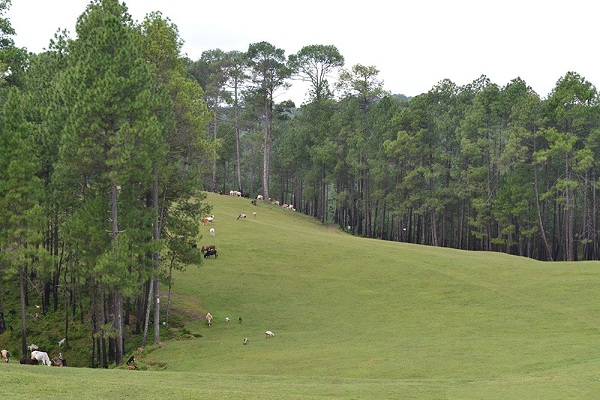 Ranikhet, Land of the Queen, is an endearing little spot that grows on you. Located at a height of about 1829 metres, Ranikhet is pleasantly cool with an adorable view all around. Inside the town, the bazaars are like those you find elsewhere. So explore places like the Chaubatia Gardens, about 10 km from the town. If you arrive here at the right time you will be tempted by fruit trees laden with delicious apples, apricots and peaches. The town has temples in and around it but you will like Majkhali from where you have a grand view of the Himalayas while you enjoy a brief picnic. Syalikhet is at a distance of 25 km but worth the visit, famous for its orchards and the temple dedicated to Syahi Devi. However, the most important place to visit is Katarmal because it has a temple dedicated to Sun God, a rarity across India. Have a respite at the Bhalu Dham, a picturesque lake before you move on.
Champawat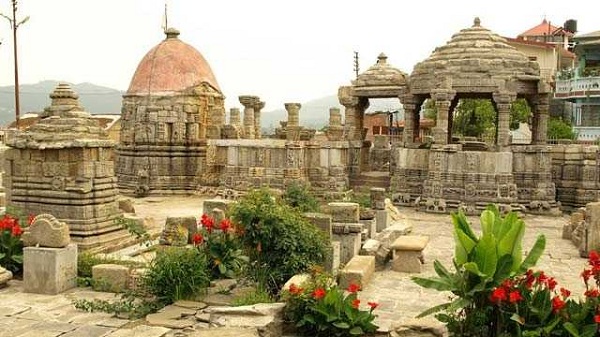 Quaint Champawat sits at the Eastern fringes of Uttarakhand and this adorable destination is full of greenery and history since it was the seat of the Champawat rulers. Make it the base for excursions to interesting places in the vicinity such as Devidhura, famous for its Varahi temple. For nature lovers Shyamla tal, about 56 km away is the place to visit. Abbott Mount is another location in this region, a tiny little paradise where you can peace and harmony with nature.
Chaukori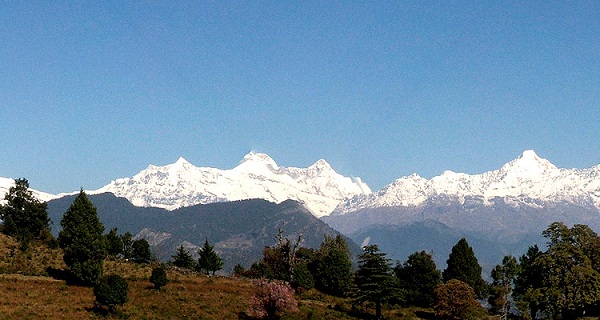 This tiny little village sits picturesquely at a height of 2010 metres in close proximity to Tibet in the Pithoragarh region. What comes as a pleasant surprise is the abundance of tea gardens and the pristine beauty of nature. Chaukori has its usual collection of temples such as Dhaulinag, Feninag, Harinag, Kedar temple, Kamakhya temple and Kapileshwar Mahadev cave temple but you will find the spread of oaks, rhododendrons and pine trees a far more elevating sight. From Chaukori you can go on to the Askot sanctuary for a view of the musk deer, to Pindari Glacier, to Baijnath, Patal Bhuvaneshwar, Munsiyari, Didihat, Bageshwar and Gangolihat.
Lohaghat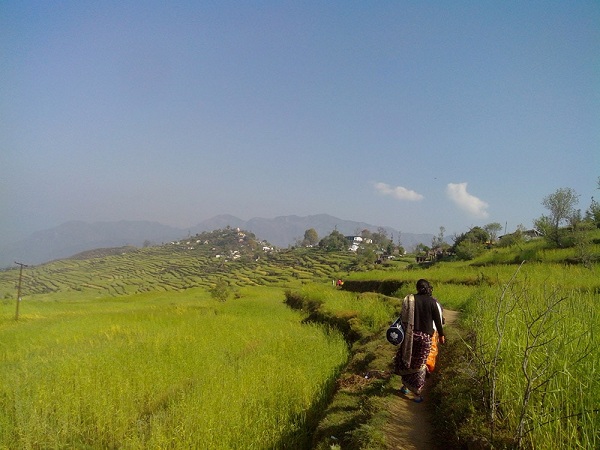 Located on the banks of the Lohawati River, Lohaghat sits at a height of 1745 metres and is famed for its Rhododendron bushes. It is peacefully magnificent here with the view so superb you never get tired. For excursions you have Shyamtal, Champawat, Patal Rudreshwar, Pithoragarh and Almora within easy driving distances. Sikhs make a beeline to Lohaghat for another and that is the presence of Meetha Reetha Sahib, a Gurudwara at the confluence of Ratiya and Lodhiya rivers with an abundance of Reetha trees in the premises.
Mukteshwar
If you happen to be in Nainital one of the places you must visit in the neighborhood is Mukteshwar. The place is famous for its Mukteshwar Dham temple dedicated to Lord Shiva, standing atop a mountain from where the view is one to render you speechless. If the view of the mountains is enchanting, the forests and orchards on the other side are equally immerse. From here you can go on short excursions to places of interest like Ramgarh, only 25 km away, famed for its orchards. Almora, Bhimtal, Ranikhet and Naukuchiatal are all in the neighborhood. Enjoy a serene stay in Mukteshwar with short trips to these places of interest.
Patal Bhuvaneshwar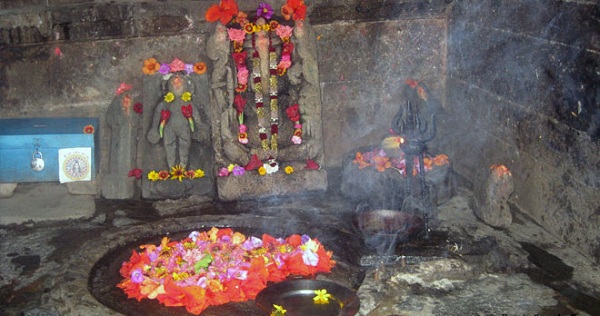 When people talk of Uttarakhand they talk of char dhams but for those who are deeply religious Patal Bhuvaneshwar has more significance in that it is believed to be quite ancient as well as home to the pantheon of 33 crore Hindu Goddesses and Gods. You enter a limestone cave located about 13 km from Gangolihat and the narrow tunnel leads you to the Shiv Linga. Pilgrimage here is like visiting all Chardhams. Bageshwar, Chaukori and Gangolihat are within close driving distances. Kotmanya, 25 km away, is an attractive place where you can relax in the lap of mother Nature.
Ramgarh
Cool Ramgarh is off the beaten track and one of those places as yet unspoilt by rush of tourist traffic. Enjoy while you can the fruit orchards and the lovely view as well as untrammeled serenity of Ramgarh. It is a place that inspires poets by the sheer composition of Nature all around. From Ramgarh you can go on to visit Nathuakhan in the neighborhood and then traipse over to Mukteshwar, another of those charming hill resorts of Uttarakhand.
Corbett National Park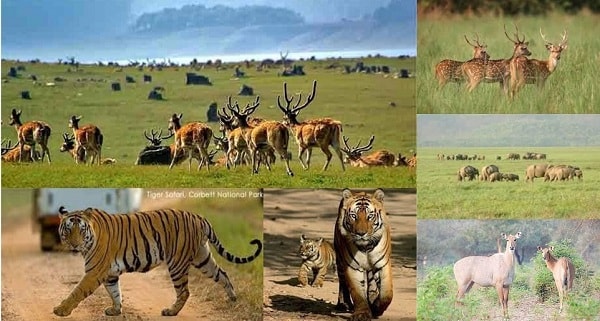 Of the 12 National Parks in Uttarakhand, non can match Corbett National Park for fame and for its size as well as age. It is the oldest one spread over 521 sq. km and home to 488 different species of flora and fauna. You will find tigers, deer, gharial, cobras and elephants peacefully coexisting with 600 varieties of birds. It is just not possible to explore the entire park in a day so spare a few days to visit Jhirna area, famous for bird sighting. Bijrani is tiger country and is also known for its profusion of Sal trees. Dhikala is where you should stay and venture out to view deer, crocodiles and a number of birds flocking along the reservoir.
Pindari Glacier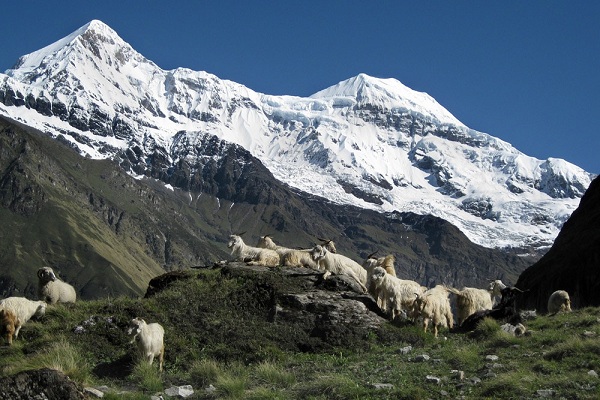 Pindari Glacier covers a length of 3.2 km and is 1.5 km wide, easily accessibly from Bageshwar or Almora. The trek to Pindari and across it gives you time to reflect and admire the view around from a height of 3350 metres. Zero Point is highest at about 3660 metres. You may want to start your Pindari glacier trek from Bageshwar or go the shorter route from Phurkia to Zero Point, a stretch of 5 km. Phurkia, as you will find is a lovely spot with its small waterfall and picturesque view. Kafni Glacier is in the vicinity, easily accessed from Dwali, another scenic destination in the vicinity.
Roopkund
Roopkund is at a height of over 5000 metres and people simply love the lake, blending in so seamlessly with the surrounding mountains, strewn with glaciers and presenting a scene of charming desolation. It is the walk to Roopkund that is more interesting as you pass by alpine meadows and the Bedni Kund, a small lake. Roopkund is also famous for the Nanda Devi Raj Jat Yatra held once in 12 years from Nauti to Homkund.
Gwaldam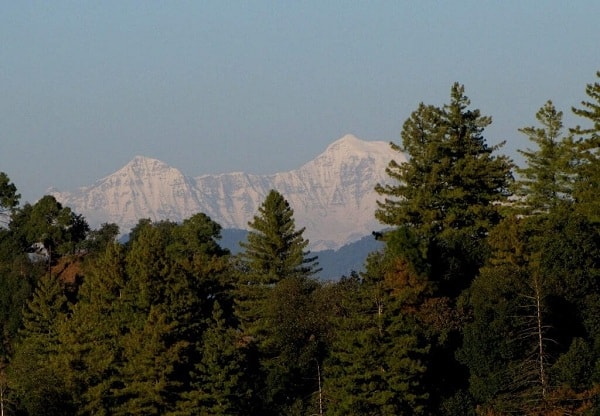 Standing in the shadow of its better known brothers, Gwaldam is just a small hill resort in Kumaon, at a height of about 1700 metres in Chamoli District. The fact that it is a road less traveled should make it your favorite if you want serenity and peace. The place comes alive once in 12 years with the Nanda Devi Raj Jat Yatra otherwise it is somnolently quiet, a place to recharge your batteries. For a bit of excitement drive over to Bageshwar, about 34 km away or to Baijnath, 22 km down the road. Kausani is another, better known resort if you get tired of all the peace and quiet in Gwaldam.
Dehradun
Dehradun is a charming hill resort, a well developed destination for quality education, Land of Shiva and a place you will fall in love with. Of the over dozen lovely spots here you must visit the Sahastradhara or thousand springs, about 16 km from Dehradun. Another beautiful place is the Robber's cave, mysterious and magical with its tiny stream of fresh water. Malsi Deer Park is perfect for a walk through the woods to admire the two horned deer and birds. Lachhiwala, just a bit outside the town is a picturesque spot with small pools fed by tiny rivulets. Try to visit Tiger Falls and Fun Valley while you are here. Some may want to go visit temples in which case there is the Jwalaji temple dedicated to Goddess Durga, Tapkeshwar Temple and Char Siddhs along with others. Dehradun also beckons with its Rajaji National Park, the Museum, Military Academy and Forest Research Institute.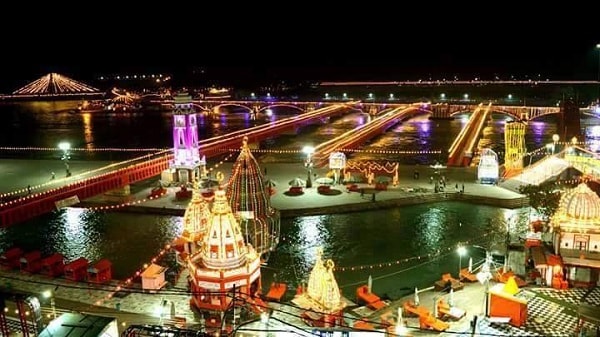 Haridwar is one of the places where a drop of holy Amrit fell, the others being Ujjain, Allahabad and Nashik. The specific point where nectar landed is Har ki Pauri and it is a staunch belief that bathing in the Ganges at this spot frees one from sins and from the cycle of births and deaths. There is plenty to see in Haridwar. The most enduring and enchanting sight is that of thousands of lamps floating on the Ganges when the sun sets—mystical and magical. Stay over a couple of days not just to admire this beautiful sight off Har ki Pauri but also to visit Chanda Devi Temple, Mansa Devi Temple and Maya devi temple, all along the Ganges. Then go off to Kankhal. The Neel Dhara Pakshi Vihar and Bhimgoda Tank the next day with brief visits to Sapta Rishi Ashram, Shantikunj and Patanjali Yogpeeth. There are other places and you could even go on to Char Dham as many people do, making Haridwar the starting point.
Rishikesh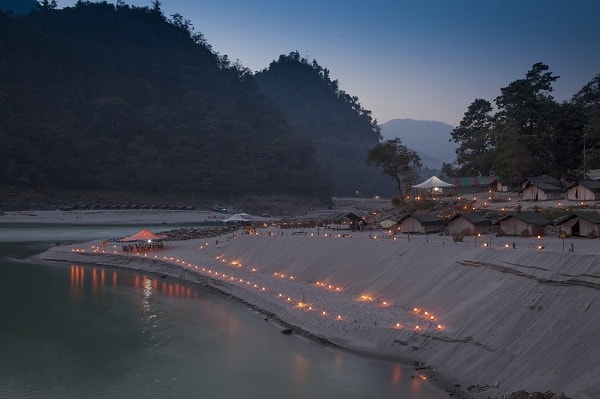 Rishikesh is a short distance from Haridwar and a holy city in its own right. Just a short distance from Haridwar, this is the place where Lord Rama and Laxman spent some time. Today it is more famous as a city of Ashrams and Yog Peeth and for adventure tourism. Reserve two days for Rishikesh because there is plenty to do and see here. You can start off with a visit to Triveni Ghat where people bathe in the Ganges. This spot is believed to be the confluence of Saraswati, Yamuna and Ganga. After a quick dip here you could go off to Bharat Mandir in Jhanda Chowk, a temple dedicated to Lord Vishnu. The Laxman Jhula is another spot you must visit because it is believed this bridge was built by Laxman. In close proximity you will find Geeta Bhawan, a museum of mythological relics. Tourists also worship at the Neelkanth Mahadev, the Lakshman temple and the Kunjapuri Devi Temple, which is at a distance of 15 km. One place to visit is the Vashishta Gufa about 15 km away. As for activities you can visit the various Ashrams or go white water rafting, camping along the Ganges, rock climbing, kayaking, trekking and bungee jumping.
You may also like...