Top 20 National Parks and Wildlife Sanctuaries in Gujarat
Gujarat with it varied and diversified geographical dynamics is home to many rare bird and animal species. The dense deciduous forests, fertile wave washed coastal plains and marshes, lush grasslands and arid desert lands combine to conjure up an ideal dwelling place for an impressive gamut of rich wildlife. Gujarat's wildlife is not alone limited to wildlife sanctuaries and national parks as you'll find birds of different kinds flocking near gardens, lakes, ponds and riversides almost all round the year. Asiatic lions, swift-footed rare Blackbucks, wild assess are some of the most endangered species of animals conserved in Gujarat and are instrumental in spreading the fame of Gujarat far and wide. Thus, for animal lovers and bird watchers Gujarat is indeed a true 'paradise'.
1- Marine National Park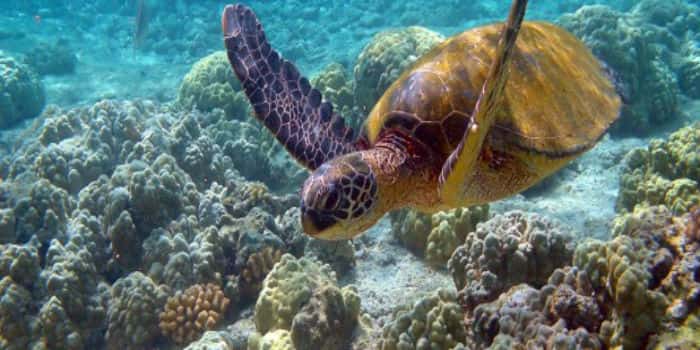 Located along the coast of Jamnagar, the Marine National park is the largest in India and covers an area of over 270 sq. km. The first of its kind in India, the Marine National Park covers coastal areas of Jamnagar and Kutch as well as dozens of offshore islands. You will find a rich collection of flora and fauna in this Park though access to many areas is restricted or simply not possible. On the islands, of which Pirotan is the most visited, you will find jellyfish, soft coral, sea anemones, starfish, sea cucumbers and sponges along the reefs while farther ashore the ocean is full of dugongs, dolphins and whales. The coastal areas are made up of water bodies with fresh water and marine water and as such are home to hundreds of species of birds.
2- Gir Forest National Park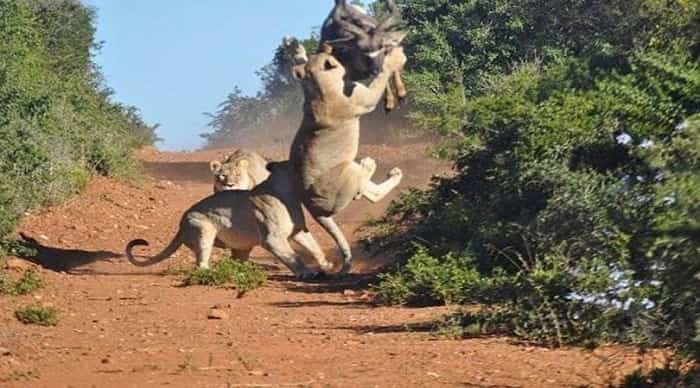 The Gir Forest National Park is located near Junagadh and covers an area of 1153 sq. km. It is home to the Asiatic lions. You can book accommodation in lodges and hotels outside the sanctuary area and take excursions into the Gir where you are likely to come across lions crossing the road without fear of human beings. The forest is also home to mammals, reptiles, birds and insects. You can find leopards, jackals, mongoose, desert cats, crocodiles and Nilgai deep inside the forest. There are a number of water bodies and rivers inside the Park, which along with the tree cover make it home to 300 species of birds such as eagle, quails, wood peckers, vultures and orioles. Close to the Gir you will find the Pania Wildlife Sanctuary, a rather picturesque area. Lions wander over here and the sanctuary is also home to Pangolins, Blue bulls, Boars and antelopes. Another sanctuary in close proximity to Gir is the Mitiyala Wildlife Sanctuary.
3- Blackbuck National Park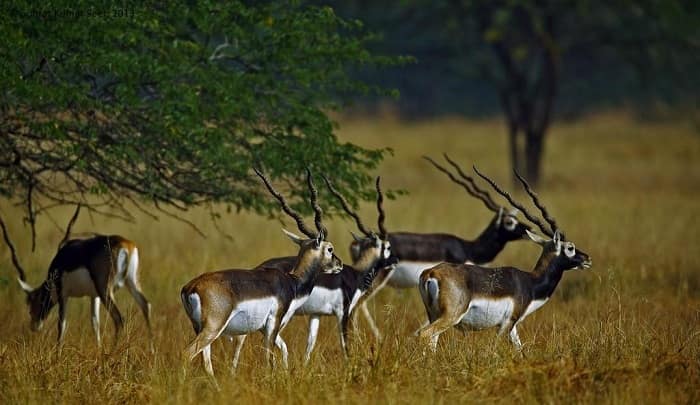 Located in Bhavnagar district, Velavadar Black Buck National Park covers an area of 34 sq. km along the Gulf of Khambhat. Most of the Park is flat dry grassland, home to the blackbuck, wolf and antelopes as well as a number of birds such as the Lesser Florican, Sandgrouse and larks. It is best to visit the Park after monsoon or in early winter when the land is green and thousands of migratory birds arrive here. You can reach Velavadar from Bhavnagar or from Ahmedabad, about 140 km away.
4- Vansda National Park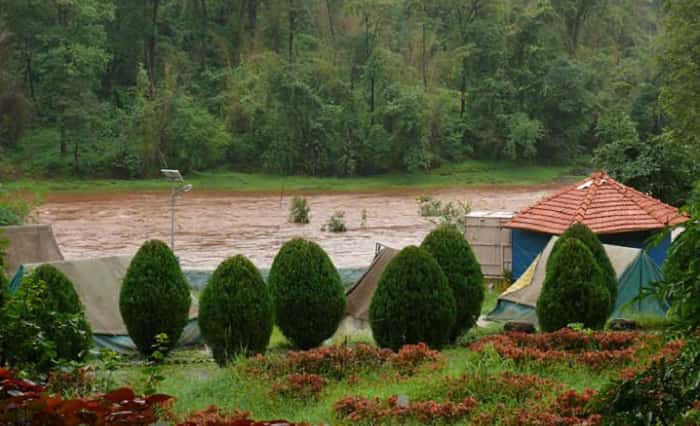 Vansda National park is located in Navsari district, neighboring the Dang region of South Gujarat. The Park covers an area of 24 sq. km and is home to unique collection of flora and fauna. You can drive here from Valsad and stay in campsites at Kilad. Visit during September when water bodies are full and the area is covered with green to enjoy the Park at its best. There are leopards, monkeys, civets, boars, barking deer, hyenas and porcupines in the forest as well as vipers, cobras and kraits. The bird population is made up of the Malabar trogon, owlets, Indian black woodpecker, hornbills and green pigeons. Vansda is richly green and the dense forests provide ample opportunities for trekking as well.
5- Shoolpaneshwar Wildlife Sanctuary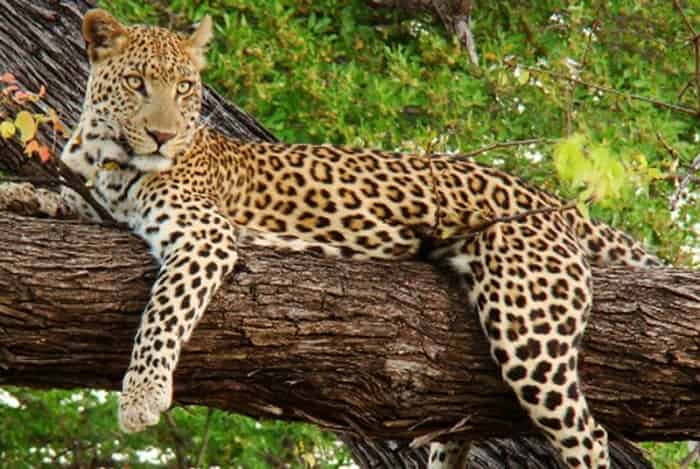 Not far from Bharuch in South Gujarat you will come across Shoolpaneshwar Wildlife sanctuary spread over an area of 607 sq. km. The forests here are the densest and well preserved with a rich collection of flora and fauna. You will find the flying squirrel, sloth bear, leopard, rhesus, Chausingha, barking deer, wild dogs and porcupines coexisting peacefully. The beauty spot of Shoolpaneshwar is the Zarwani Waterfalls but you will have to travel quite a bit to get there. Getting to Shoolpaneshwar is easy. The closest railhead is Bharuch about 80 km away while Vadodara is the closest airport. You can find accommodation on the outside of the sanctuary and spend a couple of days exploring the rich biodiversity of the region.
7- Jambughoda Wildlife Sanctuary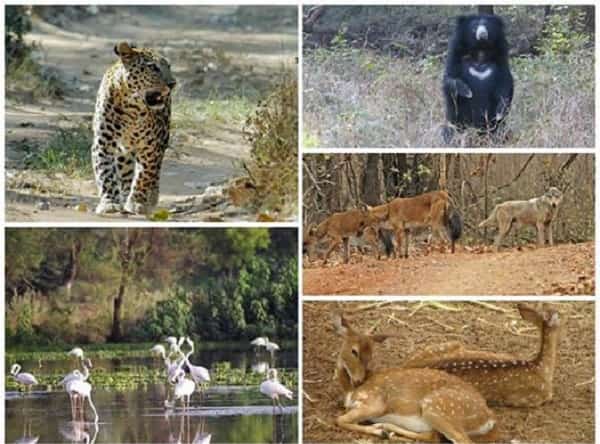 Also in the South Central Gujarat is the lovely Jambughoda Wildlife Sanctuary. Located in Panchmahal district, Jambughoda is pristine nature, quite unspoilt by hordes of tourists though people are now discovering its charms. You can drive down from Vadodara in less than two hours and have a relaxing weekend in the lodging provided by the Government. Spread over an area of about 130 sq. km, Jambughoda is home to crocodiles, pythons, jackals, hyenas, bears, wolves and antelopes as well as hundreds of species of birds. The water bodies at Targol and Kada add to the sense of quiet. It is peaceful and quiet here letting you commune with Nature and spend a couple of refreshing days.
8- Purna Wildlife Sanctuary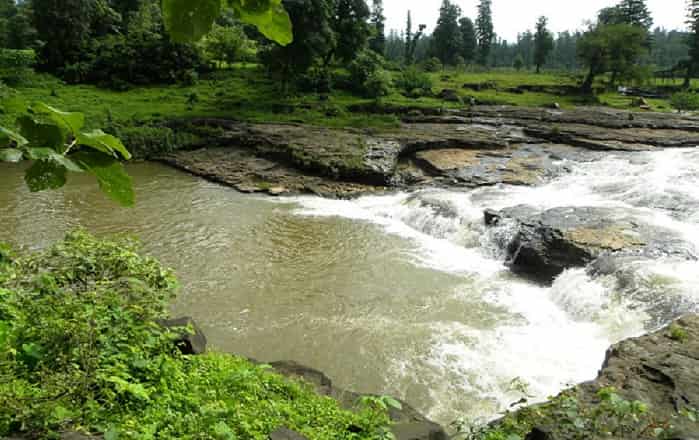 Also in the South of Gujarat, in Dang region you will come upon Purna Wildlife Sanctuary spread over 160 sq. kms. There is dense forest cover and the area is not crowded with tourists so you should have a lovely time watching deer, antelopes, hyenas and birds in their natural setting.
9- Ratanmahal Sloth Bear sanctuary
Located in Dahod in Panchmahal region, the Ratanmahal Sloth Bear Sanctuary is close to border of Madhya Pradesh and is home to sloth bears as well leopards, hyenas, antelopes, mongoose, monkeys, reptiles and 147 species of birds. Visit in winter and stay in a hotel in Dahod from where you can explore this sanctuary.
10- Jessore Sloth Bear Sanctuary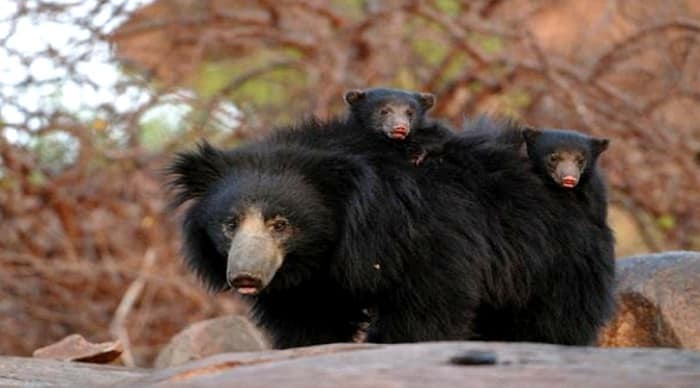 Jessore Sloth Bear Sanctuary, far up North, bordering Rajasthan and covering part of the Thar Desert as well as part of the Aravalli Hills range, is home to the Sloth Bear. However, you will also find Sambars, blue bulls, boars, porcupines and leopards in abundance in this arid region covering an area of 180 sq. km. It is just 25 km from Palanpur and you will find accommodation in forest huts and lodges close to the Sanctuary, sitting next to a picturesque lake with the Aravallis in the distance. Apart from animals, Jessore is also home to over 105 species of birds, local and migratory. Not much visited, the Sanctuary has an aura of calm, except for the musical twitter of birds.
11- Narayan Sarovar Wildlife Sanctuary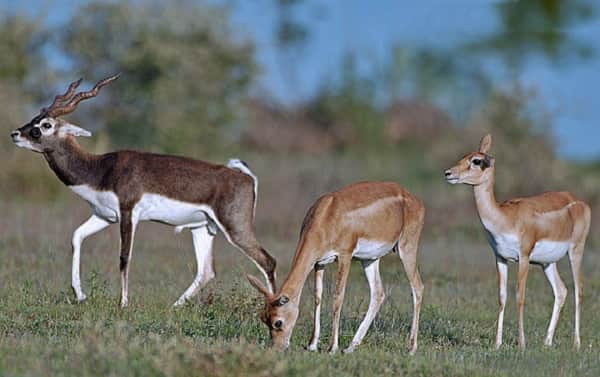 In Lakhpat taluka of Kutch you will find Narayan Sarovar, a vast stretch of wet and dry lands with the lake also being a pilgrimage spot. Narayan Sarovar is home to Chinkara, wolf, caracal, desert fox, cats, porcupines, blue bulls and mongoose. Apart from animals, Narayan Sarovar turns into a bird watcher's paradise in winter when migratory birds arrive in thousands. Visit in winter to have the best experience.
12- Khijadiya Bird Sanctuary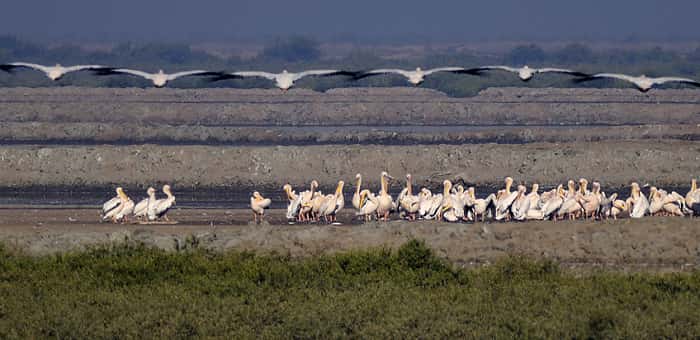 Not far from the coastal city of Jamnagar you will come upon the Khijadiya Bird Sanctuary. Small it may be in size but the water bodies comprising of fresh water and marine water bodies make it ideal home for fresh water birds and marine birds as well as animals. If you love bird watching, visit in winter to see flamingoes gracefully swimming on the lakes while other birds scavenge among the mangroves. You can drive down from Jamnagar and have a lovely day.
13- Porbandar Bird Sanctuary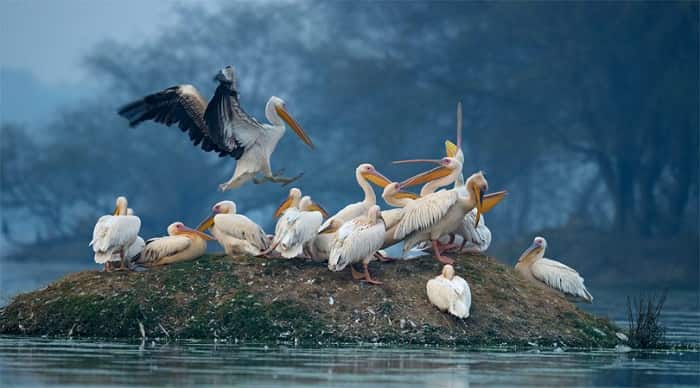 If Narayan Sarovar is large, Porbandar Bird Sanctuary located right in the heart of Porbandar, a port city in Saurashtra, is the smallest, covering only 1 sq. km of the lake. Winter turns the waters into a riot of color and sound as migratory birds like storks, ibis, spoonbills, cranes, teals, shanks and cormorants arrive by the thousands.
14- Kutch Great Indian Bustard Sanctuary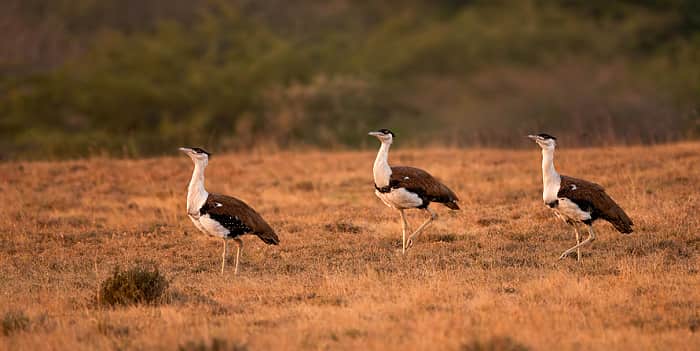 Talking of small bird sanctuaries you have another one in the shape of Kutch Great Indian Bustard Sanctuary located near Naliya in Kutch. It is home to the great Indian Bustard, a much hunted bird. The arid land is also home to cranes, partridges, grouse and harriers with wolves, cats, blue bulls and hyenas making up the animal population.
15- Nal Sarovar Bird Sanctuary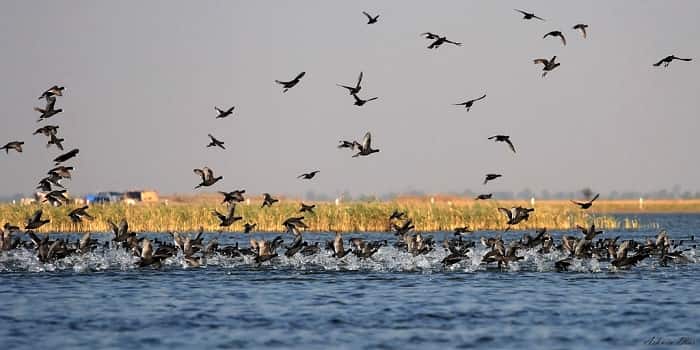 About 64 km from Ahmedabad, in Sanand village you will come upon Nalsarovar, a natural lake and wetland area, the largest one of its kind in Gujarat and home to over 200 species of birds. In winter it turns into a bird watcher's paradise since migratory birds arrive by the thousands. You can see egrets, pelicans, ducks, geese, waders, cormorants, herons, storks and flamingoes gracing the waters. The sanctuary is also home to mongoose, jungle cats, foxes, jackals, wolves and hyenas. Winter is the time and you would have to drive down from Ahmedabad a couple of hours before sunrise to view birds in their glory.
16- Thol Lake Bird Sanctuary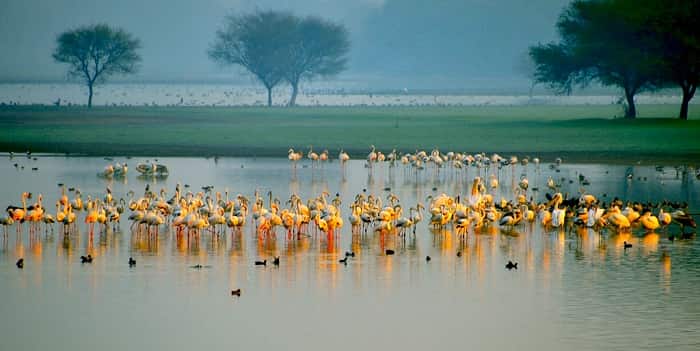 Located just 10 km from Ahmedabad is the small but picturesque lake Thol that transforms into a riot of color and action in winter when thousands of migratory birds arrive here. Thol sanctuary covers only 7 km and is a popular getaway spot for people of Ahmedabad due to its green cover and quiet surroundings.
17- Wild Ass Sanctuary in Little Rann of Kutch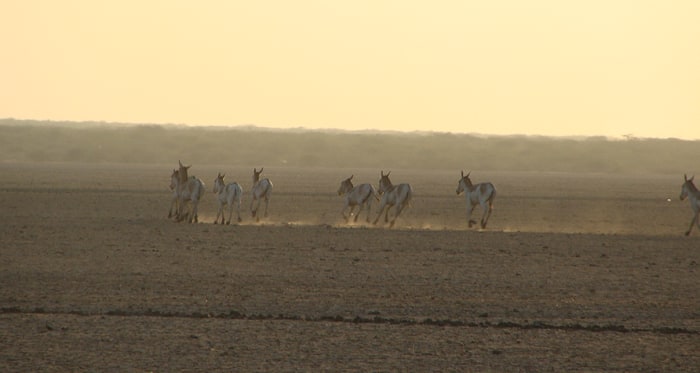 One would think the desert regions are devoid of life. Not so when you visit the little Rann of Kutch and the Wild Ass Sanctuary. There are hundreds of small mammals and reptiles living in harsh conditions but it is the desert wild ass that catches your eye. Camping here is becoming quite popular and tourists get to see the wild ass as well as hundreds of birds. Live in a tent and rise to the cool, crisp of the morning as the day dawns and set out. You will be surprised at the activity that goes on in the wilds.
18- Rampara Wildlife Sanctuary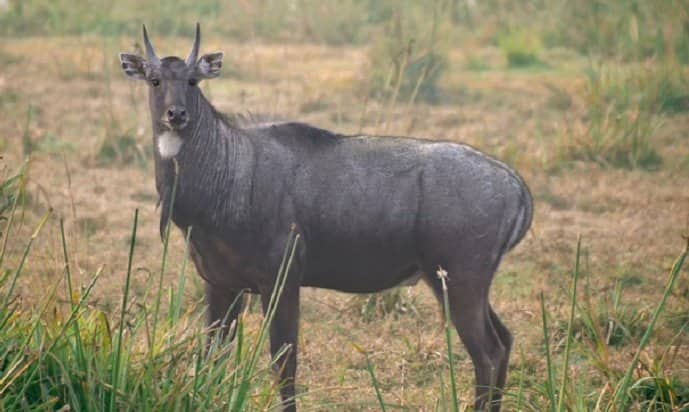 Rampara is Rajkot's pride. Just 60 km from the city, the sanctuary covers 15 sq. km and is home to over 130 species of birds and 20 species of mammals. Stay in Rajkot and set out before dawn to arrive here about an hour or so later and you will see wolves, jackals, foxes, blue bulls and dozens of reptiles in their natural setting. The bushy land is also home to birds like the purple sunbird, yellow throated sparrow, babblers, ring doves, peafowl, partridges and sand grouse.
19- Hingolgadh Nature Education Sanctuary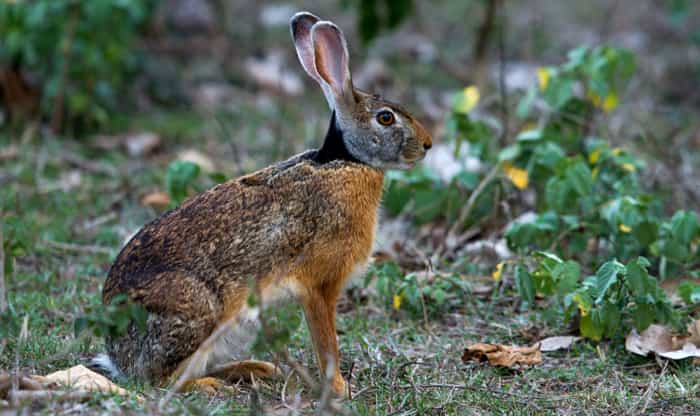 This sanctuary is also located near Rajkot, just 10 km from Jasdan and stands out for imparting education to create awareness about environment and conservation. Camps are organized on a regular basis and participants get to view Chinkara, hyena, wolf, flying foxes and leopards in their natural settings. There is an abundance of snakes here and over 230 species of birds.
20- Kutch Desert Wildlife Sanctuary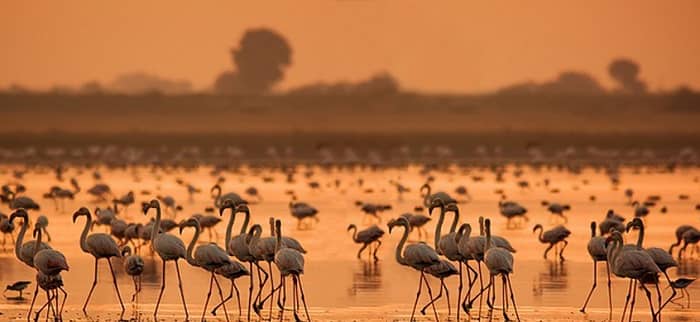 Located in the Great Rann of Kutch, close to the Pakistan Border, the Kutch Desert Wildlife Sanctuary comprises vast tracts of saline wetlands in an arid region. Surprisingly, it teems with wildlife. However, the most notable attraction is the greater flamingo that nests and breeds in the mud flats. Kutch Desert Wildlife Sanctuary is a must visit place for other reasons too. This is the site of an ancient civilization with excavations showing artifacts dating back to Harappan times. The region is even more ancient with fossils found dating back to the Jurassic and Cretaceous eras. It is relaxing out here in the desert and also educational.
Gujarat, as you will find, is home to a rich collection of sanctuaries from the arid lands of Kutch to the lush green forests of Dang and Panchmahal. Visit a few and you will find these sanctuaries far less crowded and more peaceful than the better known ones in other States. At the very least you must visit the Marine National Park, the Gir National Park, Kutch wildlife sanctuaries and the sanctuaries in South Gujarat to get a taste of the splendid variety that exists in this State.
You may also like...