Top 8 National Parks and wildlife sanctuary in Kerala
From the countless sun-kissed beaches to a large number of absorbing rivers & lakes, and from a myriad of bewitching backwaters to the extremely vivid, distinctive, and affluent biodiversity, Kerala is the most beautiful state of India.
The topography of Kerala gives it another reason to glorify the unexplored and mystic beauty. The unspoiled and untouched forests and plush landscapes of Kerala come first when we talk about the tourism in Kerala. So, today, let's explore these forests, awe-inspiring landscapes, and the untamed creatures of Kerala. In better words, we call them 'The National Parks' and 'Wildlife Sanctuaries'.
Eravikulam National Park
Located in the Idukki district of the gateway of Kerala, Munnar, Eravikulam National Park is one of the most popular national parks in Kerala. Stretching in an area of 100km2, Eravikulam National Park is particularly known for being the abode for endangered Nilgiri Tahr. Other than Nilgiri Tahr, around 25 other species of mammals and 125 species of birds are found in Eravikulam National Park. The park is perched amid the sweeping tea plantations, so it is extremely rich and varied in flora. If you're lucky enough, you can also get a glimpse of Neaelakurinji Flower that blooms once in every 12 years. You can visit the park all year-round except for the early four months of the year because from January to April, Eravikulam National Park remains closed.
Anamudi Shola National Park
Spread in an area of merely 7.5 km2, Anamudi Shola National Park is like a lotus bud that is small in size but has its own exceptional qualities. In order to preserve the wildlife and natural habitat of that particular region, this tiny patch of land was declared as a national park in 2003. Located proximate to the Eravikulam National Park, Anamudi Shola National park is another national park in Idukki district.  Being the home to the 62 species of trees, 39 species of climbers, and 174 types of herbs, Anamudi Shola National Park unfolds a pictorial view of tea crops amid the wildlife wilderness. This is also one of the beautiful National Parks in Kerala.
ALSO SEE Famous Beaches of Kerala
Periyar National Park and Wildlife Sanctuary
Yet another national park from Idukki district but it also shares the border with Pathanamthitta district. Nestled in the wide ranges of Cardamom and Pandalam, Periyar National Park is extremely rich in biodiversity. Earlier, this region was a private game reserve of the Maharajas of Travancore. It region was declared as a national park in 1982 due to its ampleness of flora & fauna. Initially, the national park was established as the tigers & elephants reserve and these two are still the signature signs of the Periyar National Park. Apart from the tigers, it is a natural habitat for 265 species of birds, 143 species of orchids, numerous species of mammals & reptiles, and 1800 flowering plants. The Periyar Lake formed by the Mullaperiyar Dam in Periyar River is the central charm of the Periyar National Park. Flanked by the coffee, cardamom, and tea plantations, Periyar National Park is a visual treat for the visitors. This is one of the famous National Parks in Kerala.
Kumarakom Bird Sanctuary
Located on the bank of Vembanad Lake, Kumarakom Bird Sanctuary is an absolute heaven for the nature lovers. It is exactly located on an island, so you would need a boat to get there. You can also go by foot from Kumarakom Village. It will take around 1-2 hours to get there. Being a bird Sanctuary, it a favorite place particularly for the birdwatchers and is a home to many species of birds such as cuckoo, waterfowl, heron, cormorant, duck, and owl. Apart from the Indian species, Kumarakom Bird Sanctuary is also a famous haunt for the migratory birds. Siberian Stork, Darter, teal, flycatcher, and parrot are the seasonal frequenter of Kumarakom Bird Sanctuary. Encompassed in a huge area of 14 acres, Kumarakom Bird Sanctuary charms the worldwide visitors.
Silent Valley National Park
With the name, you must have drawn a picture of Silent Valley National Park. Yes, as the name suggests, this national park is pristine, unexplored, and completely unspoiled by the humans. Perched on the majestic Nilgiri Hills, Silent Valley National Park is a diamond jewel of Palakkad district. Occupying just an area of 90 km, it is one of the smallest national parks in the country but holds a very prominent place. Primarily known for being the home of Long-tailed macaque, the national park also houses many other species of flora & fauna. Silent Valley National is an evergreen forest and has never ever been habituated by the humans in its history. If you're not very fond of the birds and their chirping, put behind all other national parks in your list and visit Silent Valley National Park because it is known for its utter calmness amid nature.
ALSO SEE Popular Hill Stations in Kerala
Wayanad Wildlife Sanctuary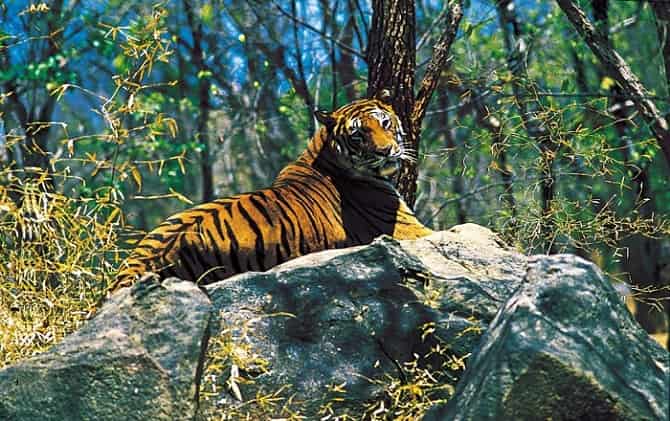 Wayanad Wildlife Sanctuary, also known as Muthanga Wildlife Sanctuary, is an elephant reserve which was founded in 1973 in order to preserve the wildlife heritage of that region. Located in Wayanad district, the wildlife sanctuary is stretched in an area of 345km2 and shares the border with Nagarhole National Park, Bandipur Wildlife Sanctuary, and Mudumalai Wildlife Sanctuary from three sides. Means, in Wayanad Wildlife Sanctuary, as far as your eyes will reach, you'll reach see only and only stupendous greenery and dangerous roaming animals.  The sanctuary is divided into two parts, of which one part is mainly the habitat of wild animals while the other part is sometimes used by the local tribes to fulfill their needs.  Decked by the tea plantations, teak forests and deciduous trees, Wayanad Wildlife Sanctuary reveals the vista of nature at its best.  You can explore the Wayanad Wildlife Sanctuary only by the Jeep Safari.
Pampadum Shola National Park
The most recent and the smallest national park of the state, Pampadum National Park is located in the rugged terrain of Marayoor village of Idukki district. It is very close to Anamudi Shola National Park. In fact, on your visit to Anamudi Shola National Park, you can easily cover this one too. Being the dwelling of 93 species of moths, 10 species of butterflies, and many species of mammals, Pampadum Shola National Park got the national park in 2004. Though it is very small in size, it never fails to charm the visitors. The tropical evergreen forests are another alluring aspect of Pampadum National Park.
Check Out: Kerala Tour Packages
Parambikulam Wildlife Sanctuary
Located in Palakkad district, Parambikulam Wildlife Sanctuary is a very important tourist destination in Kerala. Sprawling over an area of 225 km2, this wildlife sanctuary is known for being the home of the largest number of Indian Bisons. Apart from Bisons, you can also get the sight of Jungle Cats, Tigers, Spotted Deer, and many other animals in the sanctuary. Replete with extremely rich flora & fauna, Parambikulam Wildlife Sanctuary entices the more visitors because it comprises of three stunning dams. If you're lucky enough, you can get a sight of wild animals with the close proximity drinking water from the streams completely unaware of the onlookers. The significance of this wildlife sanctuary becomes more because right now it is under consideration of UNESCO World Heritage Site.
When it comes to wildlife splendour, no other state can beat Kerala. In Kerala, wilderness is mixed with the jaw-breaking natural beauty that makes the state unique. So, if you want to witness this uniqueness of Kerala, visit these above mentioned national parks and wildlife sanctuaries. There are many more but these are the prominent ones.
You may also like...